Symptoms, Demographic Parameters and Health Profile of Post-Menopausal Women
Ayesha Kiran

Combined Military Hospital Okara/National University of Medical Sciences (NUMS) Pakistan

Tehreem Yazdani

Pak Emirates Military Hospital/National University of Medical Sciences (NUMS) Rawalpindi Pakistan

Syeda Sadiqa Batool

Combined Military Hospital Okara/National University of Medical Sciences (NUMS) Pakistan

Urooj Hina

Combined Military Hospital Okara/National University of Medical Sciences (NUMS) Pakistan
Keywords:
Health profile, Menopause, Socio-demographic factors
Abstract
Objective: To determine the symptoms, demographic parameters and health profile of post-menopausal women and factors related to the deranged health profile.
Study Design: Comparative cross-sectional study.
Place and Duration of Study: Department of Gynecology and Obstetrics, Pak Emirates Military Hospital Rawalpindi Pakistan, from Jun 2019 to Aug 2021.
Methodology: Five hundred post-menopausal women were included in this study via convenience sampling. Menopause was confirmed based on clinical and laboratory information. A consultant Gynecologist inquired about details of clinical symptoms and demographic profile. Relationship of age, body mass index, use of hormonal replacement therapy and living with husband was assessed with the presence of deranged health profile among the post-menopausal women participating in this study.
Results: Out of 500 post-menopausal women studied in the given period, 323 (64.6%) had at least one clinical symptom of a deranged health profile, while 177 (35.4%) did not report any such symptom. The mean age of the study participants was 58.47 ± 4.561 years. Hot flushes 200 (40%) were the most commonly reported symptoms, followed by urinary tract infections 121 (24.2%) and palpitations 121 (24.2%). After applying the statistical analysis, high body mass index and not using hormonal replacement therapy emerged as factors associated with deranged health profiles in the study participants (p-value <0.001).
Conclusion: Most of the women had at least one clinical symptom after menopause. Hot flushes, urinary tract infections and palpitations were commonly reported symptoms. Patients with high body mass index and no hormonal replacement therapy were more likely to have a........
Downloads
Download data is not yet available.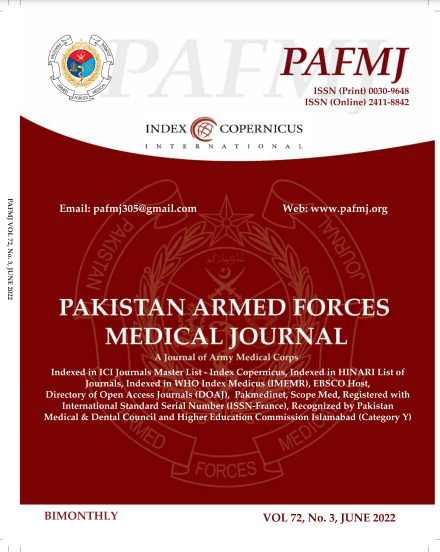 How to Cite
Kiran, A., Yazdani, T., Batool, S., & Hina, U. (2022). Symptoms, Demographic Parameters and Health Profile of Post-Menopausal Women. PAFMJ, 72(3), 1037-40. https://doi.org/10.51253/pafmj.v72i3.7826
Section
Original Articles