Frequency of Cervical Ribs in Healthy Asymptomatic Adolescents and Adults, Detected on Chest Radiograph for Medical Fitness Examination at CMH Lahore
Keywords:
Cervical Ribs, Chest radiograph, Elongated transverse process, Frequency, Prevalence, Thoracic outlet syndrome (TOS)
Abstract
Objective: To determine the frequency of cervical ribs on chest radiographs of asymptomatic candidates undergoing medical fitness.
Study Design: Cross-sectional study.
Place and Duration of Study: Radiology Department Combined Military Hospital Lahore Pakistan from Feb 2020 to Mar 2021.
Methodology: The study was conducted on 4247 chest radiographs of candidates who reported to CMH Lahore for medical examination. The latest chest radiographs of candidates reporting for medical examinations in the CMH Lahore were included. Technically poor radiographs were excluded.
Results: The frequency of cervical ribs was 136 (3.2%) with 14 (5.6%) females and 122 (3.1%) male cases. Among cervical ribs cases, 85 (62.5%) were bilateral, and 51 (38%) were unilateral. Among unilateral cervical ribs, 28 (55%) were right-sided, and 23 (45%) were on the left side.
Conclusion: The frequency of cervical ribs is comparatively higher than in most international studies. The frequency of bilateral cervical ribs and type 4 cervical ribs are higher in females than males.
Downloads
Download data is not yet available.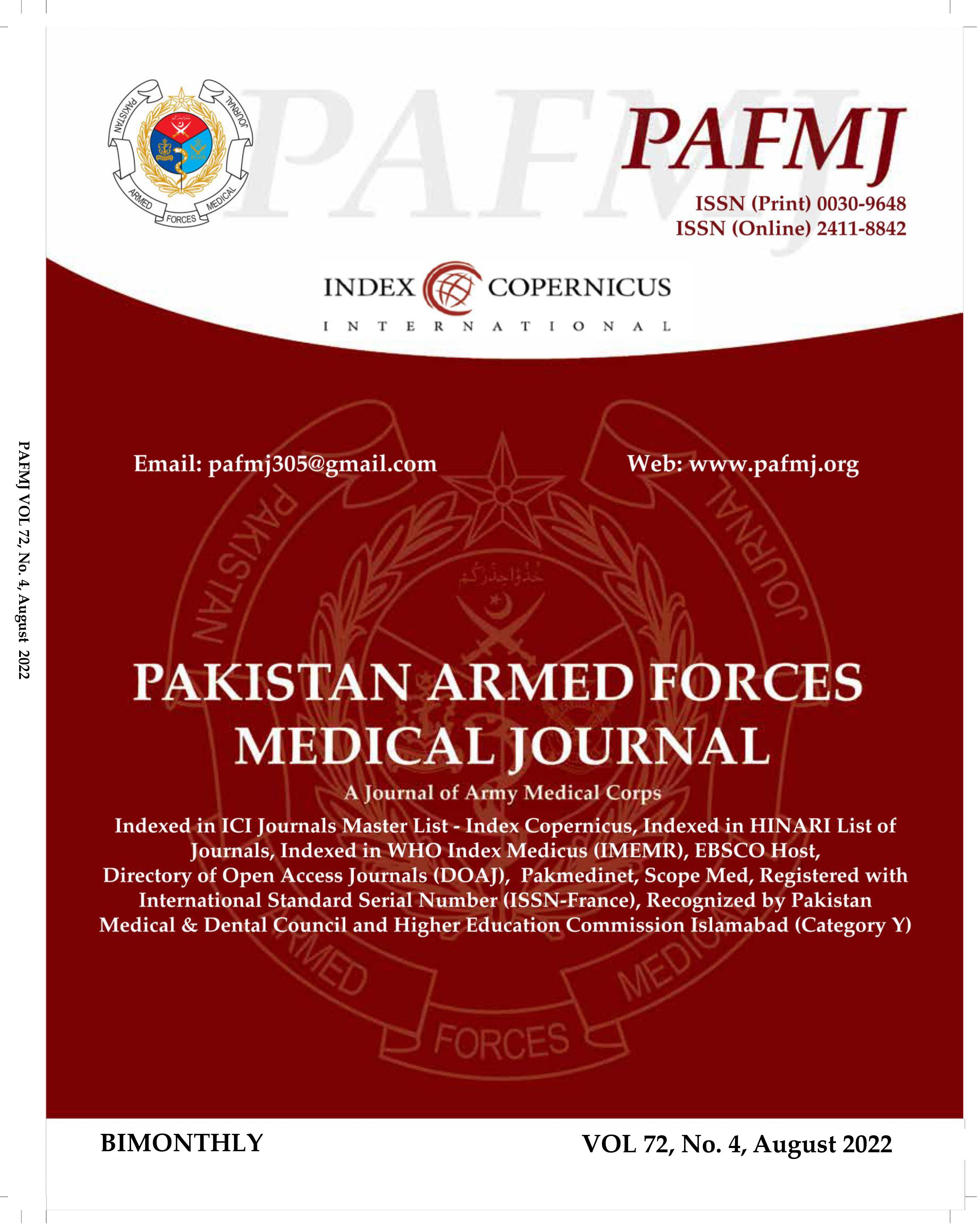 Downloads
How to Cite
Ahmed, N., Hasnain, M. A. Z., Riaz, H., Arshad, Z., Kubra, K. T., & Fatima, K. (2022). Frequency of Cervical Ribs in Healthy Asymptomatic Adolescents and Adults, Detected on Chest Radiograph for Medical Fitness Examination at CMH Lahore. Pakistan Armed Forces Medical Journal, 72(4), 1397–1400. https://doi.org/10.51253/pafmj.v72i4.6641
Section
Original Articles