COMPARISON OF EMERGENCY SURGERIES UNDER SPINAL ANESTHESIA IN COVID-19 PANDEMIC WITH PRE-COVID PERIOD IN A TERTIARY CARE HOSPITAL OF A DEVELOPING COUNTRY
Sanum Kashif

Frontier Corps Hospital, Quetta Pakistan

Taimur Azam Khan

63 Medical Battalion, Multan Pakistan

Naheed Parveen

University of Medical and Health Sciences, Jamshora Pakistan

Najm Us Saqib Khan

Bahria University Medical and Dental College, Karachi Pakistan

Saad Ahmed

Isolation Hospital and Infections Treatment Center, Islamabad Pakistan
Keywords:
COVID-19, Emergency surgery, Regional anesthesia, Spinal anesthesia, Tertiary care hospital
Abstract
Objective: To compare emergency surgeries under spinal anesthesia in COVID-19 pandemic with pre-COVID period in a tertiary care hospital of a developing country.
Study Design: Prospective observational study.
Place and Duration of Study: Main Operation Theatre, Frontier Corps Hospital Quetta, from Mar to May 2020.
Methodology: All emergency surgeries done under Spinal Anesthesia, were compared to emergency cases done in the preCOVID period. Anesthesia notes were reviewed. Emergency cases done under general anesthesia and personal protective equipment worn were also noted. Ages of the patients were from 18-75 years. Spinal anesthesia was performed by consultant anesthesiologist.
Result: Among total cases, 260 emergency cases were performed in the main operation theatre during the 3 months of preCOVID period as compared to only 89 cases in the 3 months duration of COVID-19. Spinal anesthesia was used in 154 (59.2%) cases in the pre-COVID study period, while in COVID-19 pandemic 77 (86.5%) emergency cases were performed under spinal anesthesia.
Conclusion: Spinal anesthesia has a significant role in the surgical management of patients in pre-COVID and especially in COVID pandemic. It provides high-quality perioperative care for patients whilst minimizing exposure to staff and utilization of scarce resources of personal protective equipment.
Downloads
Download data is not yet available.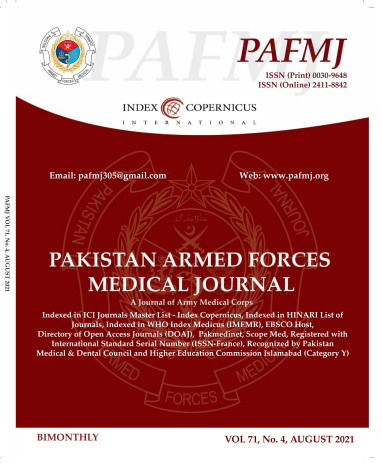 How to Cite
Kashif, S., Khan, T., Parveen, N., Khan, N., & Ahmed, S. (2021). COMPARISON OF EMERGENCY SURGERIES UNDER SPINAL ANESTHESIA IN COVID-19 PANDEMIC WITH PRE-COVID PERIOD IN A TERTIARY CARE HOSPITAL OF A DEVELOPING COUNTRY. PAFMJ, 71(4), 1138-41. https://doi.org/10.51253/pafmj.v71i4.6475
Section
Original Articles