PERCEPTION & UTILIZATION OF INTERNET & MEDICAL APPLICATIONS BY STUDENTS AT COMBINED MILITARY HOSPITAL LAHORE MEDICAL COLLEGE
Hajra Omar

CMH Lahore Medical and Dental College, Lahore/National University of Medical Sciences (NUMS) Pakistan

Shehla Baqai

CMH Lahore Medical and Dental College, Lahore/National University of Medical Sciences (NUMS) Pakistan

Saima Qamar

CMH Lahore Medical and Dental College, Lahore/National University of Medical Sciences (NUMS) Pakistan

Humaira Osman Jaffery

CMH Lahore Medical and Dental College, Lahore/National University of Medical Sciences (NUMS) Pakistan

Omar Zafar

Armed Forces Institute of Ophthalmology/National University of Medical Sciences (NUMS) Rawalpindi Pakistan

Muhammad Ashraf Chaudhry

CMH Lahore Medical and Dental College, Lahore/National University of Medical Sciences (NUMS) Pakistan
Keywords:
Education, Internet, Medical application, Medical student
Abstract
Objective: To determine the pattern of internet and medical application usage among medical students, their perceptions towards these resources, and the subsequent challenges that emerge.
Study Design: Cross-sectional study.
Place and Duration of Study: Combined Military Hospital Lahore Medical College, from May to Nov 2018.
Methodology: After taking consent, data was collected from 260 students through self-administrated questionnaire by convenience sampling. The data was analysed using SPSS version 20.0.
Results: All participants had access to the internet, and 98% had access to a smartphone. Daily internet usage was observed in 92.9% participants, with 29% of them using it for more than 5 hours per day and an equal number of students utilizing it for 3-4 hours per day. Textbooks were the favoured resource for looking up medical information (85.5%). Medical applications were used by 43.1% of the study subjects. Out of all the apps and websites assessed in the study Google was the most used 215 (84.3%) followed by Wikipedia 187 (73.3%), Web MD 153 (60%), Meds cape 121 (47.5%), Pub Med 61 (23.9%), and Google scholar 42 (16.5%). Most participants (42.2%) were either uncomfortable or very uncomfortable with using medical applications in front of patients. Most students believed discouragement from teachers led to decrease application usage.
Conclusion: Internet and smartphone usage was found widespread among medical students. While students view medical applications favourably, there was hesitance in using them in classroom and clinical settings.
Downloads
Download data is not yet available.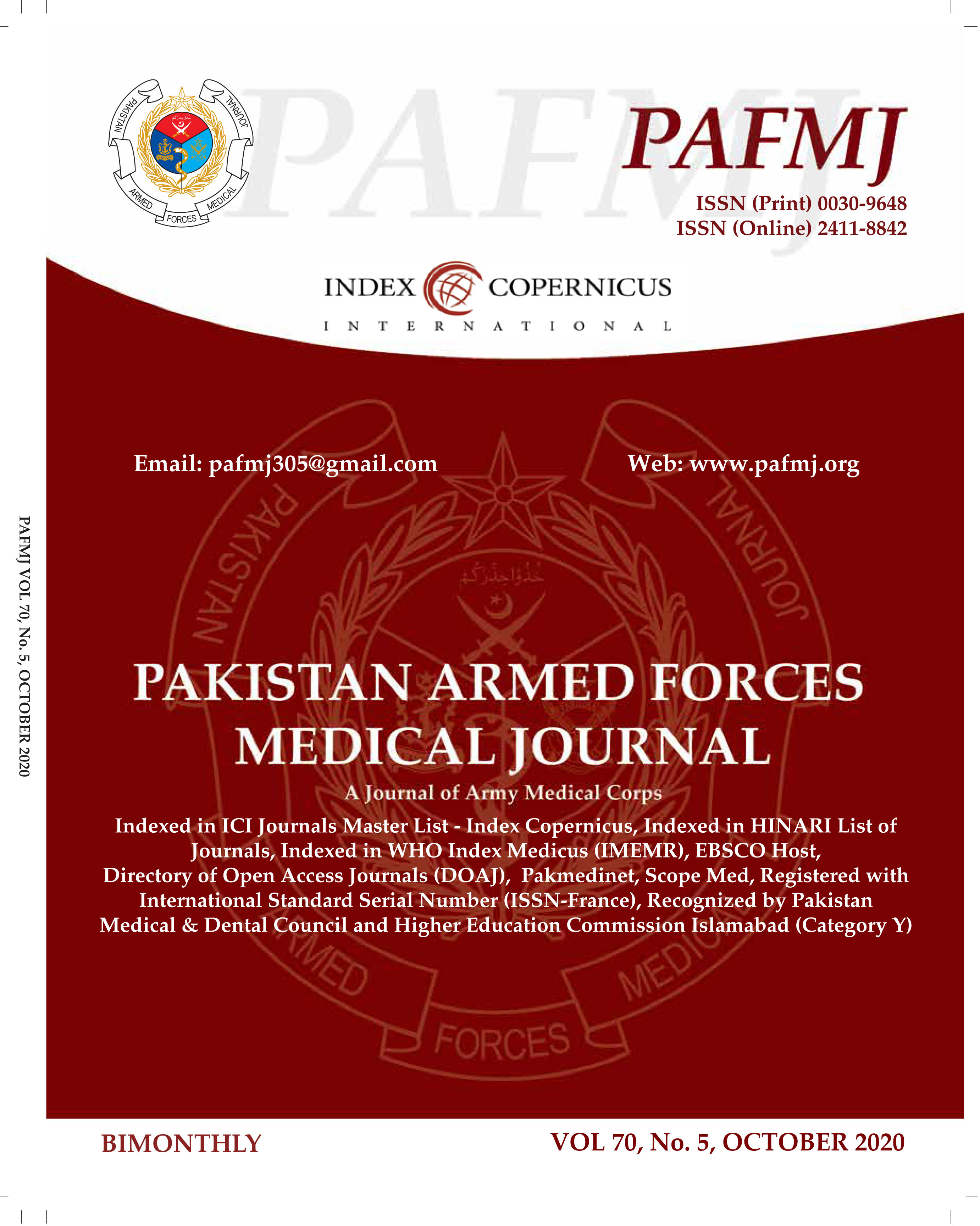 How to Cite
Omar, H., Baqai, S., Qamar, S., Jaffery, H., Zafar, O., & Chaudhry, M. (2020). PERCEPTION & UTILIZATION OF INTERNET & MEDICAL APPLICATIONS BY STUDENTS AT COMBINED MILITARY HOSPITAL LAHORE MEDICAL COLLEGE. PAFMJ, 70(5), 1256-60. Retrieved from https://pafmj.org/index.php/PAFMJ/article/view/5545
Section
Original Articles