Role of Intravenous Magnesium Sulphate in Acute Status Migranous
Zahid Hassan

Pak Emirates Military Hospital/National University of Medical Sciences (NUMS) Rawalpindi Pakistan

Sakhawat Kazmi

Pak Emirates Military Hospital/National University of Medical Sciences (NUMS) Rawalpindi Pakistan

Atifa Gilani

Pak Emirates Military Hospital/National University of Medical Sciences (NUMS) Rawalpindi Pakistan

Waseem Alamgir

Pak Emirates Military Hospital/National University of Medical Sciences (NUMS) Rawalpindi Pakistan

Jahnzeb Liaqat

Pak Emirates Military Hospital/National University of Medical Sciences (NUMS) Rawalpindi Pakistan

Asif Hashmat

Pak Emirates Military Hospital/National University of Medical Sciences (NUMS) Rawalpindi Pakistan
Keywords:
Acute status migranous, Effective, Magnesium sulphate
Abstract
Objective: To look for the role of intravenous magnesium sulphate in acute status migranous among the patients reporting at neurological emergency.
Study Design: Prospective longitudinal study.
Place and Duration of Study: Pak Emirates Military Hospital Rawalpindi, from Jan to Jun 2019.
Methodology: A total of 51 patients were enrolled in the study presenting with acute headache in the neurological emergency and diagnosed as suffering from acute status migranous by the consultant neurologist. Pain was measured by using the visual analogue scale (VAS 10) at the time of arrival and other symptoms were also noted. 1gm Intravenous Magnesium sulphate was administered over 15 minutes and pain and other symptoms were noted again after half an hour of administration of magnesium sulphate.
Results: 20 (39.2%) patients were males and 31 (60.8%) were females. Mean age of the patients was 34.2 ± thirty minutes after the infusion of magnesium sulphate was 2.31 ± 1.113. There was a statistically significant difference in the visual analogue scale score before and after the administration of intravenous magnesium sulphate.
Conclusion: Magnesium sulphate emerged as an effective tool when administered intravenously with a dose of 1gm for relieving the symptoms of acute status migranous. It not only worked for headache but also proved to be effective for the associated symptoms.
Downloads
Download data is not yet available.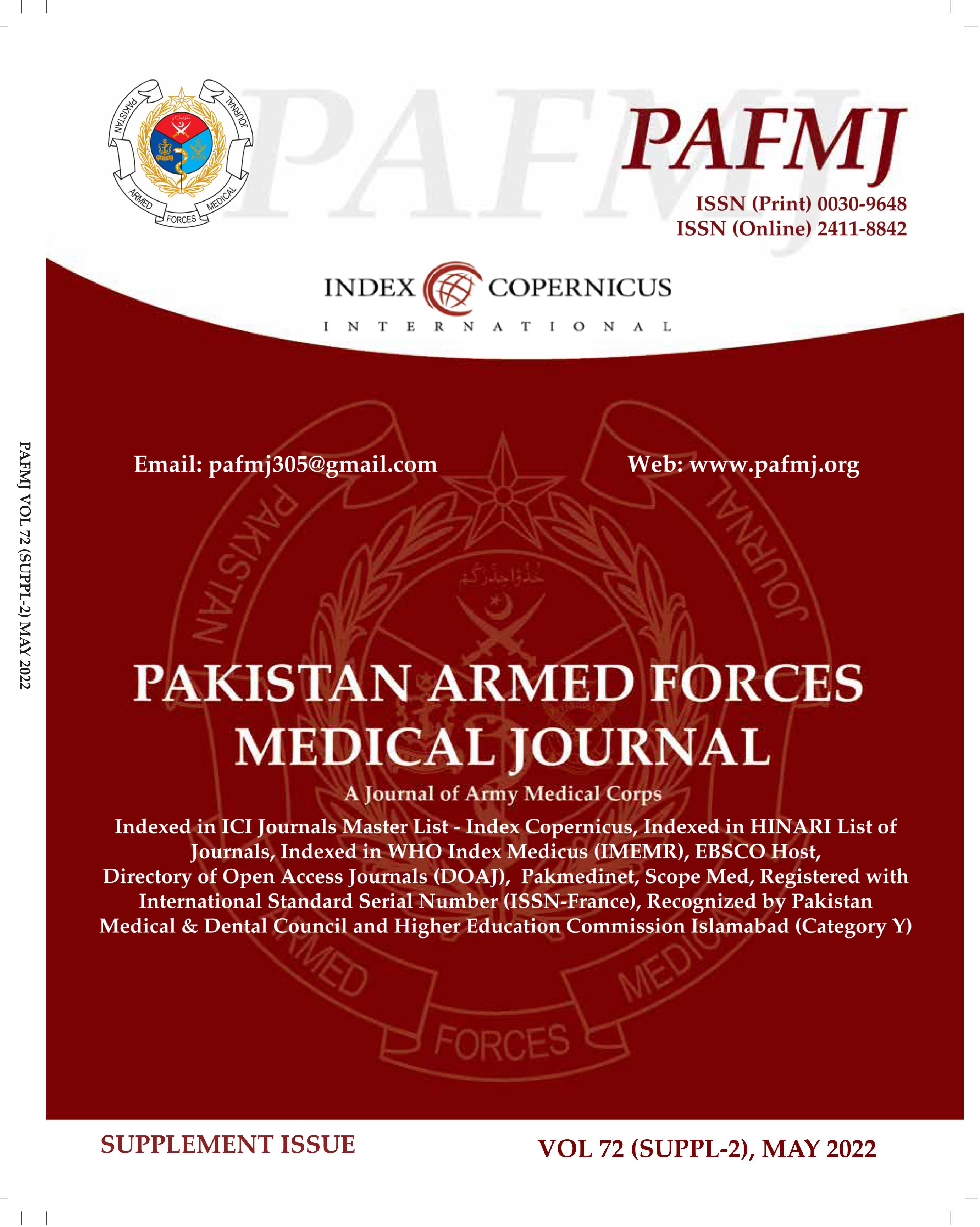 How to Cite
Hassan, Z., Kazmi, S., Gilani, A., Alamgir, W., Liaqat, J., & Hashmat, A. (2022). Role of Intravenous Magnesium Sulphate in Acute Status Migranous. Pakistan Armed Forces Medical Journal, 72(SUPPL-2), S118-21. https://doi.org/10.51253/pafmj.v72iSUPPL-2.3131
Section
Original Articles