COMPLICATIONS OF OPEN SURGICAL TRACHEOSTOMIES AND THEIR MANAGEMENT - OUR EXPERIENCE
Zeba Ahmed

Dr Ruth Pfau Civil Hospital Karachi Pakistan

Khalid Hussain Mahida

Ziauddin University Karachi Pakistan

Zill E Huma

Dr Ruth Pfau Civil Hospital Karachi Pakistan

Tariq Muhammad

Ziauddin University Karachi Pakistan
Keywords:
Complications, Intensive care units, Tracheotomy
Abstract
Objective:
To justify the role of open surgical tracheotomy in patients admitted in surgical or medical intensive care units for ventilator support or secretion management.
Study Design: A descriptive study.
Place and Duration of Study: Department of otorhinolaryngology- Head and Neck Surgery, Dr Ruth K M Pfau Civil Hospital Karachi, Dow Medical College- Dow University of Health Sciences and Otolaryngology-Head & Neck Surgery Ziauddin University Karachi Jan 2014 to Jan 2018.
Material and Methods:
This study includes all elective and emergency tracheotomies performed in intensive care units (ICU). Patients with cervical spine injuries, bleeding diathesis and patients below 12 years of age were excluded from our study.
Results:
We encountered complications in 20 patients out of 534, on whom tracheotomies were carried out in intensive care setting. Hemorrhage during and after tracheotomy procedure occurred in eight patients, which was controlled by pressure, ligation or diathermy. Procedure related surgical emphysema occurred in two patients; it was limited to cervical region and subsided with conservative management. The inadvertent decannulation of tracheotomy tube occurred in two cases. Subglottic stenosis developed in four patients. Tracheo esophageal fistula was encountered in four cases.
Conclusions:
A low morbidity and mortality rate in our series justifies the role of open surgical tracheostomy in patients admitted in surgical or medical ICU for ventilator support or secretion management. It is also effective in a situation of unsecured airway.
Downloads
Download data is not yet available.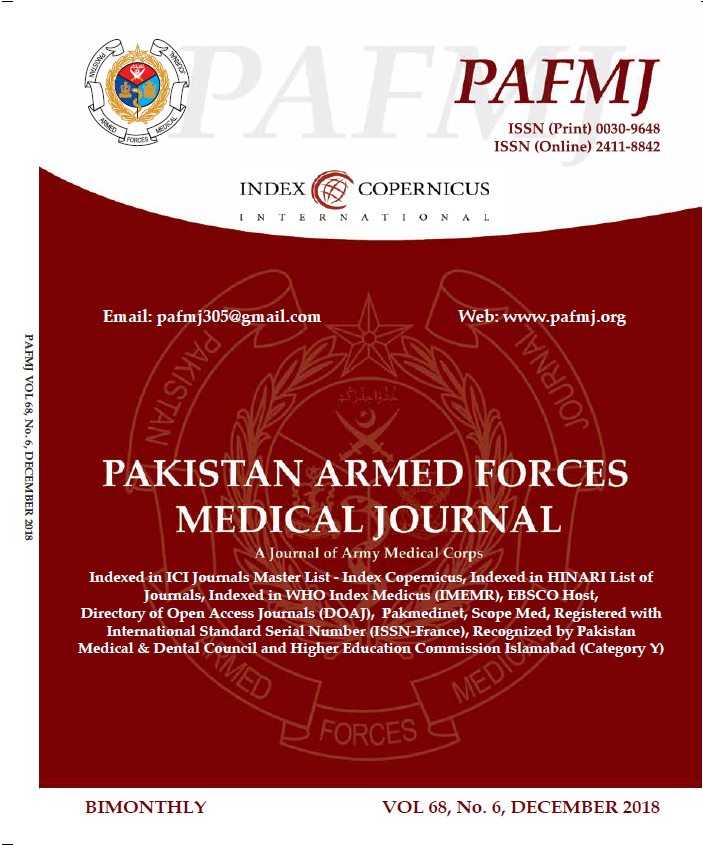 How to Cite
Ahmed, Z., Mahida, K., Huma, Z., & Muhammad, T. (2018). COMPLICATIONS OF OPEN SURGICAL TRACHEOSTOMIES AND THEIR MANAGEMENT - OUR EXPERIENCE. PAFMJ, 68(6), 1642-47. Retrieved from https://pafmj.org/index.php/PAFMJ/article/view/2563
Section
Original Articles