Assessment of Knowledge, Attitude, and Practices Related to Sun Exposure among University Students of Rawalpindi and Islamabad
Asima Shahzad

Army Medical College/National University of Medical Science (NUMS) Rawalpindi Pakistan

Syed Fawad Mashhadi

Army Medical College/National University of Medical Science (NUMS) Rawalpindi Pakistan

Usama Khan

Army Medical College/National University of Medical Science (NUMS) Rawalpindi Pakistan

Noraiz Shafqat

Army Medical College/National University of Medical Science (NUMS) Rawalpindi Pakistan

Ahmer Ali

Army Medical College/National University of Medical Science (NUMS) Rawalpindi Pakistan

Hira Ghazanfar

Army Medical College/National University of Medical Science (NUMS) Rawalpindi Pakistan

Hafsa Noor

Army Medical College/National University of Medical Science (NUMS) Rawalpindi Pakistan

Haleema Amir

Army Medical College/National University of Medical Science (NUMS) Rawalpindi Pakistan
Keywords:
Knowledge, Practices, Skin cancer, SPF, Sun exposure, Sunscreen
Abstract
Objective: To assess the knowledge and attitude towards sun exposure related practices among university students of twin cities.
Study Design: Quantitative analytical cross-sectional study.
Place and Duration of Study: A Quantitative analytical cross-sectional study was carried out in the university students of Rawalpindi and Islamabad Pakistan, from Jan till Apr 2022.
Methodology: Total participants were 317. Participants were university students, who were studying during 2021-2022 under registered universities within the twin cities. The data was gathered through online Google Forms. IBM SPSS version 25 was used for analysis.
Results: 42.5% participants exposed themselves to the sun doing outdoor activities for over 90 days a year, while 49.3% did so for 1-2 hours a day. 29% of the people got painful burns at least once or twice this year. Only 20% participants took shelter in shade or used umbrellas, 14.5% used hats. 20.4% never used sunscreen, while 22.6% did, and among them, 44.3% were unaware of the SPF they used. 48% do not like using sunscreen. 65.4% believed sun protection creams were the best way to protect themselves. 81.1% think at least 30 minutes of sun a day are advisable for adequate Vitamin D levels. (p<0.05)
Conclusion: It was found that people does have knowledge about the importance of shade and clothing material, such as hats,to avoid the harmful effects of sun exposure but they do not practice it. When it comes to sunscreen, most do not use it and those who do, do not possess significant knowledge about its SPF.
Downloads
Download data is not yet available.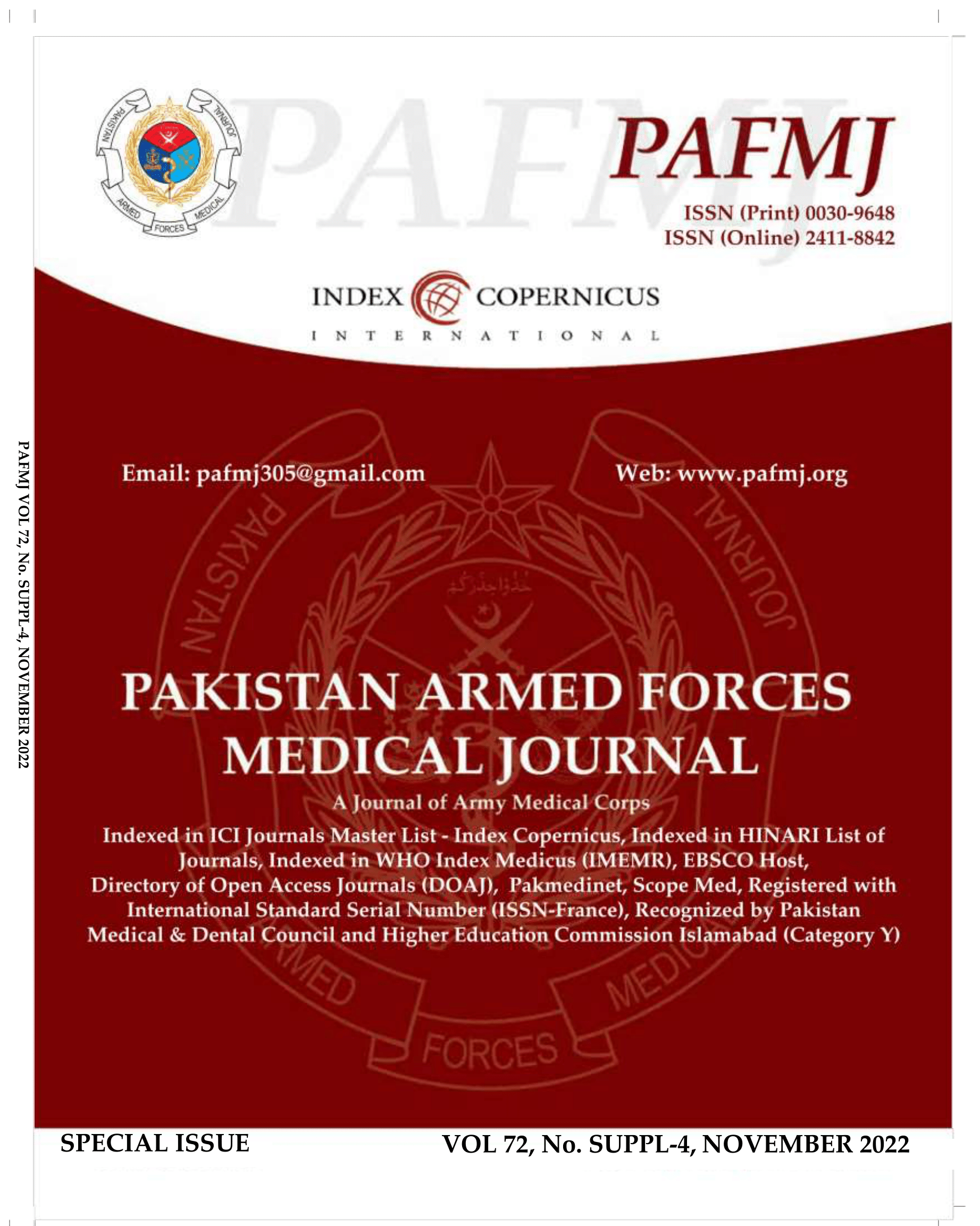 How to Cite
Shahzad, A., Mashhadi, S. F., Khan, U., Shafqat, N., Ali, A., Ghazanfar, H., Noor, H., & Amir, H. (2022). Assessment of Knowledge, Attitude, and Practices Related to Sun Exposure among University Students of Rawalpindi and Islamabad. Pakistan Armed Forces Medical Journal, 72(SUPPL-4), S805-10. https://doi.org/10.51253/pafmj.v72iSUPPL-4.9661
Section
Original Articles