COMPARISON BETWEEN INTRA-ARTICULAR AND INTRAVENOUS TRANEXAMIC ACID APPLICATION IN PRIMARY UNILATERAL KNEE JOINT REPLACEMENT
Intra-Articular And Intravenous Tranexamic Acid Application
Junaid Khan

Rawalpindi Medical University Rawalpindi Pakistan

Riaz Ahmed

Rawalpindi Medical University Rawalpindi Pakistan

Rahman Rasool Akhtar

Rawalpindi Medical University Rawalpindi Pakistan
Keywords:
Drainage,, Haemoglobin, Total knee replacement, Tranexamic acid.
Abstract
Objective: To compare the efficacy of intra-articular and intravenous modes of administration of tranexamic acid in primary total knee arthroplasty in terms of blood loss and fall in haemoglobin level.
Study Design: Randomized controlled trial. 
Place and Duration of Study: Study was conducted at the Department of Orthopaedics, Benazir Bhutto Hospital Rawalpindi, Pakistan for duration of six months, from May 2017 to Nov 2017.
Material and Methods: Seventy-eight patients were included in the study. Patients were randomly divided into group A and B. Group A patients undergoing unilateral primary total knee replacement (TKR) were given intra-venous tranexamic acid (TXA) while group B were infiltrated with intra-articular TXA. Volume of drain output, fall in haemoglobin (Hb) level and need for blood transfusion were measured immediately after surgery and at 12 and 24 hours post operatively in both groups.
Results: The study included 35 (44.87%) male and 43 (55.13%) female patients. Mean age of patients was 61 ± 6.59 years. The mean drain output calculated immediately after surgery in group A was 45.38 ± 20.75 ml compared with 47.95 ± 23.86 ml in group B (p=0.73). At 24 hours post operatively, mean drain output was 263.21 ± 38.50 ml in intravenous group versus 243.59 ± 70.73 ml in intra-articular group (p=0.46). Regarding fall in Hb level, both groups showed no significant difference (p>0.05). About 12.82% (n=5) patients in group A compared to 10.26% (n=4) patients required blood transfusion post operatively (p=0.72).
Conclusion: Intra-articular and intravenous TXA are equally effective in patients undergoing primary total knee arthroplasty in reducing post-operative blood loss.
Downloads
Download data is not yet available.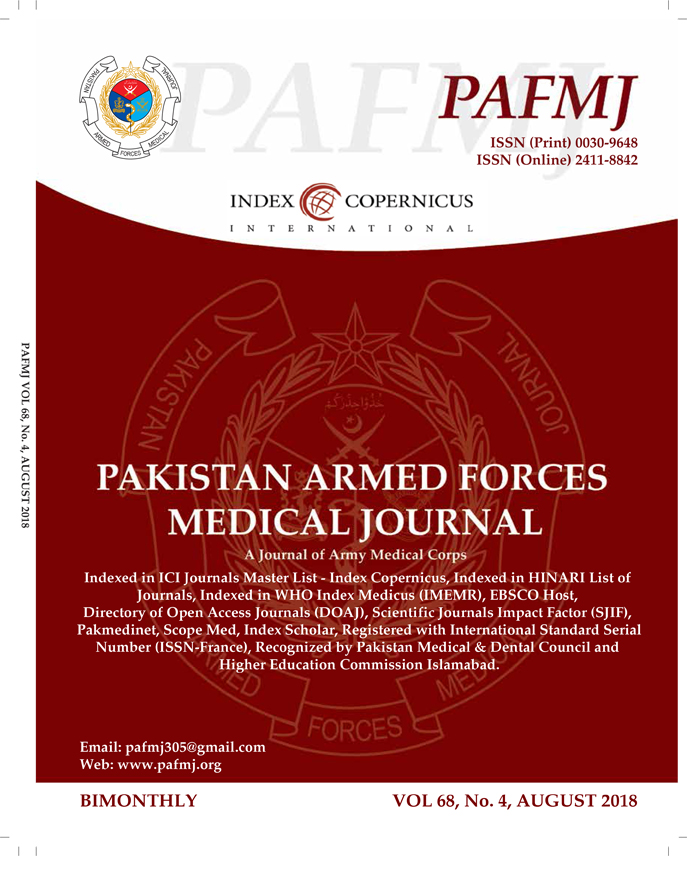 How to Cite
Khan, J., Ahmed, R., & Akhtar, R. R. (2018). COMPARISON BETWEEN INTRA-ARTICULAR AND INTRAVENOUS TRANEXAMIC ACID APPLICATION IN PRIMARY UNILATERAL KNEE JOINT REPLACEMENT. Pakistan Armed Forces Medical Journal, 68(4), 827-33. Retrieved from https://pafmj.org/index.php/PAFMJ/article/view/95
Section
Original Articles