THROMBOPROPHYLAXIS IN PATIENTS WITH EPIDURAL ANALGESIA AFTER HIP OR KNEE ARTHROPLASTY
Thromboprophylaxis in Epidural Analgesia
Ahmed Zafar

Doctors Hospital & Medical Centre Lahore Pakistan

Umair Abu Bakar Siddiq

Doctors Hospital & Medical Centre Lahore Pakistan

Hafeez Ur Rehman

Doctors Hospital & Medical Centre Lahore Pakistan

Abu Bakar Siddiq

Doctors Hospital & Medical Centre Lahore Pakistan

GA Shah

Doctors Hospital & Medical Centre Lahore Pakistan
Abstract
Objective: To propose a management plan for prevention of enoxaparin-induced epidural hematoma in patients with indwelling epidural catheters
Study Design: Cross sectional study.
Place and Duration of Study: Department of Orthopaedics and Spine, Doctors Hospital & Medical Centre,Lahore, Pakistan, from Jan to Dec 2016.
Material and Methods: Sixty-eight patients undergoing hip or knee arthroplasty met our inclusion criteria. All patients received postoperative epidural analgesia and concomitant thromboprophylaxis with enoxaparin.Epidural was placed/removed 24 hours after the last dose of enoxaparin. Subsequent dose of enoxaparin was given 8 hours after removal of catheter. Patients were monitored for development of neurologic deficit according to American Spinal Injury Association (ASIA) impairment scale (appendix) on daily basis until discharge.
Thereafter, patients were examined at 2 weeks postoperatively.
Results: Of the Sixty-eight patients enrolled, 47 (69.1%) were females and 21 (30.8%) males. Hip arthroplasty was done in 25 (36.7%), unilateral knee arthroplasty in 32(47%) and bilateral knee arthroplasty in 11 (16.1%) patients.Maximum neurologic score was set at 102 which was satisfactorily achieved in all patients. No patient reported any new sensory or motor deficit after the index surgery.
Conclusion: Low-molecular-weight heparin (enoxaparin) is safe for use in conjunction with indwelling epidural catheter if appropriate interval is provided for catheter insertion and removal.
Downloads
Download data is not yet available.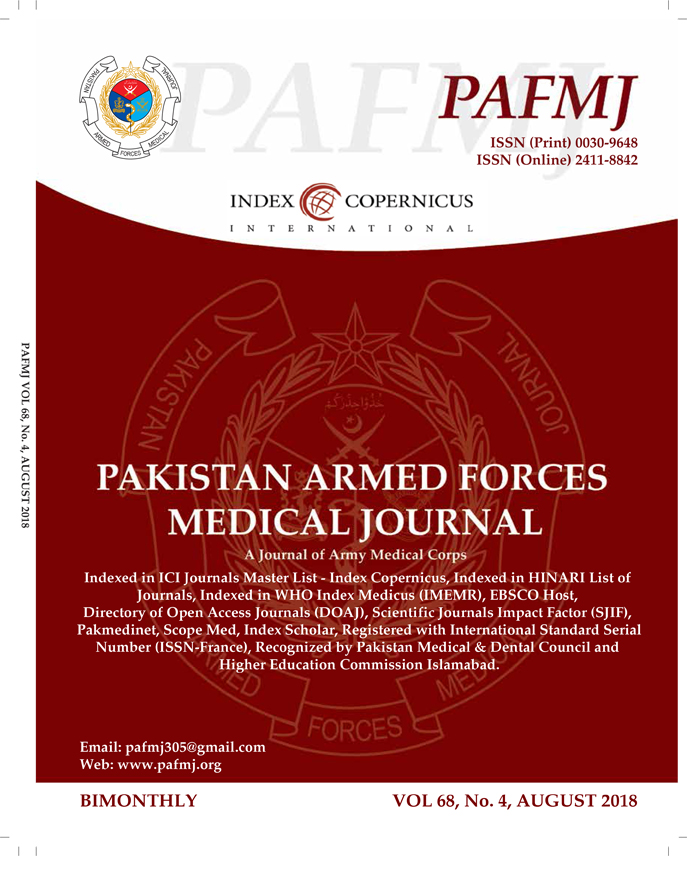 How to Cite
Zafar, A., Bakar Siddiq, U. A., Ur Rehman, H., Siddiq, A. B., & Shah, G. (2018). THROMBOPROPHYLAXIS IN PATIENTS WITH EPIDURAL ANALGESIA AFTER HIP OR KNEE ARTHROPLASTY. Pakistan Armed Forces Medical Journal, 68(4), 822-26. Retrieved from https://pafmj.org/index.php/PAFMJ/article/view/90
Section
Original Articles