EXPERIENECE OF LAPAROSCOPIC CHOLECYSTECTOMY IN EMPYEMA OF GALLBLADDER AT TERTIARY CARE HOSPITAL
Cholecystectomy in Empyema of Gallbladder
Mannan Masud

Combined Military Hospital Malir Pakistan

Muhammad Adil

*Combined Military Hospital Abbottabad Pakistan

Shaheer Mannan

*Combined Military Hospital Lahore Medical College Lahore Pakistan

Shahbaz Khan

Independent Research Specialist

Afra Khan

Combined Military Hospital/National University of Medical Sciences (NUMS) Rawalpindi Pakistan

Nifasat Farooqi

Aga Khan University Hospital Karachi Pakistan

Mariam Asad

Combined Military Hospital Malir Pakistan
Keywords:
Empyema gallbladder,, Efficacy, Laparoscopic cholecystectomy
Abstract
Objective: To evaluate the safety and efficacy of laparoscopic cholecystectomy in Empyema of gallbladder.
Study Design: Prospective quasi experimental study.
Place and Duration of Study: Surgical department CMH Malir, from Aug 2014 to May 2017. 
Material and Methods: Among 350 patients who underwent LC, 38 patients who had findings of empyema gall bladder on laparoscopy were included in the study. While patients with diagnosis of acute cholecystitis without pus in gall bladder, biliary colic and cholelithiasis were excluded from study. Data were collected by using proforma and were analyzed by using SPSS version 21. Descriptive statistics were produced.
Results: Out of 32 patients 27 were females while 5 were males with male to female ratio of 1: 5.4. Age range was 21-73 years with mean age of 51.12 ± 10 years. Major co morbidities were diabetes mellitus, hypertension, obesity and COPD. In 27 (84.37%) patients LC was successfully completed while in 5 (15.6%), LC was converted to open procedure. Mean operating time was 41.96 ± 16.12 min with a range of 30-120 min. Intra-operative complications included gall bladder perforation in 15.62% and bleeding from cystic artery in 3.12% patients. Post-operative complications occurred in 9.37% patients. These included bile leakage from liver bed in 3.12%, shoulder pain in 6.25%, fever in 6.25% and wound site infection in 6.25% patients. There was no mortality. Average hospital stay was 3-7 days.
Conclusion: LC in our setting has comparable results to the data available from different centre in Pakistan. It should be considered in cases of empyema gall bladder provided expertise & gadgets are available.
Downloads
Download data is not yet available.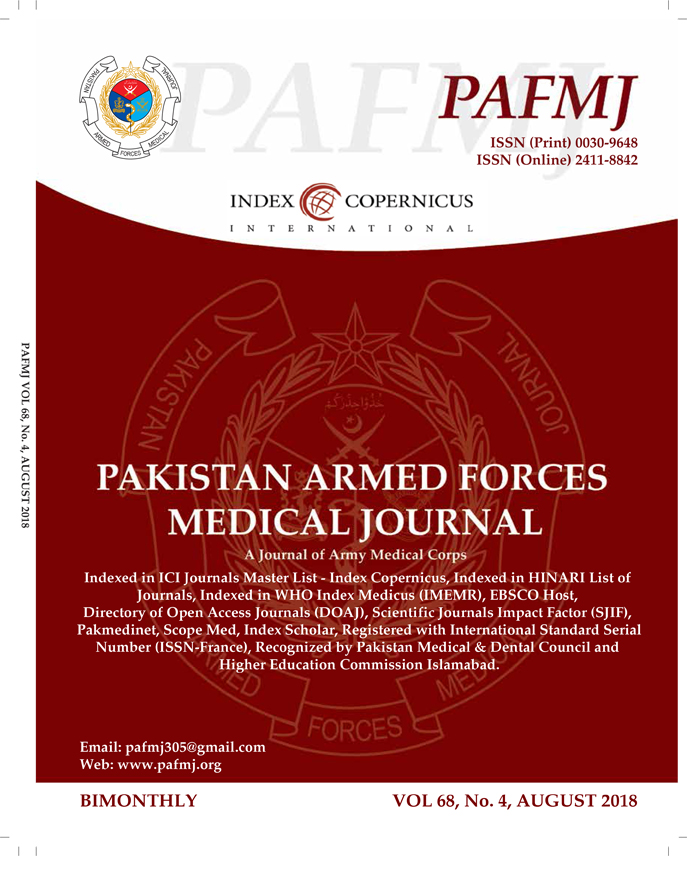 How to Cite
Masud, M., Adil, M., Mannan, S., Khan, S., Khan, A., Farooqi, N., & Asad, M. (2018). EXPERIENECE OF LAPAROSCOPIC CHOLECYSTECTOMY IN EMPYEMA OF GALLBLADDER AT TERTIARY CARE HOSPITAL. Pakistan Armed Forces Medical Journal, 68(4), 818-21. Retrieved from https://pafmj.org/index.php/PAFMJ/article/view/89
Section
Original Articles