FLEXIBLE INTRAMEDULLARY NAILING IN PEDIATRIC FRACTURES: EARLY OUTCOME IN 54 CASES
Flexible Intranmedullary Nailing
Mian Qaiser Ali Shah

Combined Military Hospital Gujranwala Pakistan

Muhammad Asif Rasheed

Combined Military Hospital Gujranwala Pakistan

Shakil Sarwar

Combined Military Hospital Gujranwala Pakistan

Aneeqa Naz

Zartash Ahmed Sakhi

Combined Military Hospital Gujranwala Pakistan
Keywords:
Child,, Complications, Flexible intramedullary nails, Fracture fixation.
Abstract
Objective: The aim of this study was to record the experience of managing different pediatric fractures with flexible nails, document postoperative complications and assess the early outcome using this novel technique.
Study Design: Cross sectional study. 
Place and Duration of Study: Combined Military Hospital Gujranwala, from Dec 2015 to Nov 2016.
Material and Methods: All cases of pediatric fractures fulfilling inclusion criteria were included in the study. A minimum of 6 months follow up was done in all cases. Data was analyzed using statistical package for social sciences version 18.
Results: A total of 54 cases were included. Mean Age was 7.06 years and mean weight was 24.19 kilograms. There were 21 femur (38%), 24 radius and ulna (44.4%), 3 tibia (5.6%), 3 radius (5.6%) and 3 ulna (5.6%). Mean narrowest canal diameter was 7.00 ± 1.26 millimeters and Nail diameter was 2.86 ± 0.41 millimeters. Mean duration of surgery was 27.11 ± 7.42 minutes and mean hospital stay was 2.25 ± 0.51 days. Mean time for radiological union was 8.61 ± 2.39 weeks. Encountered complications were 17 (31.5%) including Limb length discrepancy 1-2 centimeters (5), skin impingement (4), surgical site infection (3), Need to approach fracture site (3) and angulation 5-10 degrees (2) while no case of malunion and migration was observed. The final outcome graded according to Flyn and Schwend score was excellent in 49 cases (90.7%) and satisfactory in 5 cases (9.3%).
Conclusion: Flexible intramedullary nailing was found reliable and safe for fractures in patients aged 3-12 years. It was relatively free of serious complications and provided good recovery and a very high union rate with an acceptable rate of minor complications.
Downloads
Download data is not yet available.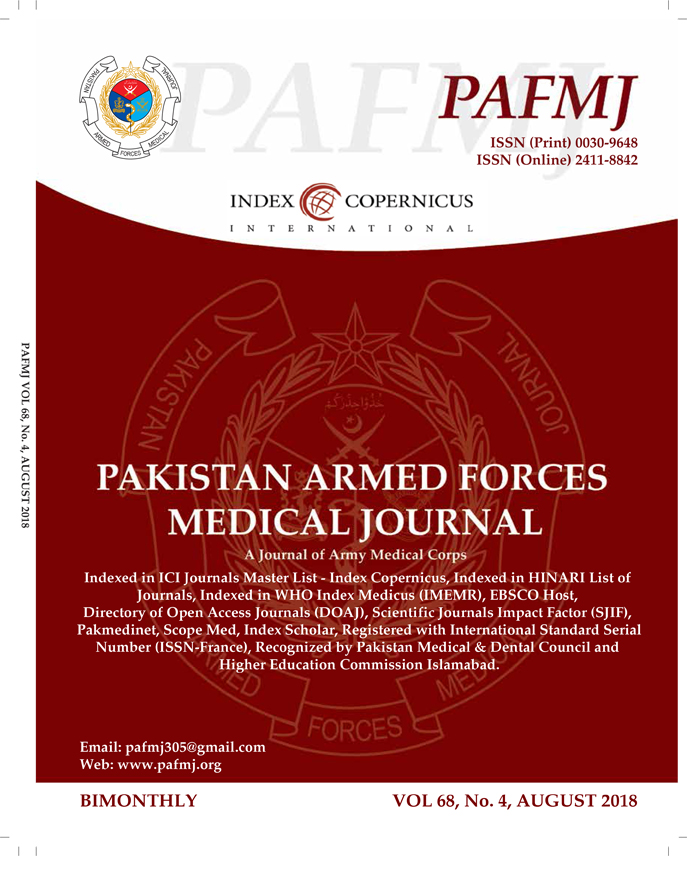 How to Cite
Ali Shah, M. Q., Asif Rasheed, M., Sarwar, S., Naz, A., & Ahmed Sakhi, Z. (2018). FLEXIBLE INTRAMEDULLARY NAILING IN PEDIATRIC FRACTURES: EARLY OUTCOME IN 54 CASES. Pakistan Armed Forces Medical Journal, 68(4), 812-17. Retrieved from https://pafmj.org/index.php/PAFMJ/article/view/88
Section
Original Articles