Society of Obstetricians and Gynaecologists Pakistan (SOGP) Hypertensive Disorders in Pregnancy Guidelines- 2022
Shehla M Baqai

CMH Lahore Medical College, Lahore/National University of Medical Sciences (NUMS) Pakistan

Rehana Rahim

Lady Reading Hospital, Peshawar Pakistan

Hasan Ala

Dow University of Health Sciences, Karachi Pakistan

Shahida Husain Tarar

Nawaz Sharif Medical College, Gujrat Pakistan

Fareesa Waqar

Riphah International University, Islamabad Pakistan

Haleema Yasmeen

Jinnah Postgraduate Medical Center, Karachi Pakistan

Anam Waheed

Brigham and Women's Hospital, Boston, USA
Keywords:
Guideline, Pregnancy, Hypertension, Pregnancy outcome, Preeclampsia, Prognosis
Abstract
The Society of Obstetricians & Gynecologist Pakistan Hypertensive Disorders of Pregnancy (SOGP- HDP) guideline is evidence based practical clinical guide to the management of pregnant women with hypertension. It defines hypertension, preeclampsia & severe hypertension, encourages measuring blood pressure (BP) accurately, preferably by automated/mercury blood pressure monitors. The guideline gives an approach to screening, risk prediction and prevention of preeclampsia and management of hypertensive disorders of pregnancy. The guideline emphasizes experienced team management approach and mandatory hospital protocols for the management of pregnant women with hypertension. The aim is to have locally tailored easy to follow protocols for preconception care, screening, prevention and management of women at risk of preeclampsia; management of chronic hypertension in pregnancy, antihypertensive therapy for severe and non-severe hypertension. In addition, it discusses post-partum management, contraception, follow-up, discusses risk of recurrence and long-term follow up for women with preeclampsia to mitigate future cardio-metabolic risks to maternal health associated with hypertensive disorders of pregnancy
Downloads
Download data is not yet available.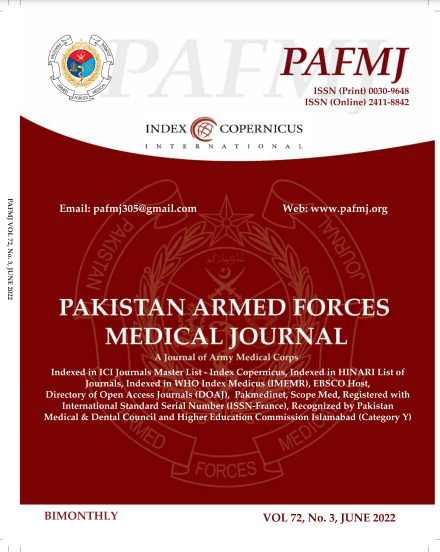 How to Cite
Baqai, S., Rahim, R., Ala, H., Tarar, S., Waqar, F., Yasmeen, H., & Waheed, A. (2022). Society of Obstetricians and Gynaecologists Pakistan (SOGP) Hypertensive Disorders in Pregnancy Guidelines- 2022. Pakistan Armed Forces Medical Journal (PAFMJ), 72(3), 731-53. https://doi.org/10.51253/pafmj.v72i3.8600
Section
Original Articles