COMPARISON OF COLD-GEL PACK THERAPY WITH ORAL IBUPROFEN FOR THE PAIN RELIEF BEFORE INTRALESIONAL INJECTION OF TRIAMCINOLONE ACETONIDE IN THE TREATMENT OF KELOIDS
Cold-Gel Pack Therapy With Oral Ibuprofen
Asad Maqbool

Combined Military Hospital/ National University of Medical Sciences (NUMS) Rawalpindi Pakistan

Muammad Rizwan Aslam

Combined Military Hospital/ National University of Medical Sciences (NUMS) Rawalpindi Pakistan

Hamza Mumtaz

Combined Military Hospital/ National University of Medical Sciences (NUMS) Rawalpindi Pakistan

Rao Saood Ahmed

Combined Military Hospital/ National University of Medical Sciences (NUMS) Rawalpindi Pakistan

Syed Iftikhar Ali

Comb

Usama Bin Zubair

Pakistan Institute of Medical Sciences Islamabad Pakistan
Keywords:
Cold-gel pack, Ibuprofen, Injection site pain.
Abstract
Objective: To compare the efficacy of cold gel pack therapy with oral ibuprofen for the pain relief before intralesional injection of triamcinolone acetonide in the treatment of keloids.
Study Design: Randomized controlled trial.
Place and Duration of Study: Study was conducted at Combined Military Hospital Rawalpindi, from Apr 2017 to Sep 2017.
Material and Methods: Patients of both genders with keloids larger than 3 cm in greatest dimension were included in the study. They were divided into two equal groups by lottery method. In first group i.e. group A, cold gel pack was applied 20 minutes before intralesional steroid injection whereas group B received oral ibuprofen 400 mg single tablet 30 minutes before the intralesional steroid injection. Patients rated their pain on a 10 point numeric rating scale (NRS) with 0 as no pain and 10 as worst possible pain immediately after procedure. Mean pain score was recorded for both the groups.
Results: The mean NRS score for group A patients receiving the cold gel pack therapy was 3.22 ± 0.20 whereas mean NRS score in group B with oral ibuprofen was 5.92 ± 0.40 (p-value<0.001). The pain scores in the cold gel pack group were significantly lower than the ibuprofen group.
Conclusion: Cold gel pack therapy before administration of intralesional steroid injection into the keloids emerged as an effective tool to reduce the pain of the patients. It was found superior to the ibuprofen and its routine use before the intralesional injections can help the patients to cope well with the painful therapy.
Downloads
Download data is not yet available.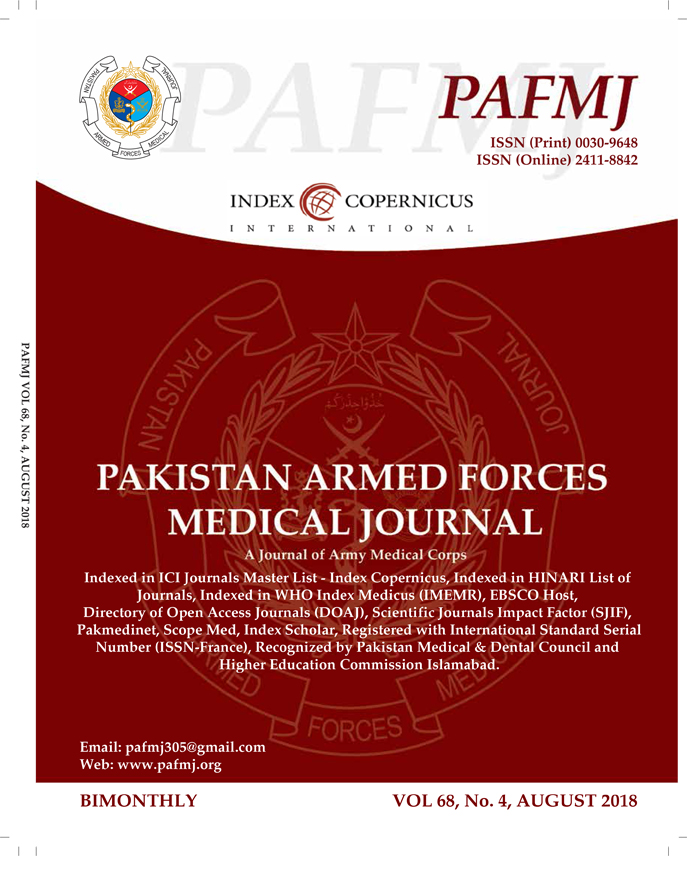 How to Cite
Maqbool, A., Aslam, M., Mumtaz, H., Ahmed, R. S., Ali, S., & Zubair, U. B. (2018). COMPARISON OF COLD-GEL PACK THERAPY WITH ORAL IBUPROFEN FOR THE PAIN RELIEF BEFORE INTRALESIONAL INJECTION OF TRIAMCINOLONE ACETONIDE IN THE TREATMENT OF KELOIDS. Pakistan Armed Forces Medical Journal, 68(4), 792-95. Retrieved from https://pafmj.org/index.php/PAFMJ/article/view/81
Section
Original Articles