ROLE OF THE CULTURAL CONTEXT IN DETERMINING THE USE OF PATIENT SAFETY; A MIX METHOD STUDY
Cultural Context Role in Patient Safety
Najm Us Saqib Khan

Bahria University Medical & Dental College, Karachi Pakistan

Assad Hafeez

Health Services Academy, Islamabad Pakistan

Rehana Khadim

Army Medical College/National University of Medical Sciences (NUMS) Rawalpindi Pakistan

Anam Haider

Army Medical College/National University of Medical Sciences (NUMS) Rawalpindi Pakistan

Aliya Hisam

Army Medical College/National University of Medical Sciences (NUMS) Rawalpindi Pakistan

Tahir Mahmood Butt

Sialkot Medical College, Sialkot Pakistan
Keywords:
Cultural Context, Health care professional, Patient Safety
Abstract
Objective: To compare the role of the cultural context in determining the use of patient safety by participants from private and public sector hospitals of Karachi, Pakistan.
Study Design: Mix method study.
Place and Duration of Study: In two tertiary care hospitals (one private and one public sector) of Karachi from Nov 2016 till Nov 2017.
Methodology: A sample size of 153 was enrolled by consecutive convenient sampling technique. The role of the cultural context of both hospitals was compared by asking questions from the hospital's staff. Data were collected by the researcher using an open and closed-ended questionnaire.
Results: Data of 153 successful and filled questionnaires were analyzed. Out of 153, 78 (51%) cases were for private hospitals and 75 (49%) cases were for public hospitals. The role of the cultural context in determining the use of the patient safety concept was not sufficiently understood by participants of both hospitals, and most of the participants gave vague answers.
Conclusion: Cultural context is one of the key factors in patient safety as with collective mindfulness about safety issues, and health care can be delivered safely.
Downloads
Download data is not yet available.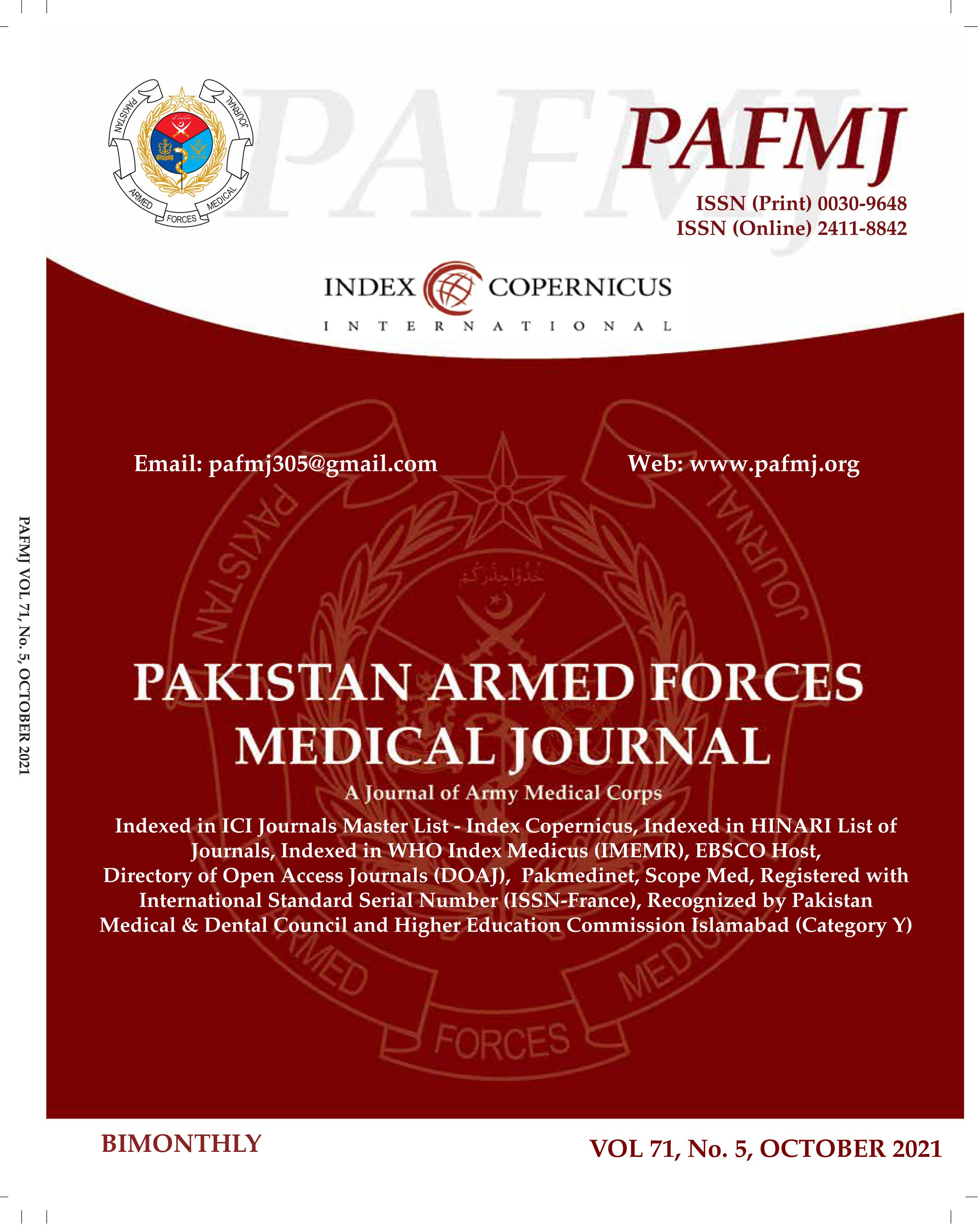 How to Cite
Saqib Khan, N., Hafeez, A., Khadim, R., Haider, A., Hisam, A., & Butt, T. (2021). ROLE OF THE CULTURAL CONTEXT IN DETERMINING THE USE OF PATIENT SAFETY; A MIX METHOD STUDY. Pakistan Armed Forces Medical Journal, 71(5), 1577-81. https://doi.org/10.51253/pafmj.v71i5.7350
Section
Original Articles