ROLE OF INTERLEUKIN-6 AND PROCALCITONIN AS INFLAMMATORY BIOMARKERS IN EVALUATING COVID-19 DISEASE SEVERITY ON HRCT CHESTAN EXPERIENCE AT CMH QUETTA
Keywords:
COVID-19 pneumonia, Interlukin-6, Procalcitonin
Abstract
Objective: To explore the relation of Interleukin-6 and Procalcitonin with COVID-19 severity on high resolution computerized tomogram (HRCT) chest.
Study Design: Randomized Control Trial (NCT04945811).
Place and Duration of study: Pathology Department, Combined Military Hospital Quetta, from April 2020 to May 2021.
Methodology: Serum Interleukin-6 and Procalcitonin of 100 consenting COVID-19 positive patients from April 2020 to May 2021 were assessed at Pathology department Combined Military Hospital Quetta and their levels were correlated with severity of lung involvement on HRCT Chest
Results: Serum Interlukin-6 levels were significantly raised in 97 patients with mean levels of 20.43 ± 19.66 (pg/ml). Serum procalcitonin levels were also significantly raised in 95 patients with mean levels of 0.43 ± 0.24 (ng/ml).
Conclusion: Interlukin-6 and procalcitonin are important biomarkers for diagnosis and predicting severity of COVID-19 pneumonia.
Downloads
Download data is not yet available.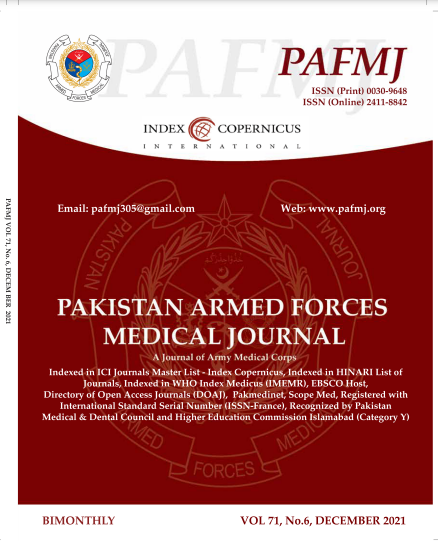 Downloads
How to Cite
Ayub, Z., Ahmed, A., Afzal, F., Bashir, S., Iqbal, H., & Nawaz, K. H. (2021). ROLE OF INTERLEUKIN-6 AND PROCALCITONIN AS INFLAMMATORY BIOMARKERS IN EVALUATING COVID-19 DISEASE SEVERITY ON HRCT CHESTAN EXPERIENCE AT CMH QUETTA. Pakistan Armed Forces Medical Journal, 71(6), 2131–34. https://doi.org/10.51253/pafmj.v71i6.6977
Section
Original Articles