SHORT-TERM OUTCOMES IN PATIENTS UNDERGOING MECHANICAL VENTILATION IN A TERTIARY CARE CENTRE IN SIALKOT
Mechanical Ventilation
Fatima Ayub

Combined Military Hospital Lahore Pakistan

Irfan Zafar Haider

Combined Military Hospital Multan Pakistan

Saira Saeed

Military Hospital/National University of Medical Sciences (NUMS) Rawalpindi Pakistan

Badar Murtaza

Combined Military Hospital Peshawar Pakistan

Muhammad Tariq

Combined Military Hospital Peshawar Pakistan
Keywords:
Critical Care, Developing countries, Pneumonia, Respiratory distress syndrome, Ventilator-associated
Abstract
Objective: To determine the short-term mortality rate of patients on mechanical ventilation in a tertiary care center in Sialkot, Pakistan.
Study Design: Descriptive cross sectional study.
Place and Duration of Study: This study was conducted jointly by the departments of Anesthesiology, Surgery and Gynecology & Obstetrics at Combined Military Hospital Sialkot Cantonment, from Jul 2013 to Jun 2015.
Material and Methods: A total of 112 patients placed on mechanical ventilation were included in this study. The patients' age, gender, disease on admission, duration of ventilation, indication for ventilation, outcomes and complications were noted. SPSS 21 was used for data analysis.
Results: Fifty-eight (51.78%) patients expired while 54 (48.21%) were weaned off successfully. In the former group of expired patients, the major factors contributing towards the mortality were multi-organ failure (37.9%), VAP/ventilator-associated pneumonia (32.7%), coagulopathy (29.3%) and sepsis (27.5%). However, in the survivor patients group5 patient (9.25%) developed VAP, 3 (5.55%) developed pneumothorax while 3 others
(5.55%) developed a fever of unknown etiology.
Conclusion: The short-term mortality rate of patients who receive mechanical ventilation in an intensive care unit (ICU) in Sialkot, Pakistan is significantly higher than that of developed countries.
Keywords: , , , , 
pneumonia.
Downloads
Download data is not yet available.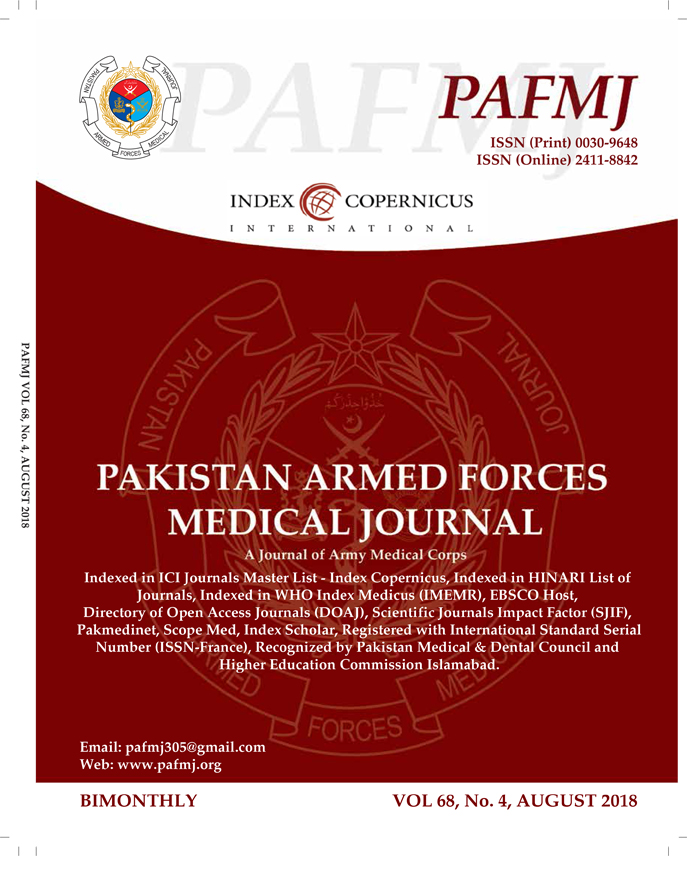 How to Cite
Ayub, F., Haider, I., Saeed, S., Murtaza, B., & Tariq, M. (2018). SHORT-TERM OUTCOMES IN PATIENTS UNDERGOING MECHANICAL VENTILATION IN A TERTIARY CARE CENTRE IN SIALKOT. Pakistan Armed Forces Medical Journal, 68(4), 1007-12. Retrieved from https://pafmj.org/index.php/PAFMJ/article/view/69
Section
Original Articles