PREVELANCE OF MUSCULOSKELETAL LOE BACK PAIN IN OFFICE WORKERS AT LAHORE , PAKISTAN
Musculoskeletal Low Back Pain
Ayesha Arooj

Institute of Physical Therapy/ University of Lahore Pakistan

Ashfaq Ahmed

Institute of Physical Therapy/ University of Lahore Pakistan

Muhammad Sajid Yazdani

Armed Forces Institute of Transfusion/ National University of Medical Sciences (NUMS) Rawalpindi Pakistan

Syed Amir Gilani

Institute of Physical Therapy/ University of Lahore Pakistan

Kamran Hanif

Institute of Physical Therapy/ University of Lahore Pakistan

Fahad Tanveer

Institute of Physical Therapy/ University of Lahore Pakistan
Keywords:
Low back pain,, Office workers, Prevalence, Work ergonomics
Abstract
Objective: To determine the prevalence of musculoskeletal low back pain (LBP) among office workers at Lahore.
Study Design: Cross sectional study.
Place and Duration of study: The study was carried out in Lahore for six months, from Oct 2016 to Mar 2017.
Material and Methods: A self-reported questionnaire was drafted to identify the prevalence and then find out its associations with the risk factors leading to LBP. Individual characteristics and traits of work ergonomics collected and analyzed to calculate the prevalence of LBP. The sample size was calculated by using epitools sample size calculator. A convenient sampling method was used and the collected data was further analyzed by Microsoft excel 2013.
Results: Out of total 900 office workers approached 669 participated in the study with a response rate of 74%. A total of 82.21% were male amongst these public sector office workers. The mean age was 32.72 years with standard deviation of ± 8.93 years, 29.45% of all who participated in the study, were suffering from LBP. Sleep disturbance was reported in 23%, and walking style was affected in 53% of individuals due to LBP and about 8% reported complete disruption of their daily activities. Significance of results was calculated by chi square test and p-value calculation for different variables. No significant relation between low back pain and age, gender, sitting time, chair type, distance between table and chair and exercise was noted (p-value>0.05).
Conclusion: It is concluded that LBP has high prevalence amongst office workers but our study could not establish significant associations with type of chair used, distance between table and chair, sitting hours and exercise.
Downloads
Download data is not yet available.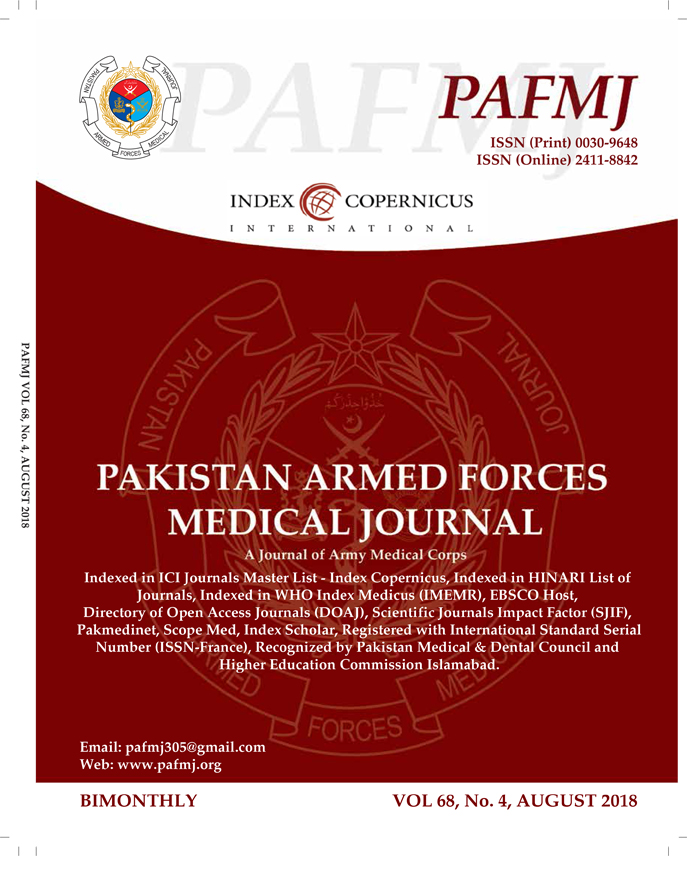 How to Cite
Arooj, A., Ahmed, A., Yazdani, M., Gilani, S., Hanif, K., & Tanveer, F. (2018). PREVELANCE OF MUSCULOSKELETAL LOE BACK PAIN IN OFFICE WORKERS AT LAHORE , PAKISTAN. Pakistan Armed Forces Medical Journal, 68(4), 919-23. Retrieved from https://pafmj.org/index.php/PAFMJ/article/view/66
Section
Original Articles