NUTRITIONAL STATUS ASSESSMENT OF ORPHANAGE CHILDREN IN RAWALPINDI
Mehwish Riaz

Foundation University, Islamabad Pakistan

Naila Azam

Foundation University, Islamabad Pakistan

Humaira Mahmood

Armed Forces Post Graduate Medical Institute (AFPGMI)/National University of Medical Sciences (NUMS) Rawalpindi Pakistan

Raima Asif

Foundation University, Islamabad Pakistan

Nazish Khan

Armed Forces Post Graduate Medical Institute (AFPGMI)/National University of Medical Sciences (NUMS) Rawalpindi Pakistan

Fatima Ali Raza Mughal

Foundation University, Islamabad Pakistan
Keywords:
Adolescents, Anthropometry, Malnutrition nutritional status, Orphanage, Under nutrition
Abstract
Objective: To evaluate the health and nutritional status of the orphanage, to find frequency of nutritional deficiencies by physical examination findings and to assess their dietary intake and contrast it with individual recommended daily allowances.
Study Design: Cross sectional study.
Place and Duration of Study: Four orphanages of Rawalpindi, from Jan to May 2020.
Methodology: Study was conducted at four orphanages of Rawalpindi on 276 children and adolescents. Children and adolescents in age group of 5-18 years and if they are resident of institution for more than 60 months were included in the study, while children who were extremely sick and mentally retarded were excluded from the study. Data was collected through questionnaire including demographic information, anthropometric assessment, nutritional deficiencies on physical examination and 24 hours food recall. Data was analyzed on SPSS 24.
Results: Results showed that 34 (17%) children and adolescents were underweight, 99 (49.5%) stunted, 21 (10.5%) showed thinness and 9 (4.5%) were overweight. Most common nutrient deficiency was protein calorie malnutrition, Iron deficiency and vitamin A and B 12 deficiency. Study population was consuming less protein, Iron and fats in diet as compared to recommended daily allowances.
Conclusion: Institutionalized children and adolescents are at risk of developing malnutrition due to financial constraints and ignorance of caregivers, which can lead to ill health of children. Programs are required to be undertaken for nutritional development of the orphanage children.
Downloads
Download data is not yet available.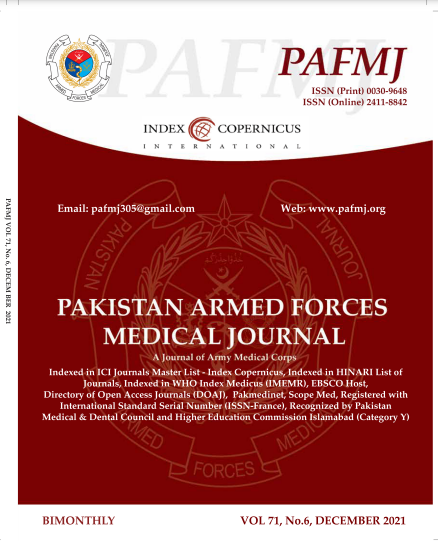 How to Cite
Riaz, M., Azam, N., Mahmood, H., Asif, R., Khan, N., & Mughal, F. (2021). NUTRITIONAL STATUS ASSESSMENT OF ORPHANAGE CHILDREN IN RAWALPINDI. Pakistan Armed Forces Medical Journal (PAFMJ), 71(6), 2139-43. https://doi.org/10.51253/pafmj.v71i6.6496
Section
Original Articles