POST PARTUM HEMORRHAGE PREVENTION WITH TRANEXAMIC ACID IS EFFECTIVE AND SAFE IN COMPARISON TO PLACEBO
PPH Prevention With Tranexamic Acid
Mamuna Qayum

Rangers Hospital Lahore Pakistan

Waleed Ali

Rangers Hospital Lahore Pakistan

Nomira Waheed

Rangers Hospital Lahore Pakistan
Keywords:
Caesarean section, Primary postpartum hemorrhage, Tranexamic acid, Vaginal delivery
Abstract
Objective:To  compare  the  tranexamic  acid  effectiveness  and  safety  with  placebo  for  prevention  of post  partum hemorrhage (PPH) on general population of Lahore.
Study Design:Randomized double blind placebo control trial.
Place and Duration of Study:This study was conducted over a period of two years and six month (Jan2015 to Jun 2017) in Ranger Hospital and Cavalry Hospital Lahore.
Materialand Methods:A  total  600  cases  were  randomly  selected  from  obstetric  outpatient departments  of  both hospitals for  delivery.  Patients  were  divided  in  two  groups,  300  patients  received  tranexamic  acid  and  300 patients  received  placebo.  In  tranxamic  acid  group,  in  cases  of  vaginal  deliveries  a  loading  dose  of  01  gram tranexamic acid was injected intravenously at delivery of anterior shoulder. In cases of lower segment caesarean section  it  was  administered  intravenously  prior  to  abdominal  incision.  Those  patients  who  failed  to  response,  a second dose of 01 gram tranxamic acid were repeated at 30 minutes -01 hour interval. In similar manner placebo was injected in second group.
Results:In  tranexamic  acid  group,289  (96%)  patients  responded  successfully.  Second  dose  was  needed  in  8 patients.  Out  of  these  8  cases,4 patients  responded  successfully.  Those  4  women  who  failed  to  respond  to tranxamic acid, 2 patients had venous thrombosis, 1 case was of placenta increate and 1 case was of uterine atony. Life saving total abdominal hysterectomy was performed in case of placenta increate. The patient of uterine atony required surgical intervention.In  this  study  tranexamic  acid  administration  was  associated  with reduction  in  blood  loss after  vaginal  delivery 88.2±15.5 mlversus 300 ± 35 ml in placebo group, and was significantly effective (p<0.001). In case of caesarean sections,  blood  loss  was  reduced  153.2  ±  21  ml  in  tranexamic  acid  group  versus  745  ± 72.5  ml  in  placebo.  The reduction  was  significant(p<0.001).  Minor  gastrointestinal  side  effects  were  common  after tranexamic  acid  use. Thromboembolic events were same in bothgroups.
Conclusion:Tranexamic  acid  effectively  reduced  post-partum  blood  loss  along  utro-tonics.  Tranexamic  acid  is  a safe drug which can reduce the primary PPH along with utrotonics.
Downloads
Download data is not yet available.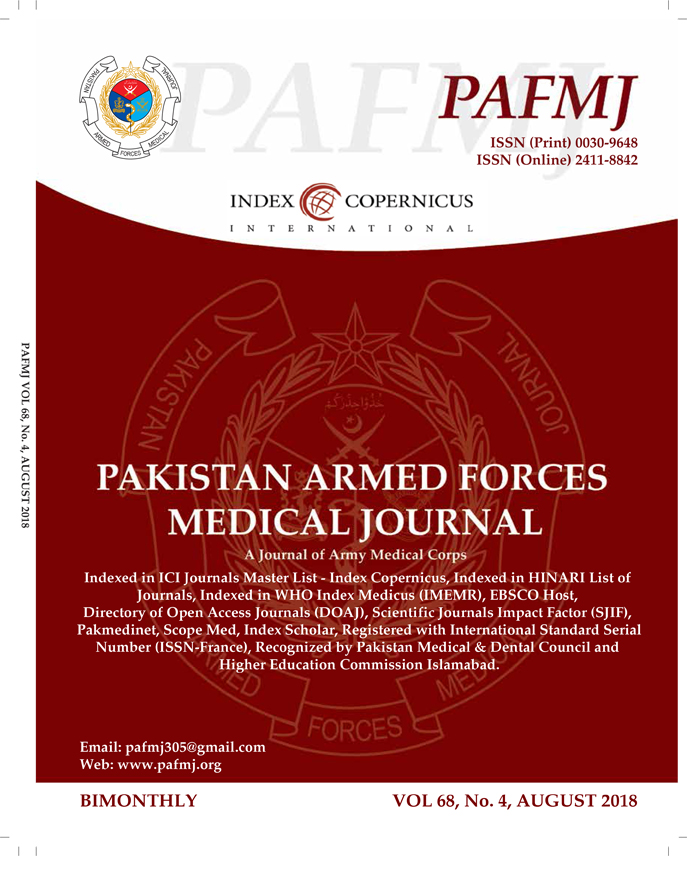 How to Cite
Qayum, M., Ali, W., & Waheed, N. (2018). POST PARTUM HEMORRHAGE PREVENTION WITH TRANEXAMIC ACID IS EFFECTIVE AND SAFE IN COMPARISON TO PLACEBO. Pakistan Armed Forces Medical Journal, 68(4), 908-913. Retrieved from https://pafmj.org/index.php/PAFMJ/article/view/63
Section
Original Articles