A STUDY OF RISK FACTOR PROFILE OF ATRIAL FIBRILLATION APPLYING CHA2DS2-VASC SCORE
Keywords:
Atrial Fibrillation, CHA2DS2-VASC, Risk factor profile
Abstract
Objective: To identify the risk factor profile of Atrial Fibrillation applying CHA2DS2-VASC scoring system
Study Design: Descriptive cross-sectional study.
Place and Duration of Study: The study was conducted in outdoor patient and emergency departments of Armed Forces Institute of Cardiology/National Institute of Heart Diseases in 4 months duration after approval of synopsis, from Sep 2019 to Dec 2019.
Methodology: All patients with symptoms of palpitation and dyspnea were evaluated with detailed history, physical examination, electrocardiogram and 2-D echocardiography for collection of data. Patients who were found with Atrial Fibrillation on electrocardiogram and non-valvular on 2-D echocardiography were enrolled. Detailed History regarding CHA2DS2-VASC scoring system was taken. Patients with age <18 years, those with moderate rheumatic stenos is, hypertrophic cardiomyopathy and Atrial Fibrillation with prosthetic valves were excluded. Data was entered and analyzed with SPSS-23.
Results: Out of 100 patients enrolled, frequencies of male and female patients were 60 (60%) and 40 (40%) respectively. The age varied from 25 years to 89 years with a mean age of 64.27 ± 12 years. Maximum number of patients was between 65-74 years (31%). Hypertension (57%) was the most common risk factor after gender followed by age. Frequencies of other risk factors were congestive heart failure (33%), diabetes mellitus (18%), vascular disease (14%) and stroke/TIA/thrombo-embolism (13%). Paroxysmal atrial fibrillation was the most common type of atrial fibrillation observed (67%) followed by persistent atrial fibrillation (31%). The number of patients having CHA2DS2-VASC score 2 and greater than 2 were 76 (76%) and less than 2 were 24%.
Conclusion: Our findings highlighted the prevalence of non-modifiable as well as modifiable predictors of thromboembolic phenomena in atrial fibrillation using CHA2DS2-VASC scoring system in our population.
Downloads
Download data is not yet available.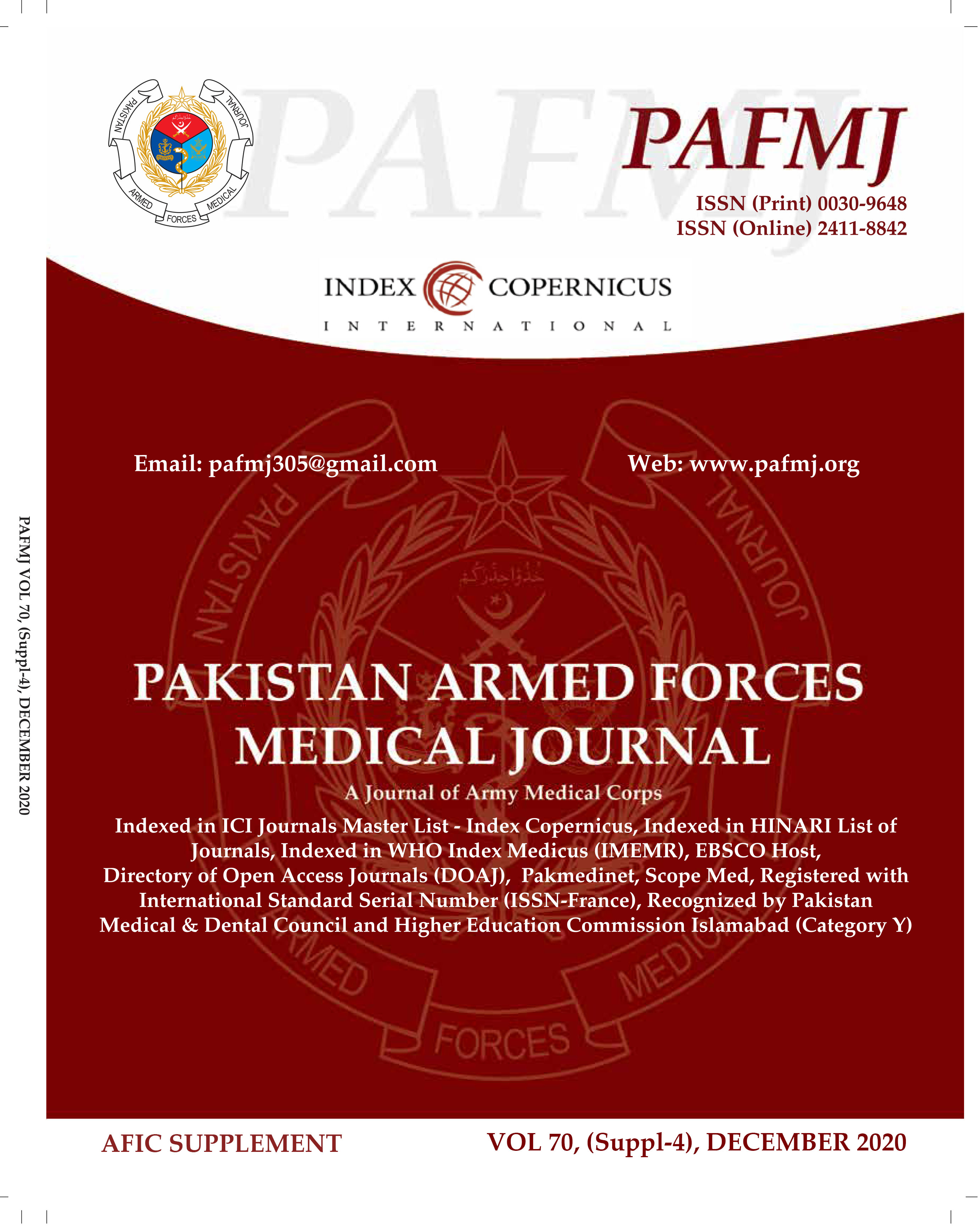 Downloads
How to Cite
Mustafa, A., Khan, I. A., Iqbal, H. S., Janjua, A. F., Ahmad, F., Khan, S. U., … Tuyyab, F. (2021). A STUDY OF RISK FACTOR PROFILE OF ATRIAL FIBRILLATION APPLYING CHA2DS2-VASC SCORE. Pakistan Armed Forces Medical Journal, 70(Suppl-4), S674–78. https://doi.org/10.51253/pafmj.v70iSuppl-4.6001
Section
Original Articles