Hla-B27 Allele Connotation Amongst Individuals Conjectured of Spondyloarthritis (SPA) In Pakistan
Keywords:
Ankylosing spondylitis (AS), HLA-B27, Spondyloarthritis (SPA)
Abstract
Objective: To define the link of HLA-B27 with Spondyloarthritis (SPA) among the study population.
Study Design: Cross-sectional study.
Place and Duration of Study: Rheumatology Department Pak-Emirates Military Hospital (PEMH) Rawalpindi Pakistan, from Jun 2019 to Jan 2020.
Methodology: Patients assumed to be suffering from spondyloarthritis (Spa), reporting for routine follow-up at subject OPD, were enrolled. Socio-demographic and clinical variables were measured with HLA-typing.
Results: Among 550 subjects; age and BMI scores were 31.15±10.399 (18-63 years) and 23.39±4.19 (17.2-35.0 kg/m2), respectively. 391 (71.1%) patients were found positive for HLA-B27, which was significantly more amongst 20-40 years aged (p=0.003), those with non-professional education (p=0.003), associated with raised CRP(C-reactive protein, p<0.001) and ESR(erythrocyte sedimentation rate, p<0.001), with 3-6 years since the onset of symptoms (p<0.001), up to 2 years delay in diagnosis(p<0.001), peripheral arthritis(p 0.008), having co-morbidities (p=0.011), less DAL (daily activities of life, p<0.001) with no significant impact of gender, SEC (socio-economic class), pain severity, co-morbidities and formal exercise. Severe pain was stated more by females (p=0.008), low SEC (p=0.003) and overweight patients with BMI 25-29.9 (p=0.001)
Conclusion: There is a strong association between HLA-B27 and spondyloarthritis (Spa), predominance in the 2nd and third decade, and no gender predilection. Auxiliary exploration would be valuable to recognize the predominant subtypes of the HLA-B27 allele in Pakistani patients with spondyloarthritis (Spa).
Downloads
Download data is not yet available.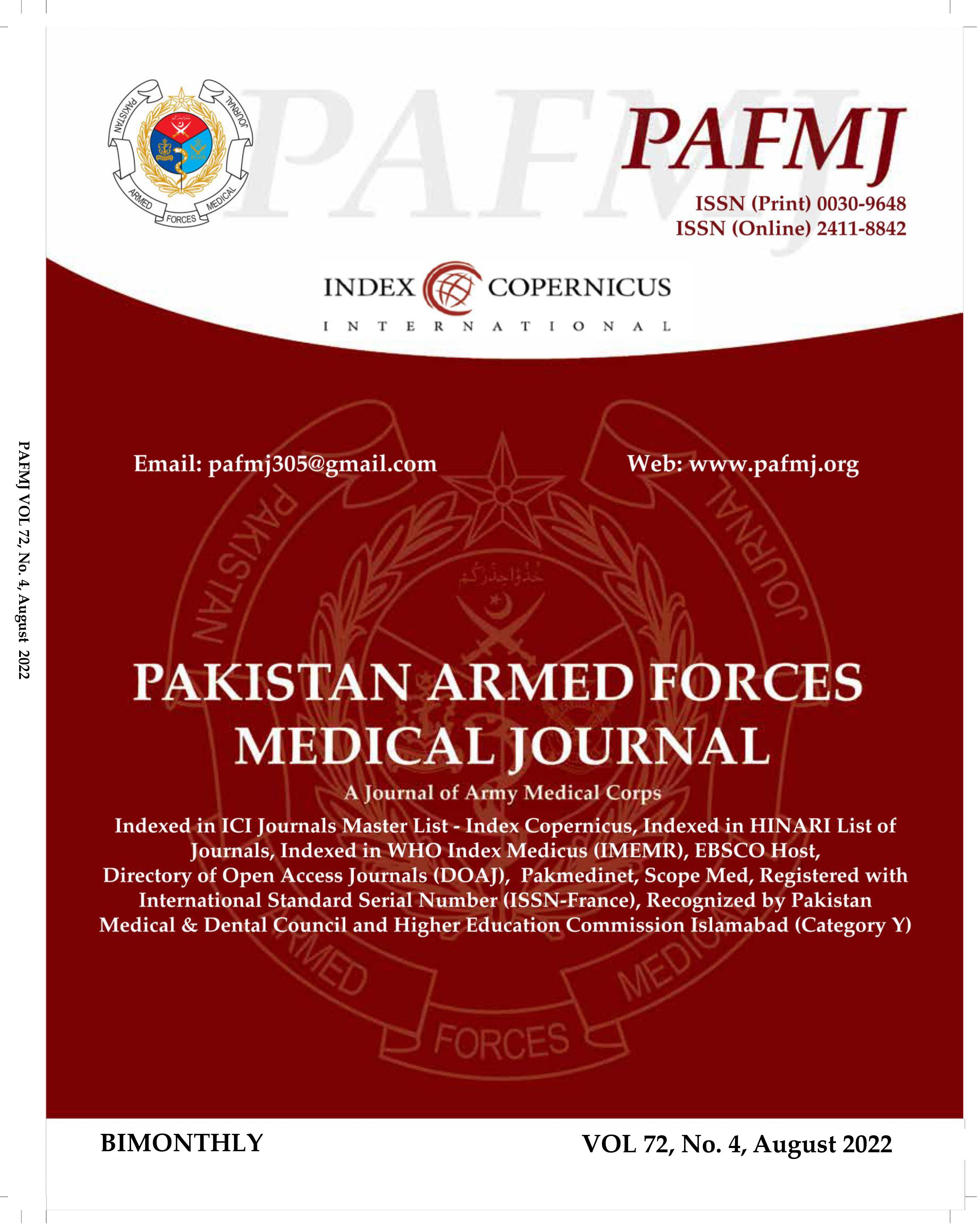 Downloads
How to Cite
Javed, A., Fakhar, A., Ashraf, N., Ahmed, B., Atif, K., & Javed, A. (2022). Hla-B27 Allele Connotation Amongst Individuals Conjectured of Spondyloarthritis (SPA) In Pakistan. Pakistan Armed Forces Medical Journal, 72(4), 1369–74. https://doi.org/10.51253/pafmj.v72i4.5467
Section
Original Articles