TECHNETIUM-99M MIBI GATED MYOCARDIAL PERFUSION SINGLE PHOTON EMISSION COMPUTED TOMOGRAPHY IMAGING – VALIDATION OF STRESS ONLY PROTOCOL
Zaigham Salim Dar

Armed Forces Institute of Cardiology/National University of Medical Sciences (NUMS) Rawalpindi Pakistan

Mehdi Raza

Armed Forces Institute of Cardiology/National University of Medical Sciences (NUMS) Rawalpindi Pakistan

Muhammad Atif

Armed Forces Institute of Cardiology/National University of Medical Sciences (NUMS) Rawalpindi Pakistan

Aown Raza Bukhari

Armed Forces Institute of Cardiology/National University of Medical Sciences (NUMS) Rawalpindi Pakistan
Keywords:
Myocardial perfusion imaging, Rest/stress imaging, 99mTc-MIBI
Abstract
Objective: To validate 'stress only' protocol against 'rest stress protocol in normal and essentially normal cases undergoing Tc99m MIBI gated myocardial perfusion Single Photon Emission Computed Tomography imaging.
Study Design: A retrospective observational study.
Place and Duration of Study: Department of Nuclear Cardiology, Armed Forces Institute of Cardiology/National Institute of Heart Disease, Rawalpindi, Pakistan, from Jul to Sep 2019.
Methodology: 136 cases were included. Patients underwent Tc-99m gated Single Photon Emission Computed Tomography MPI using a single day, rest/stress protocol. The rest study was performed first with 8-10 mCi Tc-99m MIBI followed by stress study, 3 hours later with 3 times the rest dose. The most common stress technique was pharmacological stress and bicycle ergometer exercise with 0.14 mg/kg/min adenosine infusion. Few patients underwent physical stress using Bruce protocol, achieving a minimum of 85% of the target heart rate. Mages–stress followed by rest–were evaluated by two experienced nuclear cardiologists (blinded to the MPI reports) and interpreted as 'normal' or 'essentially normal'.
Results: Evaluation of stress-only and rest-stress Single Photon Emission Computed Tomography myocardial images yielded a concordance rate of 84.56% with Cohen's kappa coefficient of 0.69.
Conclusion: Substantial agreement and good concordance were found in normal and essentially normal 'stress only' and 'rest stress protocols.
Downloads
Download data is not yet available.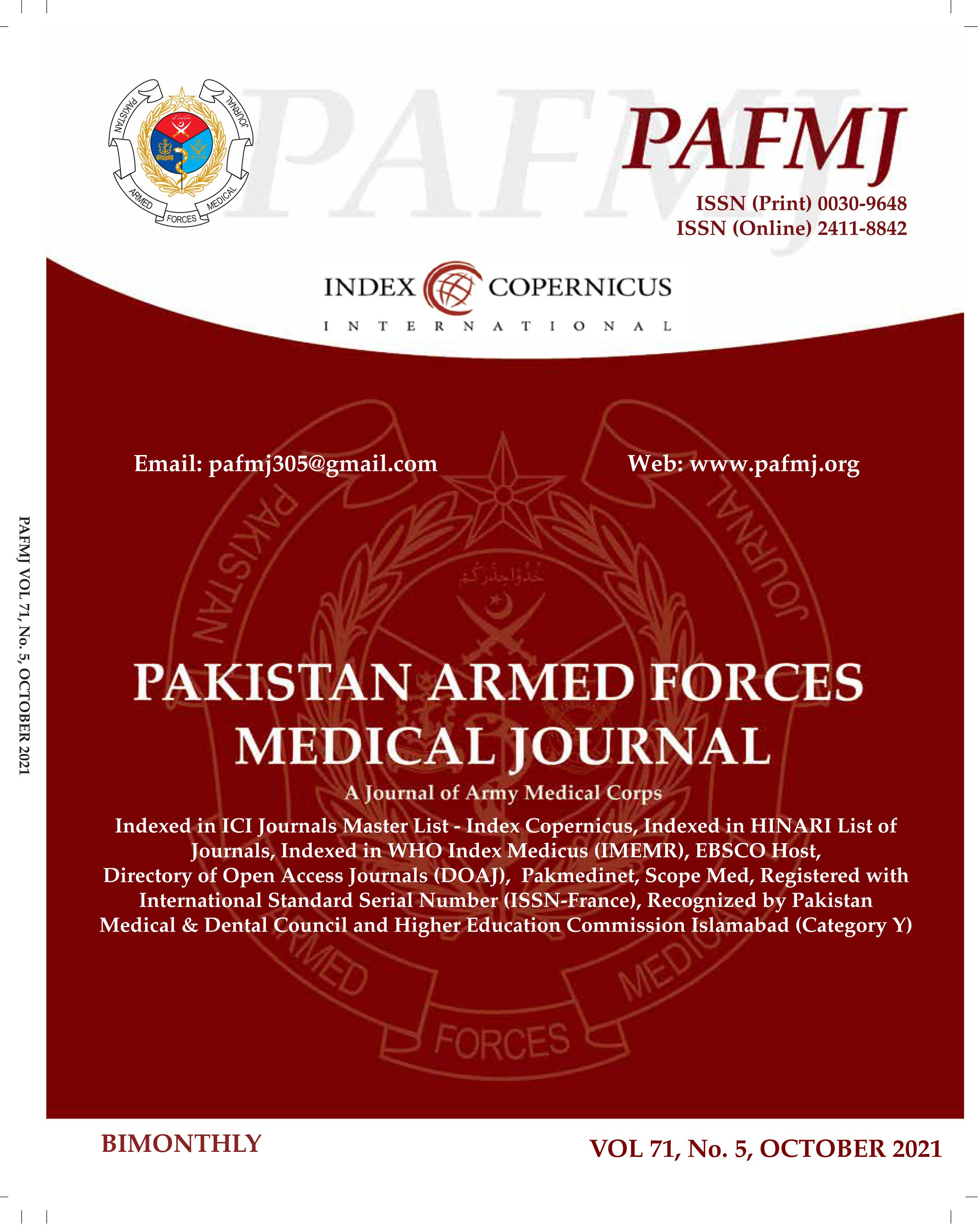 How to Cite
Dar, Z., Raza, M., Atif, M., & Bukhari, A. (2021). TECHNETIUM-99M MIBI GATED MYOCARDIAL PERFUSION SINGLE PHOTON EMISSION COMPUTED TOMOGRAPHY IMAGING – VALIDATION OF STRESS ONLY PROTOCOL. Pakistan Armed Forces Medical Journal, 71(5), 1741-45. https://doi.org/10.51253/pafmj.v71i5.5391
Section
Original Articles