DETERMINANTS OF DIARRHEA IN CHILDERN UP TO TWO YEARS OF AGE: IN A TERTIARY CARE HOSPITAL, RAWALPINDI
Determinants of Diarrhea
Keywords:
Children, Diarrhea, Exclusive breast feeding
Abstract
Objective: To determine the demographic, environmental and behavioral factors leading to diarrhea in children up to 2 years of age.
Study Design: Descriptive cross sectional study.
Place and Duration of Study: Children out patient department of a tertiary care hospital in Rawalpindi city, from Feb 2016 to Jul 2016.
Material and Methods: Two hundred and sixty four children who had diarrhea in last two weeks were included using non-probability consecutive sampling. A structured pilot tested questionnaire was used to interview mothers of the respective children after informed consent. Questionnaire was designed to collect information regarding various demographic, environmental and behavioral characteristics. Statistical Package for Social
Sciences (SPSS) version 20 was used for data entry and analysis. A p-value<0.05 was considered statistically significant, after applying Chi Square test.
Results: Mean age of the participants' mothers was 31.53 ± 6.58 years. Mean age of the children was 10.29 ± 4.24 months with highest number of children, 169 (64%) in age group 7-11 months. Males children were 152 (57.6%) and females were 112 (42.4%). Among them only 40 (15.2%) children were exclusively breast fed for six months. Most common combination was breast milk and cow's milk 97 (36.7%). Feeding bottle was used by 252 (95.6%) mothers. Hand washing with soap after toilet use was practiced by 158 (58.9%) mothers, before preparing food by 180 (68.2%) mothers and before feeding child by 156 (59.1%) mothers. As per Expanded Program on Immunization (EPI) schedule only 166 (70.8%) of the total 235 eligible children were vaccinated against measles.There was statistically significant difference between mothers' education and exclusive breast feeding and hand washing practices (p=0.001).
Conclusion: The study showed that diarrhea was most commonly found in children in age group 7-11 months, i.e. at the time of weaning. Water boiling for domestic and cooking purpose was not practiced by most mothers. Most
of the children in the study sample were not exclusively breast fed. Similarly children were mostly bottle fed and bottle was not washed and boiled before use. Vaccination for measles was not achieved by all participant children as per EPI schedule
Downloads
Download data is not yet available.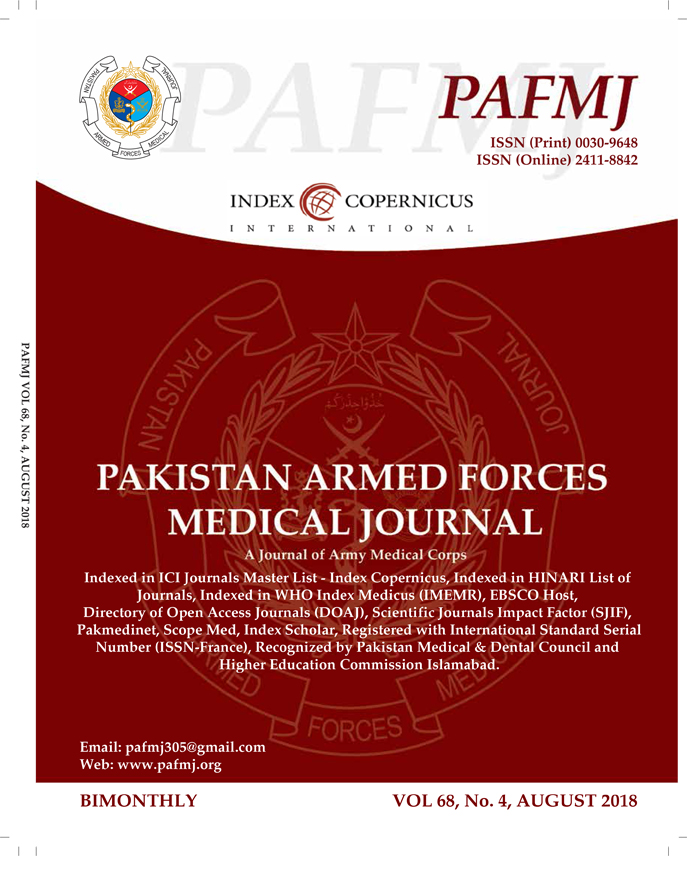 Downloads
How to Cite
Maroof, S., Ur Rehman, M., Mahmood, H., Masood, S., & Mashhadi, S. F. (2018). DETERMINANTS OF DIARRHEA IN CHILDERN UP TO TWO YEARS OF AGE: IN A TERTIARY CARE HOSPITAL, RAWALPINDI: Determinants of Diarrhea. Pakistan Armed Forces Medical Journal, 68(4), 893–98. Retrieved from https://pafmj.org/index.php/PAFMJ/article/view/51
Section
Original Articles