CO-MORBIDITIES IN FATAL CASES OF SARS-COV-2 IN RAWALPINDI/ISLAMABAD PAKISTAN
Abstract
Objective: To determine the frequency of comorbid illnesses in fatal cases of COVID-19 in various hospitals of Rawalpindi/Islamabad during the first three months of pandemic in Pakistan.
Study Design: Case series study.
Place and Duration of Study: Combined Military Hospital Rawalpindi (CMH), Pak Emirates Military Hospital Rawalpindi (PEMH), Benazir Bhutto Hospital (BBH), Rawalpindi Institute of Urology (RIU) and Pakistan Institute of Medical Sciences Islamabad (PIMS), from 20th Feb 2020 to 19th May 2020.
Methodology: A total of 51 adult fatal cases were studied retrospectively during the subject period. The patients were admitted in any of above mentioned hospitals for variable time during the study period. There were 35 males and 16 females. Patients' ages ranged from 24 to 90 years. The cases were studied for presence of various comorbid illnesses that could have aggravated the complications of COVID-19 and contributed towards mortality.
Results: Out of 51 fatal cases 23/51 (45%) had Diabetes mellitus (DM), 18/51 (35%) had Hypertension, 12/51 (23%) Ischemic Heart Disease, 03/51 (06%) had Chronic Renal Failure and Cancer, 02/51 (4%) had Chronic Obstructive Pulmonary Diseases (COPD) and Tuberculosis (TB).
Conclusion: Diabetes mellitus and cardiovascular illnesses were the commonest comorbid in patients who died of COVID-19 followed by Chronic Renal Diseases, Malignancy, Tuberculosis (TB) and Chronic Obstructive Pulmonary Diseases (COPD).
Downloads
Download data is not yet available.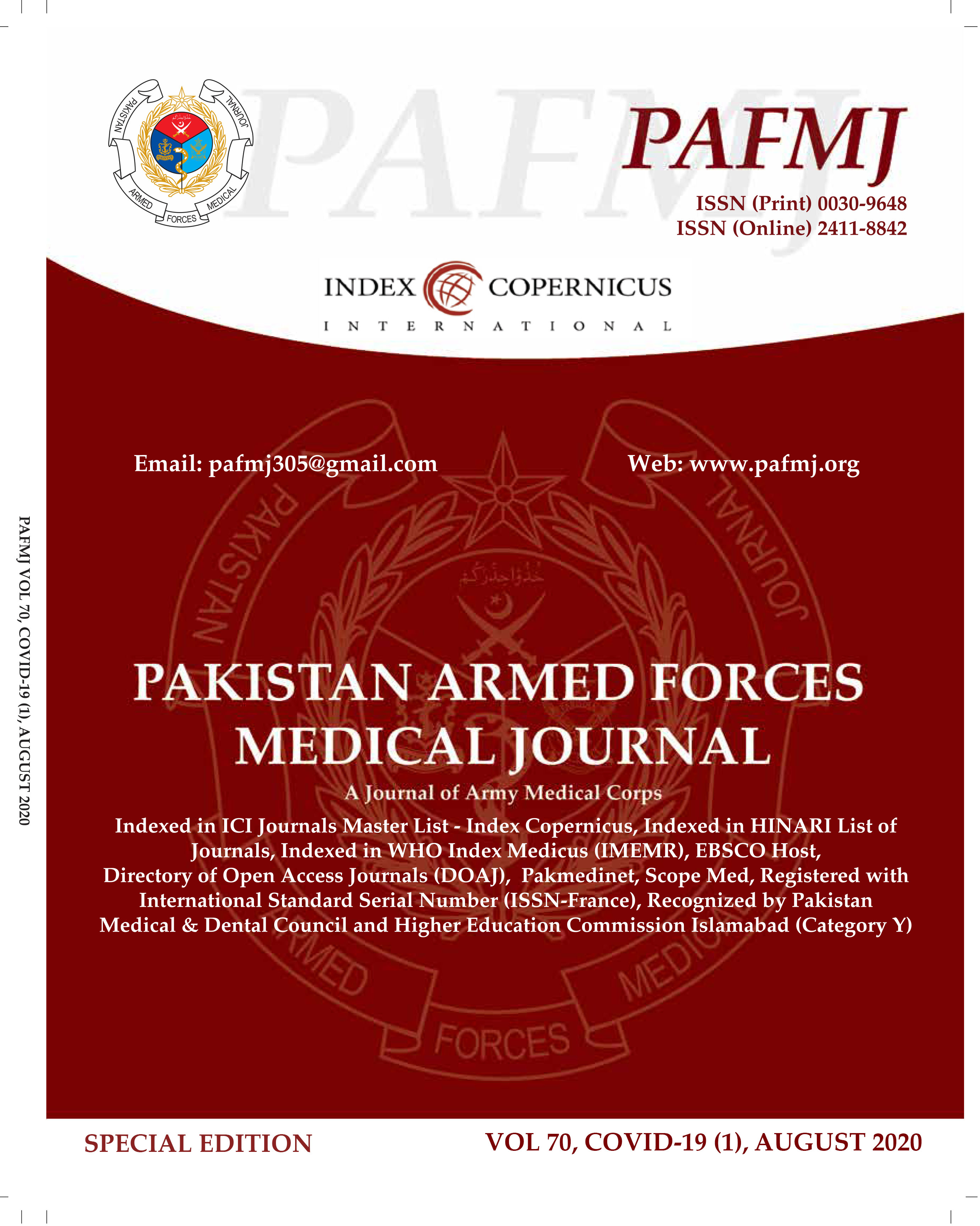 Downloads
How to Cite
Abbas, S. W., Zareen, S. F., Saleem, S., Tahir, A. B., Rasheed, A., & Sajid, A. (2020). CO-MORBIDITIES IN FATAL CASES OF SARS-COV-2 IN RAWALPINDI/ISLAMABAD PAKISTAN. Pakistan Armed Forces Medical Journal, 70(1), S232–36. Retrieved from https://pafmj.org/index.php/PAFMJ/article/view/4880
Section
Original Articles