DENTAL CONSIDERATIONS DURING THE OUTBREAK OF CORONA VIRUS DISEASE 2019 (COVID-19)
Keywords:
Corona Virus Disease 2019 (COVID-19), Dental management, Emergency Dental Treatment
Abstract
Objective: To assess the knowledge, attitude and practices of dentists during the outbreak of corona virus disease 2019 (COVID-19) and to give recommendations for management of dental patients during this pandemic.
Study Design: Cross sectional study.
Place and Duration of Study: Department of Operative Dentistry, Armed Forces Institute of Dentistry (AFID), Rawalpindi, from 1st Apr 2020 to 20th Apr 2020.
Methodology: After taking approval from ethical committee, a questionnaire on Google Forms was spread through social media in 300 dentists of Rawalpindi and Islamabad from different fields of dentistry out of which 279 filled the survey with a response rate of 93%. The questions included socio-demographic details, questions pertaining to the knowledge, attitude and practice of dentists towards the spread, cross-infection control of COVID-19 and the dental management of patients. The data was analyzed using SPSS 21.
Results: Total of 246 (88.17%) dentists reported that they were familiar with the protocols for treating patients during COVID-19 outbreak and 258(92.47%) opted for treating only emergency cases. On the basis of gender females were in majority 213 (76.34%), with majority being general dentists 147 (52.68%) and working in public hospitals 102 (36.56%).
Conclusion: The majority of dentists were aware of COVID-19 transmission, cross-infection control and knew how to prioritize patients based on urgency. The dentists being at high risk should follow all the precautions to prevent cross-infection and are highly encouraged to follow guidelines of WHO, ADA and NHSRC Pakistan regarding the dental management during the COVID-19 outbreak.
Downloads
Download data is not yet available.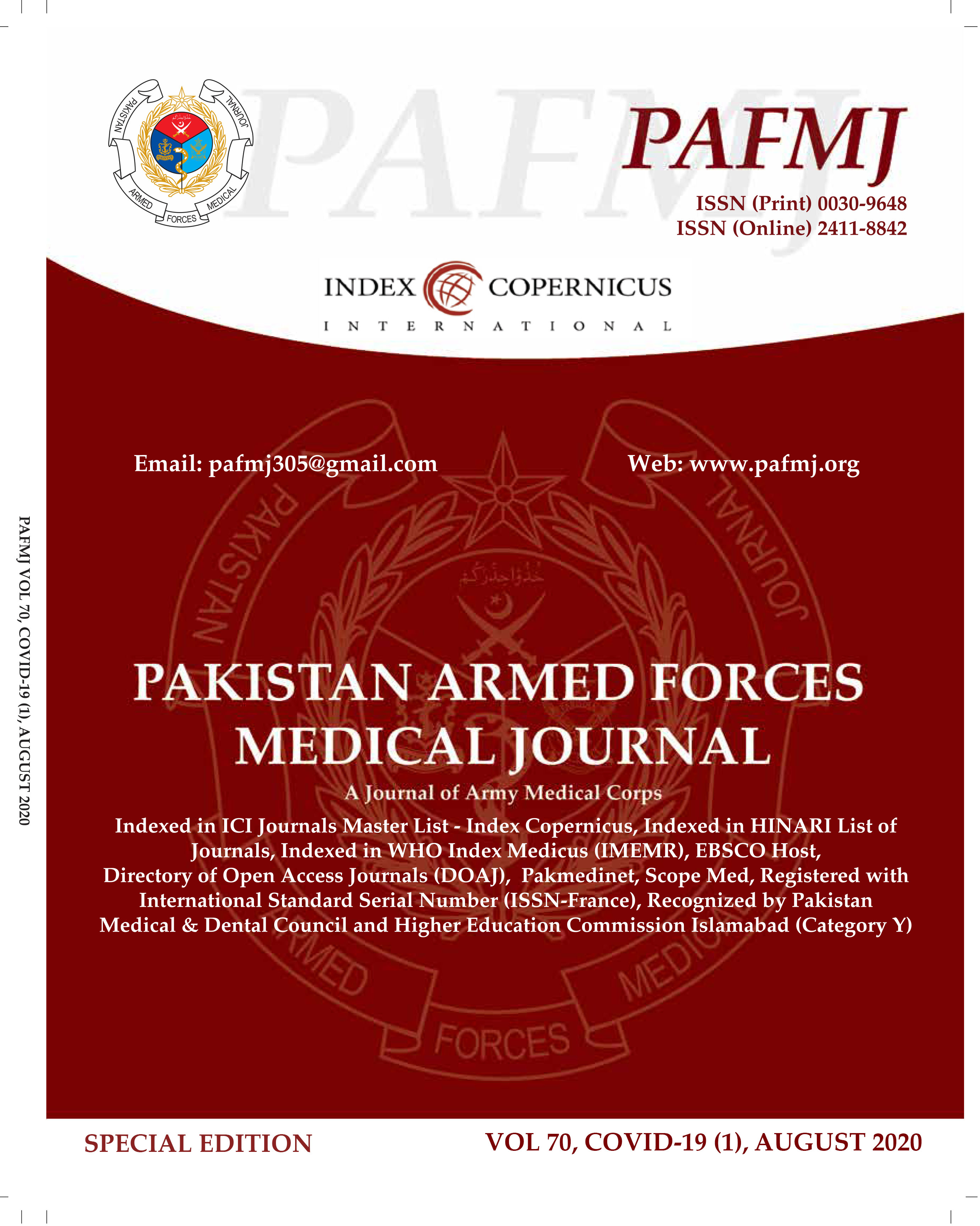 Downloads
How to Cite
Yousaf, A., Ali, F., Zahra, S. F. T., Hussain, S. M., Banghar, F., & Bangash, K. A. (2020). DENTAL CONSIDERATIONS DURING THE OUTBREAK OF CORONA VIRUS DISEASE 2019 (COVID-19). Pakistan Armed Forces Medical Journal, 70(1), S225–31. Retrieved from https://pafmj.org/index.php/PAFMJ/article/view/4879
Section
Original Articles