THE IMPACT OF CORONA VIRUS DISEASE-19 (COVID-19) ON POSTGRADUATE PAEDIATRIC RESIDENTS
Keywords:
COVID-19, Impact, Pakistan, Pandemics, Residents
Abstract
Objective: To explore the impact of corona virus disease-19 pandemic on postgraduate paediatric residents.
Study Design: Mixed method study.
Place and Duration of Study: Pak Emirates Military Hospital Rawalpindi, from Apr to May 2020.
Methodology: Post graduate paediatric residents working in Pak Emirates Military Hospital and Combined Military Hospital Rawalpindi, Pakistan were included by purposive sampling technique. Sample size was predetermined, included all (forty total) residents of two hospitals. Participant's written response was obtained on an open ended self administered-questionnaire distributed in person. All enrolled participants responded. Thematic analysis of data was done.
Results: The participants were predominantly female (n: 30, 75%) of age range 31-35 (50%) years. The first theme category was ―Impact on personal life‖ The residents reported an unprecedented physical, psychological and social stress. The second category was ―Family life during COVID-19‖ Residents had to share extra family/ financial/health responsibilities of their families. ―Professional duties and training‖ was another theme category. Residents worked in new context of environment, fear of contagion, managing interpersonal / interprofessional relationships, less volume of patients/clinical experience / skills and new e-learning modalities. ―Challenges and suggestions to cope‖ is another category, where residents suggested strategies and sources to improve patient care, their well being and training during pandemic.
Conclusion: The residents had experienced intensive physically, emotional and social stress. Most of them behaved with resilience and extreme professional dedication. Different competencies of training are being affected. Concerned authorities must adopt new strategies to support resident's training and personal life.
Downloads
Download data is not yet available.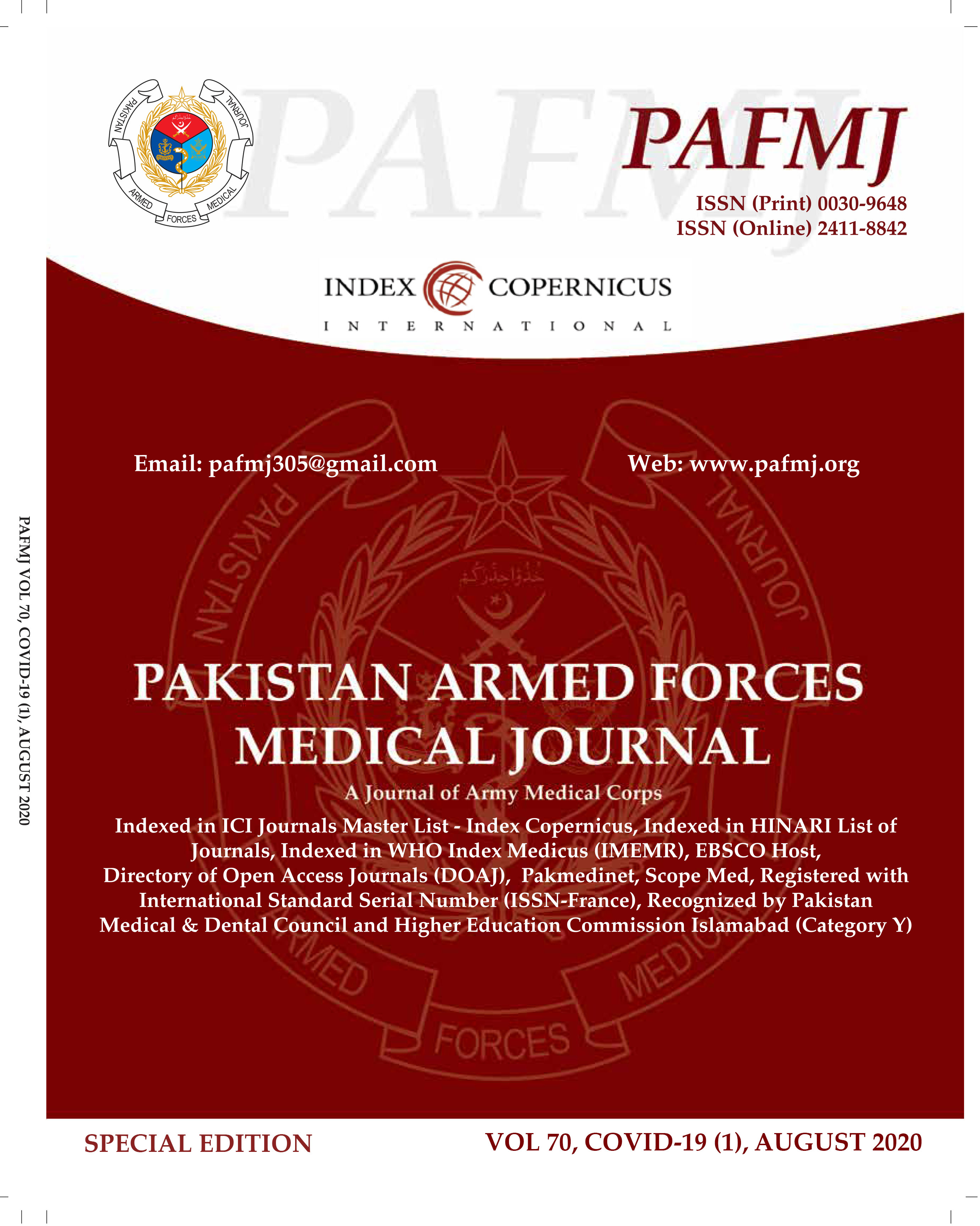 Downloads
How to Cite
Hussain, S., Malik, Q. U., Ahmed, Z., Razzaq, A., Ikram, F., Shoaib, M., … Abbass, R. (2020). THE IMPACT OF CORONA VIRUS DISEASE-19 (COVID-19) ON POSTGRADUATE PAEDIATRIC RESIDENTS. Pakistan Armed Forces Medical Journal, 70(1), S198–205. Retrieved from https://pafmj.org/PAFMJ/article/view/4875
Section
Original Articles