CHANGE IN INTRAOCULAR PRESSURE FOLLOWING HIGH ENERGY ND: YAG LASER POSTERIOR CAPSULOTOMY
YAG Laser Posterior Capsulotomy
Bilal Murtaza

Armed Forses Institute of Opthamalogy/National University of Medical Sciences (NUMS) Rawalpindi Pakistan

Abdul Wahid Hussain

Medical Directorate, General Headquarters Rawalpindi Pakistan

Abrar Ul Haq

Military Hospital/National University of Medical Sciences (NUMS) Rawalpindi Pakistan

Asem Hameed

Armed Forses Institute of Opthamalogy/National University of Medical Sciences (NUMS) Rawalpindi Pakistan
Keywords:
High energy, Intraocular pressure, Posterior capsular opacification, Nd: YAG laser, Posterior capsulotomy
Abstract
Objective: To determine the mean rise in intra ocular pressure in patients undergoing high energy Nd: YAG laser posterior capsulotomy. 
Study Design: Descriptive case series study.
Place and Duration of study: The study was carried out at CMH Kharian Cantonment in 9 months, from Feb 2014 to Nov 2014. 
Patients and Methods: Sixty eyes fulfilling the inclusion criteria were enrolled in the study by a non-probability purposive sampling. The base line IOP was measured with the help of Goldman Applanation Tonometer. The pupils were dilated by using 1% Tropicamide Eye drops, 1 drop repeated after every 10 minute. Proparacaine Hydrochloride Eye drops were used 1-2 times about 5 minutes before applying capsulotomy Lens (ABRAHAM CAPSULOTOMY YAG LENS) for topical Anesthesia.An opening of 3-4 mm was made in the posterior lens capsule, using Nd: YAG laser (VISULAS YAG III Carl Zeis Meditec AG Germany) ensuring use of least possible energy. Cumulative energy used was noted and entered in the study proforma. IOP was again assessed 4 hours after the procedure and entered in the study proforma. Mean rise in IOP was calculated. 
Results: Raised IOP was noted in 37 (61.66%) out of total 60 cases and IOP remained unchanged in 20 (33.33%) cases. Mean pre procedure IOP was 15.80 ± 2.979mm of Hg and mean post procedure IOP was 17.78 ± 3.954 mm of Hg and p-value using paired t-test was found to be 0.000 which was statistically significant indicating that use of high energy is associated with rise in IOP. 
Conclusion: There is significant rise in IOP associated with Nd: YAG laser posterior capsulotomy as evident from the statistical analysis. It is advisable to use minimum possible energy levels and all patients should undergo post procedure IOP check.
Downloads
Download data is not yet available.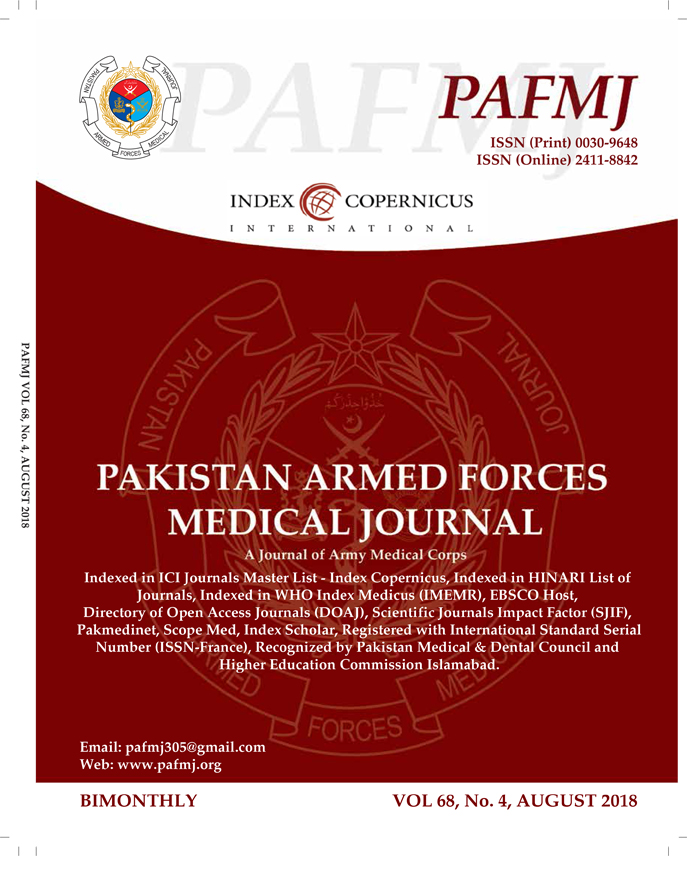 How to Cite
Murtaza, B., Hussain, A. W., Haq, A. U., & Hameed, A. (2018). CHANGE IN INTRAOCULAR PRESSURE FOLLOWING HIGH ENERGY ND: YAG LASER POSTERIOR CAPSULOTOMY. Pakistan Armed Forces Medical Journal, 68(4), 872-75. Retrieved from https://pafmj.org/index.php/PAFMJ/article/view/46
Section
Original Articles