DETERMINATION OF MEAN INTRAOCULAR PRESSURE IN PATIENTS WITH TYPE 2 DIABETES MELLITUS
Mean Intraocular Pressure in Type 2 Diabetes Mellitus
Dilshad Ali

Quetta Institute of Medical Sciences (QIMS) Quetta Pakistan

Asfandyar .

Combined Military Hospital Gujranwala Pakistan

Muhamad Manzoor

*Combined Military Hospital Lahore Pakistan

Bilal Murtaza

61 Medical Battalion Multan Pakistan

Abid Naqvi

Armed Forces Institute of Ophthalmology/National University of Medical Sciences (NUMS) Rawalpindi Pakistan

Muhammad Azmat Khan

Combined Military Hospital Peshawar Pakistan
Keywords:
HbA1c levels, Intraocular pressure, Type 2 Diabetes mellitus.
Abstract
Objective: To determine mean intraocular pressure (IOP) in patients with type 2 diabetes mellitus. 
Study Design: Descriptive cross sectional study. 
Place and Duration of Study: The study was conducted at Ophthalmology department of Combined Military Hospital Peshawar, from Mar 2014 to Sep 2014. 
Patients and Methods: A total of 182 eyes (91 patients) were included in this study. All patients were subjected to slit lamp examination and dilated fundus examination. HbA1c levels were carried out by standard laboratory procedures. IOP of right and left eye was measured routinely one time (between 1000-1200 hrs) through Gold mann aplanation tonometer. 
Results: Age of the patients ranged from 40 to 59 years. There were 52% males (48) and 47.3% females (43). Mean values of age, HbA1c and duration of DM were 51.44 ± 5.04, 7.36 ± 0.54 and 9.16 ± 4.95, respectively. Mean IOP was 19.43 ± 2.98 in right and 19.52 ± 2.73 in left eyes of type 2 diabetic patients. 
Conclusion: The mean intra-ocular pressure appeared to be higher than normal in diabetic population.
Downloads
Download data is not yet available.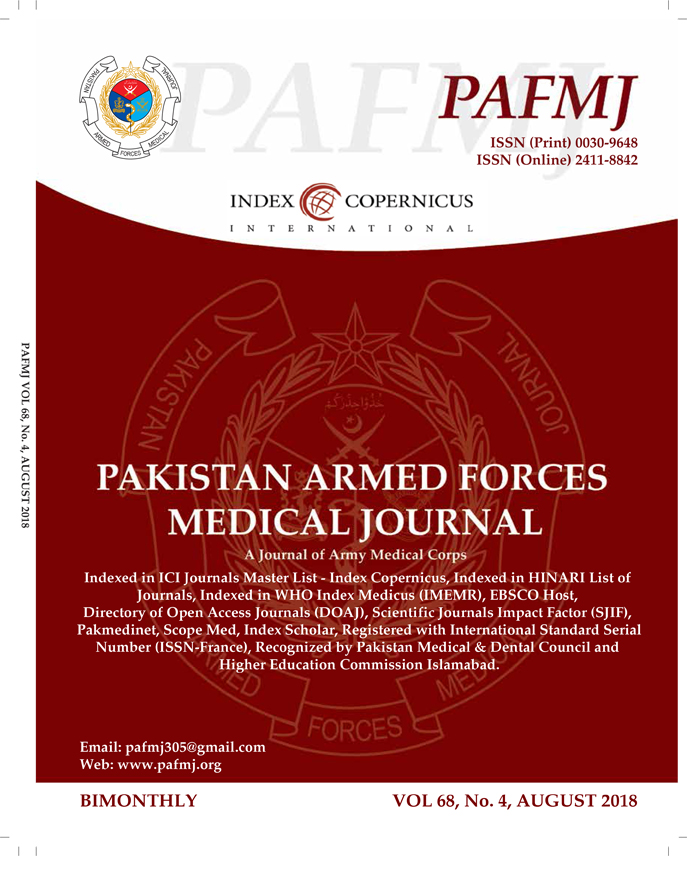 How to Cite
Ali, D., ., A., Manzoor, M., Murtaza, B., Naqvi, A., & Azmat Khan, M. (2018). DETERMINATION OF MEAN INTRAOCULAR PRESSURE IN PATIENTS WITH TYPE 2 DIABETES MELLITUS. Pakistan Armed Forces Medical Journal, 68(4), 868-71. Retrieved from https://pafmj.org/index.php/PAFMJ/article/view/45
Section
Original Articles