FREQUENCIES OF VARIOUS OCULAR PATHOLOGIES DETECTED ON B-SCAN ULTRASONOGRAPHY UN PATIENTS OF OCULAR TRAUMA
Ocular Pathologies Detected on B-Scan Ultrasonography
Shahzad Ali

Dept of Ophthalmology, AFIO Rawalpindi Pakistan

Muhammad Tauseef Dildar

Dept of Ophthalmology, AFIO Rawalpindi Pakistan

Muhammad Kamran Saeed

Armed Forces Institute of Ophthalmology/National University of Medical Sciences (NUMS) Rawalpindi Pakistan

Bilal Hassan

Armed Forces Institute of Ophthalmology/National University of Medical Sciences (NUMS) Rawalpindi Pakistan

Muhammad Osama

Holy Family Hospital Rawalpindi Pakistan
Keywords:
Endophthalmitis, Ocular trauma, Retinal detachment, Ultrasound B-scan, Vitreous haemorrhage
Abstract
Objective: To determine the frequencies of various ocular pathologies detected on Ultrasound B-scan in patients of ocular trauma.
Study Design: Descriptive cross sectional study. 
Place and Duration of Study: Armed Forces Institute of Ophthalmology Rawalpindi and Combined Military Hospital Quetta, from Apr 2014 to Aug 2014. 
Material and Methods: One Hundred twenty six eyes of 126 patients between 1 to 60 years of age were studied having history of acute (less than 2 weeks) or subacute (2-4 weeks) ocular trauma, and further placed into three age groups (1-20 years, 21-40 years and 51-60 years). Followed by Ultrasound B-scan using moderate frequency of 10 MHz and the gain was increased when required. 
Results: About 85.2% of the patients were males while females were 14.8%, 54% of the patients were from the age group 21-40 year. Open globe injuries were 58.7% and blunt trauma cases were 41.3%. Vitreous haemorrhage occurred in 33.3% followed by Intra ocular foreign body in 24.6%. Pellets/splinters were the causative agents in 28.6% followed by sharp objects 18.3%. 
Conclusions: Males are 4 times more frequently exposed to ocular trauma and the age group of 21-40 year is most commonly affected. Open globe was the leading pattern of ocular injury while pellets/splinters were the commonest source of trauma. Vitreous haemorrhage was the most common posterior segment traumatic finding on Ultrasound B-scan. Prophylactic polycarbonate goggles can reduce the risk of trauma.
Downloads
Download data is not yet available.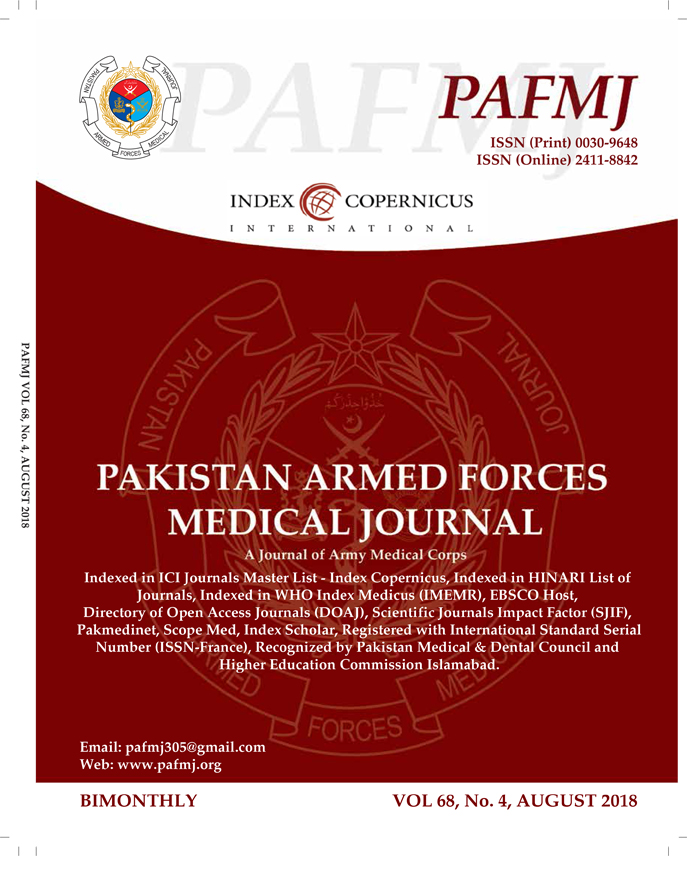 How to Cite
Ali, S., Tauseef Dildar, M., Kamran Saeed, M., Hassan, B., & Osama, M. (2018). FREQUENCIES OF VARIOUS OCULAR PATHOLOGIES DETECTED ON B-SCAN ULTRASONOGRAPHY UN PATIENTS OF OCULAR TRAUMA. Pakistan Armed Forces Medical Journal, 68(4), 863-67. Retrieved from https://pafmj.org/index.php/PAFMJ/article/view/44
Section
Original Articles