PREVALENCE, ASSOCIATED FACTORS AND AWARENESS OF BULLYING AMONG STUDENTS OF PUBLIC AND PRIVATE SCHOOLS OF LAHORE, PAKISTAN
Fariha Salman

King Edward Medical University, Lahore Pakistan

Muhammad Sharjeel

King Edward Medical University, Lahore Pakistan

Mohammad Salman Abdullah

King Edward Medical University, Lahore Pakistan
Keywords:
Bullying, Public schools, Private schools, Psychological distress
Abstract
Objectives: To find out prevalence of bullying, its associated factors and extent of awareness against bullying among th students of public/private schools of Lahore and to compare them.
Study Design: Comparative cross-sectional study.
Place and Duration of Study: Study was carried out in different schools of Lahore, Pakistan, from May to Nov 2019.
Methodology: A total of 294 students of public/private schools (8-10th grade students) of Lahore were recruited in study by purposive sampling. The students filled a pretested and pre-structured questionnaire consisting of questions about bullying, number of bullies, forms of bullying, its causes and consequences, reaction of students towards bullying and if anybody was informed about it.
Results: A higher frequency of bullying was reported in public schools (54%) than in private (46%). Students mostly suffered bullying in the form of humiliating remarks (56.3%) and verbal abuse (25.3%). Causes of bullying in public schools were physical appearance (48.9%), illness (19.1%) and imbalance of power (19.1%) whereas in private schools, physical status (45.0%), imbalance of power (25.0%) and low socioeconomic status (22.5%) were common. Bullying was associated with loss of concentration on studies (19.5%) and behavioral changes (18.4%). The students usually reported bullying incidents to teachers (36.8%) and parents (28.7%). A majority of students walked away from the bully (45.4%).
Conclusion: Bullying is relatively more prevalent in public schools and predominantly manifested in the form of humiliating remarks & verbal abuse. Majority of students show no appropriate resistance towards the bully while bullying causes a critical psychological distress inthem.
Downloads
Download data is not yet available.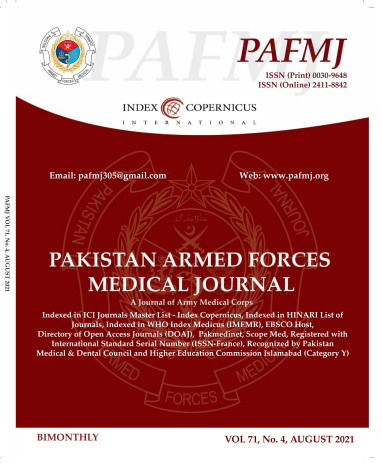 How to Cite
Salman, F., Sharjeel, M., & Abdullah, M. (2021). PREVALENCE, ASSOCIATED FACTORS AND AWARENESS OF BULLYING AMONG STUDENTS OF PUBLIC AND PRIVATE SCHOOLS OF LAHORE, PAKISTAN. PAFMJ, 71(4), 1446-50. https://doi.org/10.51253/pafmj.v71i4.3989
Section
Original Articles