COMPARISON OF PATIENT`S RESPONSE IN LAPAROSCOPIC VERSUS OPEN CHOLECYSTECTOMY
Syed Shehzad Husnain

Combined Military Hospital Kharian/National University of Medical Sciences (NUMS) Pakistan

Faheem Feroze

PAF Hospital, Sargodha Pakistan

Syed Taokeer Rizvi

Combined Military Hospital Kharian/National University of Medical Sciences (NUMS) Pakistan

Malik Muhammad Kashif

Combined Military Hospital Kharian/National University of Medical Sciences (NUMS) Pakistan

Muhammad Mohsin Kaleem

Combined Military Hospital Kharian/National University of Medical Sciences (NUMS) Pakistan

Ahmed Khan

Combined Military Hospital Kharian/National University of Medical Sciences (NUMS) Pakistan
Keywords:
Cholecystitis, Cholelithiasis, Cholecystectomy, Pain Intensity
Abstract
Objective: To compare patient's response in open versus laparoscopic cholecystectomy in terms of pain perception, scar acceptability, fear of blind scar and full recovery time.
Study Design: Comparative prospective study.
Place and Duration of Study: This study was conducted at department of surgery CMH Kharian and CMH Jhelum, from Mar 2016 to Nov 2018.
Methodology: Sixty patients were enrolled in this study and divided into two groups of 30 each, after informed consent. Visual pain assessment scale was used to measure intensity of pain and scar visual analog scale to measure scar characteristics. Recovery time of the patient was calculated from the day of hospital discharge till they join their routine work/job. Fear of blind scars and satisfaction was evaluated by Likert scale.
Results: In laparoscopic vs open cholecystectomy pain perception was 80% vs 76.67%, acceptability of scar appearance was 90% vs 27%, fear of blind scar was 70% vs 13.3%, and patients satisfaction was 73.3% vs 90% respectively. Majority of patients who underwent laparoscopic cholecystectomy had an earlier recovery time and minimal scarring.
Conclusion: Both the techniques have their own prospects and consequences. There was no difference in pain perception between the two groups. However, patients who had laparoscopic surgery had minimal scarring and a definite edge over open cholecystectomy in terms of scar appearance.
Downloads
Download data is not yet available.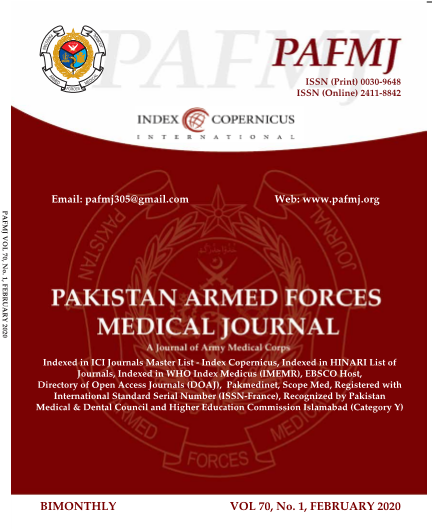 How to Cite
Husnain, S., Feroze, F., Rizvi, S., Kashif, M., Kaleem, M., & Khan, A. (2020). COMPARISON OF PATIENT`S RESPONSE IN LAPAROSCOPIC VERSUS OPEN CHOLECYSTECTOMY. Pakistan Armed Forces Medical Journal, 70(1), 230-35. Retrieved from https://pafmj.org/index.php/PAFMJ/article/view/3968
Section
Original Articles