TO ASCERTAIN THE EEFICACY, COST EFFECTIVENESS OF STREPTOINASE AS INTRALUMINAL THROMBOLYTIC FOR OCLUDED TUNELED CATHETERS IN DIALYSIS PATIENTS OF A TERTIARY CARE HOSPITAL - A SINGLE CENTER EXPERIENCE
Keywords:
Dialysis, Occluded tunneled catheters, Streptokinase, Thrombolytic agent
Abstract
Objective: To ascertain the efficacy, cost effectiveness and safety of streptokinase as intraluminal thrombolytic for occluded tunneled catheters in dialysis patients of a tertiary care hospital.
Study Design: Prospective quasi-experimental study.
Place and Duration of Study: Department of Nephrology, Pak Emirates Military Hospital Rawalpindi, from Aug 2018 to Jan 2019.
Methodology: The sample population comprised of 66 patients with occluded tunneled HD catheters who received either streptokinase in a dose of 250,000 unit or 375,000 units. Primary endpoint was the proportion of patients with occluded catheters achieving post-thrombolytic blood flow of ≥300 mL/min which persists for about 30min of hemodialysis. Safety endpoints included the adverse complications like bleeding or any serious allergic reaction.
Results: Out of 60 patients, 30 patients were treated with streptokinase in a dose of 375,000 units and 30 patients with 250,000 units of streptokinase. Hypertension and diabetes were the main causes of end-stage renal disease (50% vs 40%, p=0.08 and 33% vs 33%, p=0.38, respectively) jugular vein as main vascular access (54.8% vs 62.5%, p=0.57). Primary success was achieved in 60% in the first group and 42% in the second group, p=0.012. Patency was not achieved after the second dose in 10% in group-1 and 6.6% in the second group (p=0.31).
Conclusion: Streptokinase, although its efficacy as intraluminal thrombolytic agents is shrouded in disputation but still can be used as a robust and economical thrombolytic agent for occluded HD catheters in our country.
Downloads
Download data is not yet available.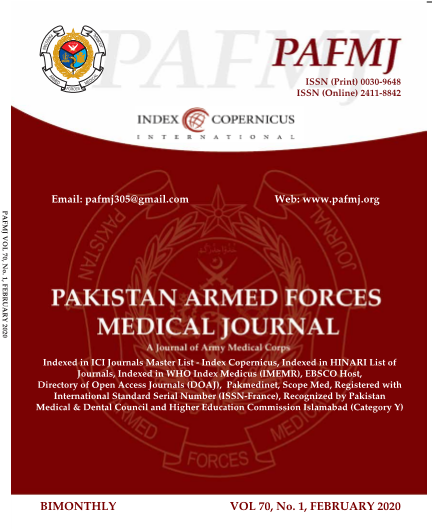 Downloads
How to Cite
., W., Butt, B., Azam, N., & Raja, K. M. (2020). TO ASCERTAIN THE EEFICACY, COST EFFECTIVENESS OF STREPTOINASE AS INTRALUMINAL THROMBOLYTIC FOR OCLUDED TUNELED CATHETERS IN DIALYSIS PATIENTS OF A TERTIARY CARE HOSPITAL - A SINGLE CENTER EXPERIENCE. Pakistan Armed Forces Medical Journal, 70(1), 174–179. Retrieved from https://pafmj.org/index.php/PAFMJ/article/view/3958
Section
Original Articles