COMPARISON OF THE EFFICACY OF HYDROXYPROPYL METHYLCELLULOSE/ DEXTRAN, SODIUM HYALURONATE AND POLYETHYLENE GLYCOL/PROPYLENE GLYCOL BASED COMMERCIAL ARTIFICIAL TEAR PRODUCTS USING THE NONINVASIVE TEAR FILM BREAKUP TIME
Faisal Aziz Khan

Combined Military Hospital Malir, Karachi Pakistan

Shafaq Pervez Khan Niazi

Life Care Hospital, Karachi Pakistan

Irshad Hussain

Combined Military Hospital Malir, Karachi Pakistan
Keywords:
Dextrans, Hyaluronic acid, Hypromellose derivatives, Lubricant eye drops
Abstract
Objective: To compare the efficacy of sodium hyaluronate, hydroxypropyl methylcellulose/dextran and polypropylene/polyethylene glycol based commercial artificial tear products using the noninvasive tear film breakup time.
Study Design: Quasi experimental Study.
Place and Duration of Study: Study was conducted at the Eye department of Combined Military Hospital Malir Cantt Karachi, from Sep 2017 to Nov 2017.
Methodology: Three different types of commercially available artificial tears were evaluated on 30 eyes of 30 patients, having all types of dry eyes diseases. The noninvasive tear film breakup time was measured before and then at 15, 30 and 45 mins after instillation of the artificial tear using keratometer. The active ingredients in these eye drops were sodium hyaluronate, polyethylene glycol/propylene glycol and hydroxypropyl methylcellulose/ dextran 70.
Results: Among the three artificial tears only Sodium hyaluronate eye drops caused a statistically significant increase in noninvasive tear film break up time at 45 mins post instillation. Polyethylene glycol/propylene eye drops extended tear film breakup time upto 30 mins. Comparison of the difference in extension of the breakup time was statistically insignificant between sodium hyaluronate and polyethylene glycol/polypropylene at 15 and 30 mins post instillation.
Conclusion: Sodium hyaluronate eye drops were effective in prolonging the noninvasive tear film breakup time upto 45 mins postinstillation while polypropylene/polyethylene glycol were effective upto 30 mins in all types of dry eye diseases.
Downloads
Download data is not yet available.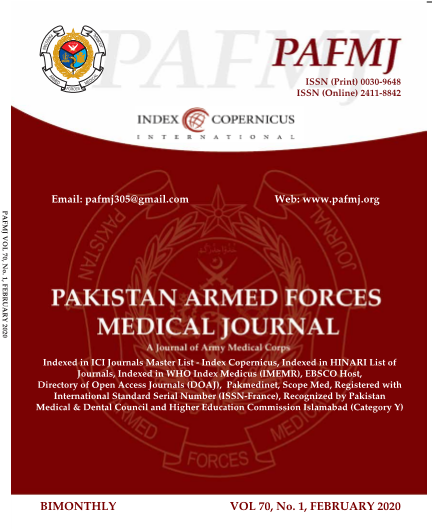 How to Cite
Khan, F., Khan Niazi, S., & Hussain, I. (2020). COMPARISON OF THE EFFICACY OF HYDROXYPROPYL METHYLCELLULOSE/ DEXTRAN, SODIUM HYALURONATE AND POLYETHYLENE GLYCOL/PROPYLENE GLYCOL BASED COMMERCIAL ARTIFICIAL TEAR PRODUCTS USING THE NONINVASIVE TEAR FILM BREAKUP TIME. Pakistan Armed Forces Medical Journal, 70(1), 153-58. Retrieved from https://pafmj.org/index.php/PAFMJ/article/view/3954
Section
Original Articles