ACCURACY OF GREY SCALE ULTRASOUND IN CORRECTLY IDENTIFYING ACUTE APPENDICITIS
Acute Appendicitis
Khawaja Muhammad Baqir Hassan

Armed Forces Institute of Radiology and Imaging/National University of Medical Sciences (NUMS) Rawalpindi Pakistan

Atiq Ur Rehman Slehria

Armed Forces Institute of Radiology and Imaging/National University of Medical Sciences (NUMS) Rawalpindi Pakistan

Tathir Baqir Hassan

Armed Forces Post Graduate Medical Institute/National University of Medical Sciences (NUMS) Rawalpindi Pakistan
Keywords:
Acute Appendicitis, Surgical Outcome, Ultrasound
Abstract
Objective: To validate diagnosis of acute appendicitis using grey scale ultrasound.Study Design: Cross sectional validation.
Material and Methods: All the patients were referred to the sonography section of Emergency Radiology Department for suspected diagnosis of acute appendicitis. All patients of suspected appendicitis had ultrasound of abdomen. Indication of any above stated criteria resulted in appendicectomy of the patient. Patients were operated by conventional method of appendicectomy. Results regarding appendix by ultrasonography and surgical outcome were recorded on the proforma. Data entry and analysis were done by using SPSS 21.Place and Duration of Study: The study was conducted at Radiology Department, Armed Forces Institute of Radiology and Imaging (AFIRI) Rawalpindi, from Mar 2013 to Aug 2013.
Results: Mean age of patients was 21.39 ± 4.332 years. There were 77 (48.1%) male and 83 (51.9%) female patients. Clinically, there were 126 (79%) patients positive for appendicitis and on ultrasound findings 121 (76%) patients had appendicitis. Surgical outcome showed 125 (78%) patients as positive. Sensitivity and specificity of ultrasound for the diagnosis of appendix was 87.20% and 65.71%. While positive predictive value (PPV) and negative predictive value (NPV) of ultrasonography was 90.80% and 58.97% respectively. Overall diagnostic accuracy of ultrasound was 82.5%.
Conclusion: In patients who present with clinically suspected acute appendicitis, imaging with ultrasound was effective technique to confirm the clinical diagnosis.
Downloads
Download data is not yet available.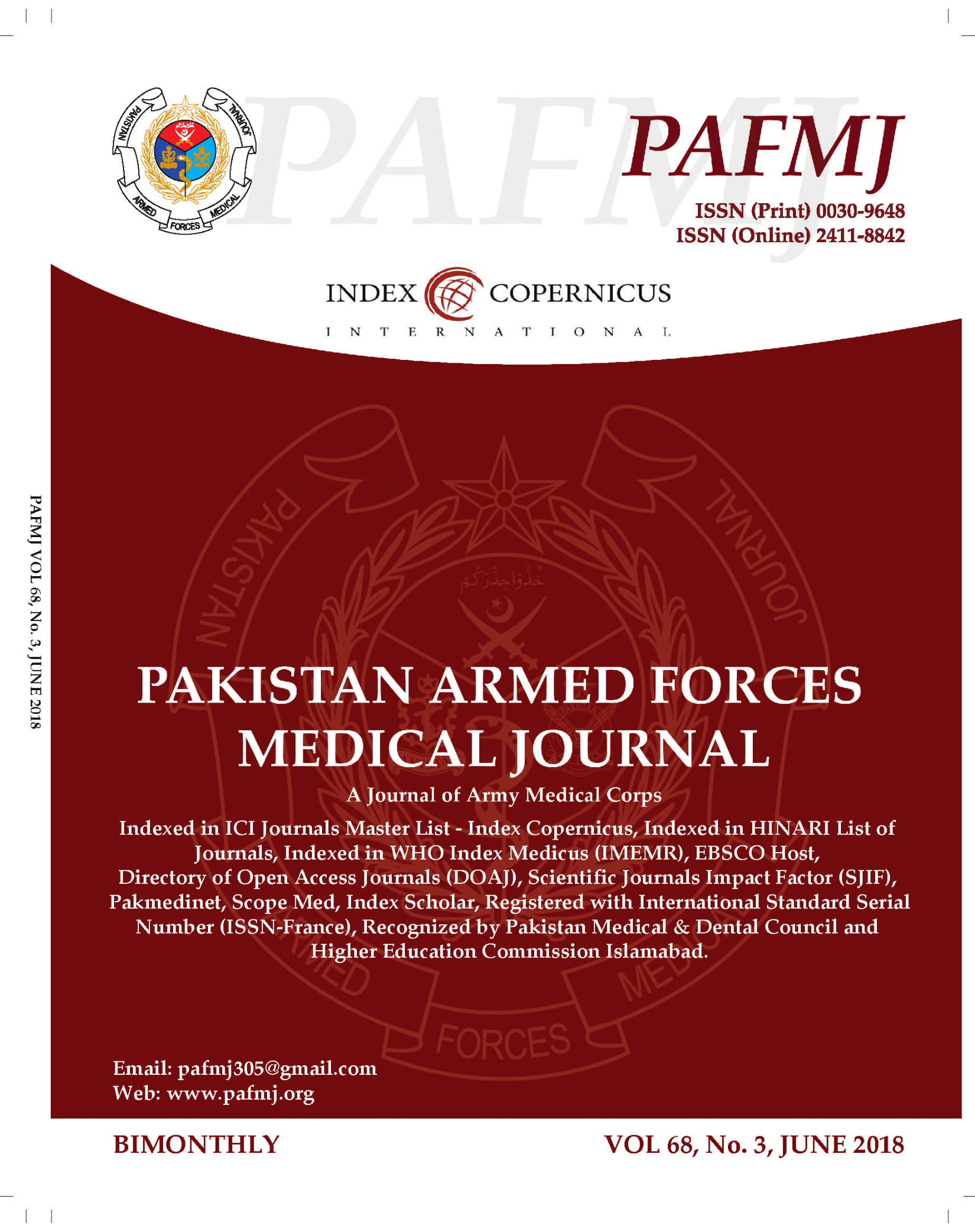 How to Cite
Hassan, K. M. B., Slehria, A. U. R., & Hassan, T. B. (2018). ACCURACY OF GREY SCALE ULTRASOUND IN CORRECTLY IDENTIFYING ACUTE APPENDICITIS. Pakistan Armed Forces Medical Journal (PAFMJ), 68(3), 570-74. Retrieved from https://pafmj.org/index.php/PAFMJ/article/view/383
Section
Original Articles