OUTCOMES OF GASTRIC PULL-UP RECONSTRUCTIVE SURGERY FOLLOWING LARYNGOPHARYNGOESOPHAGECTOMY IN HYPOPHARYNGEAL AND UPPER ESOPHAGEAL CARCINOMAS
Hypopharyngeal And Upper Esophageal Carcinomas
Muhammad Rashid

Combined Military Hospital Quetta Pakistan

Humaira Saleem

Combined Military Hospital Quetta Pakistan

Saeed Bin Ayaz

Combined Military Hospital Quetta Pakistan

Asif Asghar

Combined Military Hospital/National University of Medical Sciences (NUMS) Rawalpindi Pakistan

Muhammad Ali

Combined Military Hospital/National University of Medical Sciences (NUMS) Rawalpindi Pakistan,

Muhammad Wasif Siddiqui

Combined Military Hospital Malir Pakistan
Keywords:
Anastomotic leak, Complications, astric pull-up, Hypopharyngeal carcinoma, erioperative mortality, Survival, Upper esophageal carcinoma.
Abstract
Objective: To determine the commonest stage of hypopharyngeal and upper esophageal carcinoma at presentation, common complications after surgery, perioperative mortality, and one-year survival rate after surgery.
Study Design: A descriptive prospective study.
Place and Duration of Study: Combined Military Hospitals, Rawalpindi, Lahore, and Malir, from Oct 2008 to Oct 2016.
Material and Methods: Through consecutive sampling, 25 individuals were sampled after staging disease through TNM classifications provided by the 1983 American Joint Committee on Cancer Classification for hypopharyngeal cancers. Total laryngopharyngoesophagectomy and gastric pull-up reconstructive surgery was performed by two teams. The total operation time in hours and the approximate blood loss in ml during the procedure was documented. The patients were monitored post-operatively for pulmonary (respiratory failure requiring ventilatory support, atelectasis, pneumonia, pulmonary embolism, pleural effusion/hemothorax, etc.), cardiac (arrhythmias, myocardial infarction, and congestive cardiac failure), and surgical complications (wound infections, anastomotic leak, and fistula formation). The patients were also followed-up for survival at 1st, 6th, and 12th month.
Results: There were 18 males and 7 females (mean age: 53 ± 14 years). Majority presented with T4N2M0-stage disease. The operation lasted for a mean time of 7.7 ± 1.3 hours (range: 6.3-11 hours) and a mean 1218 ± 338 ml (range: 590-2020 ml) blood was lost during the operation. The patients remained in the hospital for a mean 26 ± 16 days (range: 1-56 days). The commonest complication following operation was pleural effusion/hemothorax present in 72% of the patients. The perioperative mortality was 12% and one-year survival rate was 36%.
Conclusion: Majority of our sampled patients presented with T4N2M0-stage disease. The mean operation time in our sample was longer with an increased incidence of anastomotic leaks when compared to the international data. The other complications and perioperative mortality were comparatively similar while one-year survival rate was lower.
Downloads
Download data is not yet available.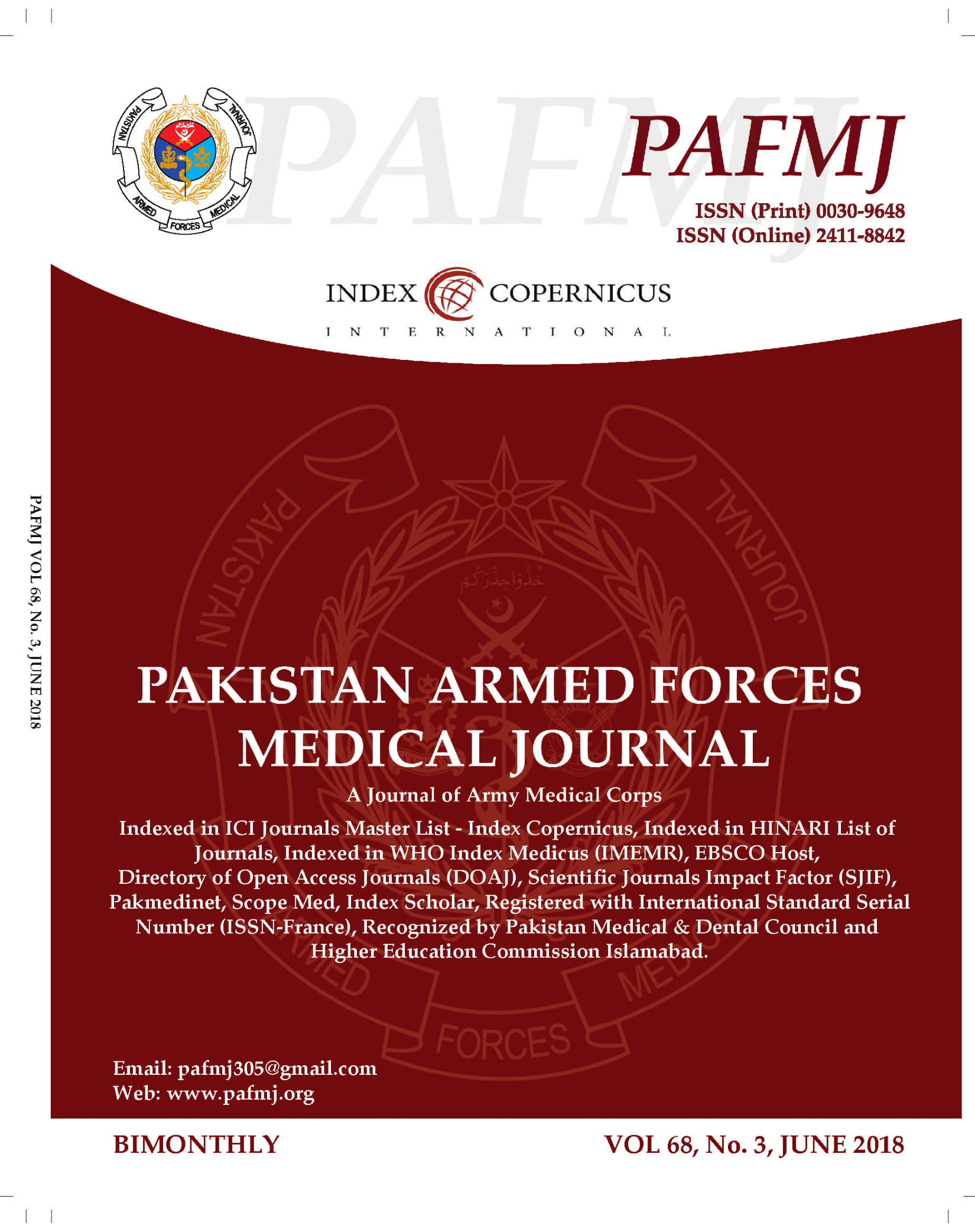 How to Cite
Rashid, M., Saleem, H., Ayaz, S. B., Asghar, A., Ali, M., & Siddiqui, M. W. (2018). OUTCOMES OF GASTRIC PULL-UP RECONSTRUCTIVE SURGERY FOLLOWING LARYNGOPHARYNGOESOPHAGECTOMY IN HYPOPHARYNGEAL AND UPPER ESOPHAGEAL CARCINOMAS. Pakistan Armed Forces Medical Journal (PAFMJ), 68(3), 539-44. Retrieved from https://pafmj.org/index.php/PAFMJ/article/view/373
Section
Original Articles