HEMATOLOGICAL DISORDERS OF PROPYLTHIOURACIL IN THYROID PATIENTS AT TERTIARY CARE HOSPITAL OF HYDERABAD
Propylthiouracil in Thyroid
Uzma Naz Shaikh

University of Sindh, Jamshoro Pakistan

Muhammad Ali Ghoto

University of Sindh, Jamshoro Pakistan

Abdullah Dayo

University of Sindh, Jamshoro Pakistan

Mudassar Iqbal Arain

University of Sindh, Jamshoro Pakistan

Jibran Khan

University of Sindh, Jamshoro Pakistan
Keywords:
Agranulocytosis, Anemia, Hyperthyroid, Propylthiouracil, Thrombocytopenia
Abstract
Objective: To find out the frequency of anemia, agranulocytosis and thrombocytopenia in hyperthyroid patients after the use of propylthiouracil.
Study Design: Cross sectional study.
Place and Duration of Study: Out Door Patients Department and Pathology Laboratory in Liaquat University Medical & Health Sciences, Hospital Hyderabad/Jamshoro, from May 2016 to Apr 2017.
Methodology: Two hundred cases, comprising of adult patients were categorized into five groups, age group 15-30 years 79 (39.5%) patients presenting the highest out of total, age group 31-45 years 68 (34%) patients, age group 46-60 years 36 (18%), age group 61-75 years 14 (7%) patients, age group >75 years 3 (1.5) patients. Complete blood count was analyzed on Sysmex Kx21 and thyroid profiles were analyzed on Elecysis 2010 from the Pathology Department. SPSS version 22 was used for data analysis.
Result: Out of total patients, 32 (16%) were males and 168 (84%) were females with mean age of 37.44 ± 14.82 years. Majority of patients 68 (34%) were anemic, while 4 (2%) had agranulocytosis and 11 (5.5%) had thrombocytopenia. Headache was reported in 111 (55.5%), exophthalmos in 106 (53%), sore throat in 172 (86%), fever in 136 (68%) and weight loss in 95 (47.5%) patients.
Conclusion: Propylthiouracil causes defective hematopoiesis in hyperthyroid patients because propylthiouracil has adverse suppressive effects on bone marrow.
Downloads
Download data is not yet available.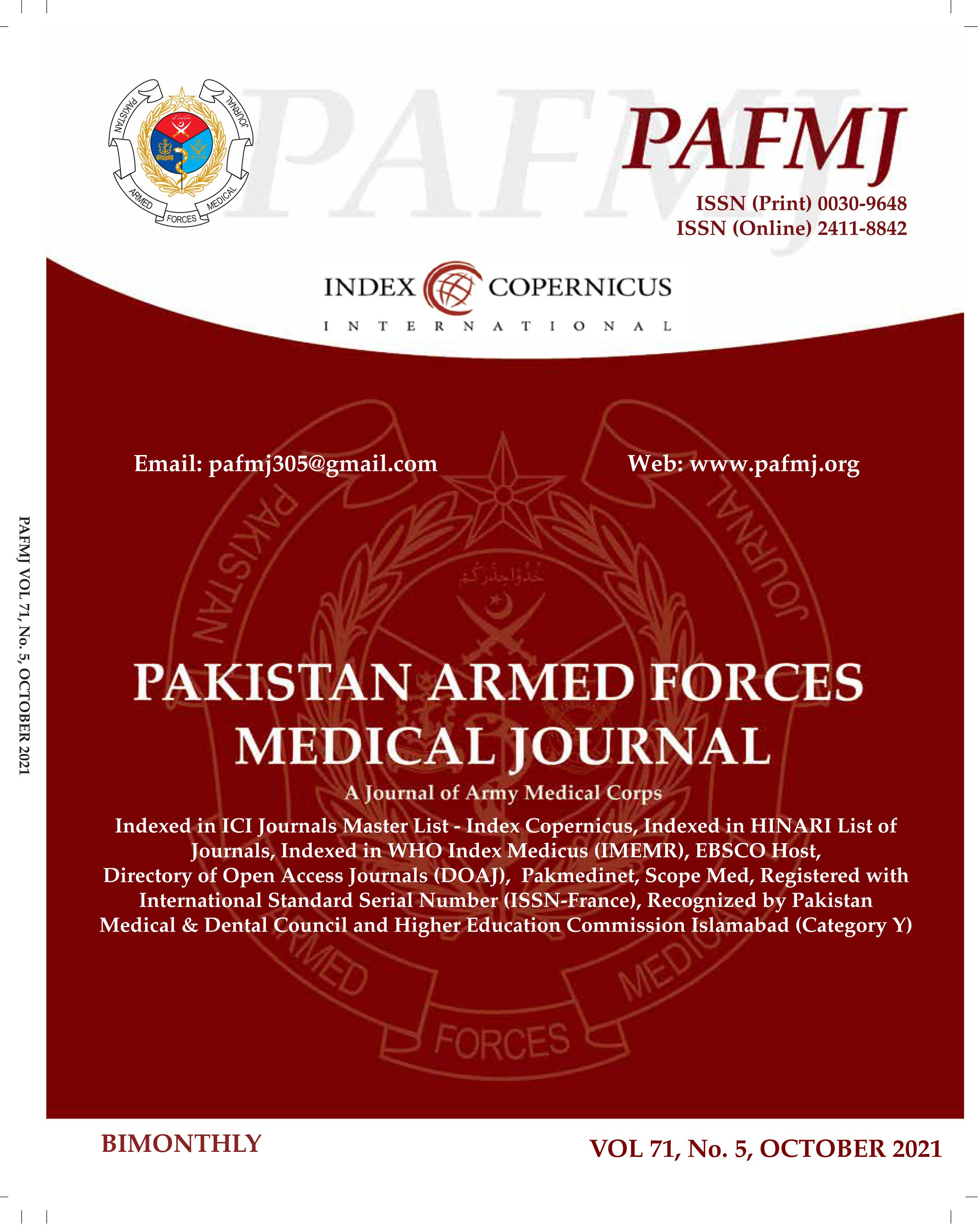 How to Cite
Shaikh, U., Ghoto, M., Dayo, A., Arain, M., & Khan, J. (2021). HEMATOLOGICAL DISORDERS OF PROPYLTHIOURACIL IN THYROID PATIENTS AT TERTIARY CARE HOSPITAL OF HYDERABAD. PAFMJ, 71(5), 1787-90. https://doi.org/10.51253/pafmj.v71i5.3682
Section
Original Articles