FREQUENCY OF SNORING AND MEAN EPWORTH SLEEPINESS SCALE SCORE CATEGORY IN ADULT OBESE INDIVIDUALS
Najma Perveen

Combined Military Hospital, Risalpur Pakistan

Shahzad Nayyar

Combined Military Hospital, Peshawar Pakistan

Sidra Malik

Combined Military Hospital, Peshawar Pakistan
Keywords:
Epworth sleeping scale, Obstructive sleep apnoea, Snoring
Abstract
Objective: To determine the frequency of snoring and mean Epworth sleepiness scale (ESS) score category in adult obese individuals.
Study Design: Cross Sectional study.
Place and Duration of Study: Department of Medicine and Pulmonology, Pak Emirates Military Hospital, Rawalpindi, from Dec 2011 to Jun 2012.
Methodology: Three Hundred and Seventy Nine adults were recruited and in order to measure body mass index, their height and weight was measured. Information regarding the snoring was taken from the relative of the patient. Epworth sleepiness scale score was calculated for each snoring patient according to the criteria given in proforma following which they were subjected to categories.
Results: There were 281 (74.1%) adults who had problem of snoring. Epworth sleepiness scale were calculated and categorized in 4 categories. There were 78 (20.6%) adults with normal Epworth sleepiness scale, 93 (24.5%) adults had mild Epworth sleepiness scale, 151 (39.8%) had moderate Epworth sleepiness scale and 57 (15.0%) had severe ESS score.
Conclusion: Adults with BMI >30 are at more risk of developing snoring problem and more obesity leads to more severe ESS score.
Downloads
Download data is not yet available.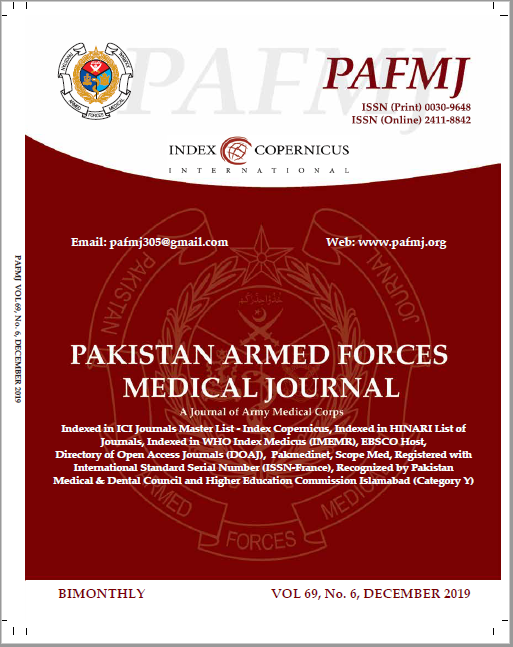 How to Cite
Perveen, N., Nayyar, S., & Malik, S. (2019). FREQUENCY OF SNORING AND MEAN EPWORTH SLEEPINESS SCALE SCORE CATEGORY IN ADULT OBESE INDIVIDUALS. PAFMJ, 69(6), 1258-62. Retrieved from https://pafmj.org/index.php/PAFMJ/article/view/3646
Section
Original Articles