INTRAOPERATIVE SUPERIOR HYPOGASTRIC PLEXUS BLOCK, TO RELIEVE POSTOPERATIVE PAIN IN ABDOMINAL HYSTERECTOMIES
Intraoperative Superior Hypogastric Plexus Block
Khalid Mahmood

Classified Anesthesiologist, Military Hospital Rawalpindi Pakistan

Syed Asad Ullah Jafri

Military Hospital/National University of Medical Sciences (NUMS) Rawalpindi Pakistan

Abeera Choudry

Military Hospital/National University of Medical Sciences (NUMS) Rawalpindi Pakistan

Uzma Rahman Kallue

Military Hospital/National University of Medical Sciences (NUMS) Rawalpindi Pakistan

Nabila Amin

Military Hospital/National University of Medical Sciences (NUMS) Rawalpindi Pakistan
Keywords:
Hysterectomy, Nerve block,, Pain, Randomized clinical trial, Superior hypogastric plexus block
Abstract
Objective: To study the efficacy of superior hypogastric block as a method of pain relief for abdominal hysterectomy performed under spinal anaesthesia for benign indications.
Study Design: A randomized, double blind, placebo-controlled, clinical trial.
Place and Duration of Study: Military Hospital Rawalpindi Pakistan, from Jan 2017 to Sep 2017. Population: Sixty-two women scheduled for total abdominal hysterectomy for a benign indication.
Material and Methods: We carried out a double blind randomized placebo controlled trial on 62 patients from January 2017 to September 2017. Patients were randomly grouped into group A (RG) where 20 ml of ropivacaine 0.25% was used and group B (SG) where 20 ml saline was used. Opioid analgesia in the form of nalbuphine was used in all the patients as per requirement and patients were followed for 12 hours. Patients, staff and assessors were blinded to group assignment. Superior hypogastric plexus block performed during abdominal hysterectomy lowers opioid consumption postoperatively. Main outcome measures: Primary outcome measures included amount of opioid consumption and visual analogue score (VAS) for pain. Secondary endpoints were the requirement of backing up opioid with diclofenac and presence of opioid related side effects like sedation, vomiting and itching
Results: The study was performed with 31 women randomized each to ropivacaine and saline group. Analysis was performed on 31 women in the ropivacaine group and 30 women in the saline group. The postoperative opioid consumption was significantly lower in the ropivacaine group than in the placebo group (median 3.13 and 3.80, respectively, p=0.01). Similarly, median VAS score was significantly less in ropivacaine group (3.4 in ropivacaine group compared to 4.7 in saline group with p<0.01). No side effects or important adverse events occurred during the study.
Conclusion: The superior hypogastric plexus block was found an effective new tool to manage postoperative pain after abdominal hysterectomy. It can be considered as a part of multi modal analgesia technique.
Downloads
Download data is not yet available.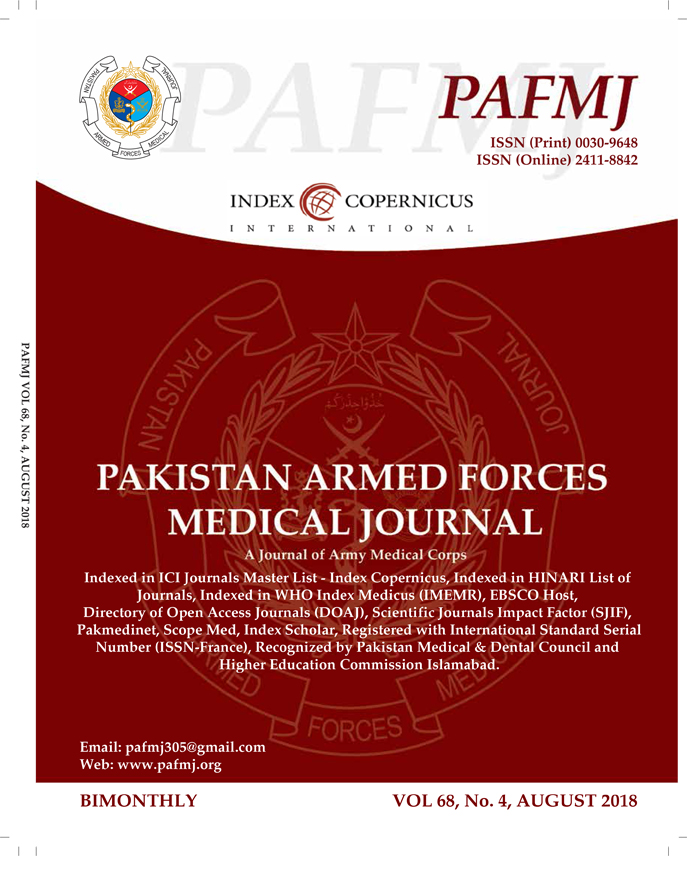 How to Cite
Mahmood, K., Jafri, S., Choudry, A., Kallue, U., & Amin, N. (2018). INTRAOPERATIVE SUPERIOR HYPOGASTRIC PLEXUS BLOCK, TO RELIEVE POSTOPERATIVE PAIN IN ABDOMINAL HYSTERECTOMIES. Pakistan Armed Forces Medical Journal, 68(4), 935-41. Retrieved from https://pafmj.org/index.php/PAFMJ/article/view/33
Section
Original Articles