DONOR SITE MORBIDITY: A COMPARISON OF THE RADIAL FOREARM FREE FLAP AND ANTEROLATERAL THIGH FREE FLAP
Mehreen Masud Qureshi

Shifa International Hospital, Islamabad Pakistan

Mamoon Rashid

Shifa International Hospital, Islamabad Pakistan

Saleem Malik

Shifa International Hospital, Islamabad Pakistan

M. Ibrahim Malik

Shifa International Hospital, Islamabad Pakistan

Saad Ur Rehman Sarwar

Shifa International Hospital, Islamabad Pakistan
Keywords:
Antero-lateral thigh free flap, Donor Site Morbidity, Radial forearm free flap
Abstract
Objective: To compare the donor site morbidity of these two flaps in terms of wound infection, wound dehiscence, skin graft take/primary healing, sensory abnormalities, functional loss and subjective analysis of donor site appearance.
Study Design: Comparative cross-sectional study.
Place and Duration of Study: The study was conducted at Shifa international hospital over a period of 2 years, from Jan 2015 to Apr 2017.
Patients and Methods: A total of 53 patients who demanded reconstruction, either with RFFF or ALTF were included nin the study. A detail preoperative workup was performed. All the free flaps were harvested, using standard surgical techniques. The fore-mentioned variables were recorded on follow up visit.
Results: The frequency of wound infection was comparable in the two groups. ALTF group was better than RFFF group in terms of graft take (87% vs 81%), sensory deficit (37% vs 62%) and loss of function (6%vs 27%).
Conclusion: Considering its reliability, versatility, ability to provide large amount of tissue, low donor site morbidity and concealed donor site, ALTF has become our work horse flap for reconstruction of pure soft tissue defects.
Downloads
Download data is not yet available.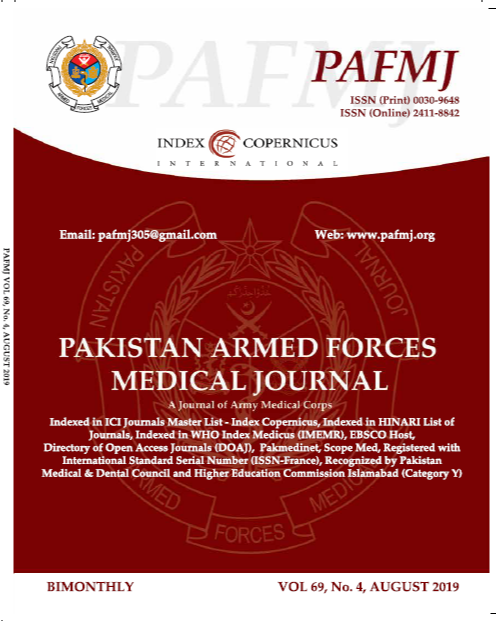 How to Cite
Qureshi, M., Rashid, M., Malik, S., Malik, M. I., & Sarwar, S. (2019). DONOR SITE MORBIDITY: A COMPARISON OF THE RADIAL FOREARM FREE FLAP AND ANTEROLATERAL THIGH FREE FLAP. Pakistan Armed Forces Medical Journal, 69(4), 863-69. Retrieved from https://pafmj.org/index.php/PAFMJ/article/view/3215
Section
Original Articles