OUTBREAK INVESTIGATION OF HEPATITIS-E AT A BOY'S TRAINING CENTER, KARACHI PAKISTAN FROM MARCH-APRIL 2017
Rabia Subuktageen

Headquarters Frontier Corps (FC) Quetta Pakistan

Naila Azam

Armed Forces Postgraduate Medical Institute/National University of Medical Sciences (NUMS) Rawalpindi Pakistan

Muhammad Wasif Malik

National Institute of Health Islamabad Pakistan

Rana Jawad Asghar

South Asian Public Health Forum Islamabad Pakistan
Keywords:
Acute viral hepatitis E, Cross contamination, Water contamination, Outbreak
Abstract
Objective: An outbreak investigation team was deputed to assess the magnitude of disease, to evaluate risk factors and recommend control measures.
Study Design: Case control study.
Place and Duration of Study: Boy's Training Center Karachi, from 4th Apr to 28th Apr 2017.
Material and Methods: On 30th March 2017, 30 suspected cases of acute viral hepatitis were reported. Active case search carried out and hospitals record reviewed. Age and gender matched controls (1:1) taken. Case definition was "Sudden onset of jaundice PLUS presence of Hepatitis E IgM on ELISA in a resident of Boys vocational training center from 9th March to 12th May 2017". Total 79 blood samples collected for hepatitis screening and 5 water samples collected for microbiological/physiochemical testing. Descriptive analysis was carried out,frequencies/ attack rates were determined and odds ratios were calculated at 95% confidence interval and p<0.05.
Results: Total 79 cases were identified (49 active search). All male with mean age of 22 ± 4.6 years. Overall attack rate was 9% and most affected age-group was 20-29 years (AR: 11%). Significant risk factors were consumption of raw vegetables (OR: 5.39, 95% CI: 2.37-12.25) and use of tap water (OR: 2.28, 95%CI: 1.14-4.58). While hand washing (OR: 0.37, 95%CI: 0.18-0.81) and use of filtered water (OR: 0.008, 95% CI: 0.002-0.029) found protective. Total 76 (96.2%) blood samples were positive for Hepatitis E IgM while 4 (80%) water samples had coliform organisms. Environmental assessment revealed rusty and broken water pipelines running parallel to sewage line. No water decontamination and overcrowding in living areas observed.
Conclusion: Cross contamination between water and sewage lines was probable source of outbreak. It was recommended to replaced old pipelines, filter/decontaminate drinking water and more rooms should be constructed to avoid overcrowding.
Downloads
Download data is not yet available.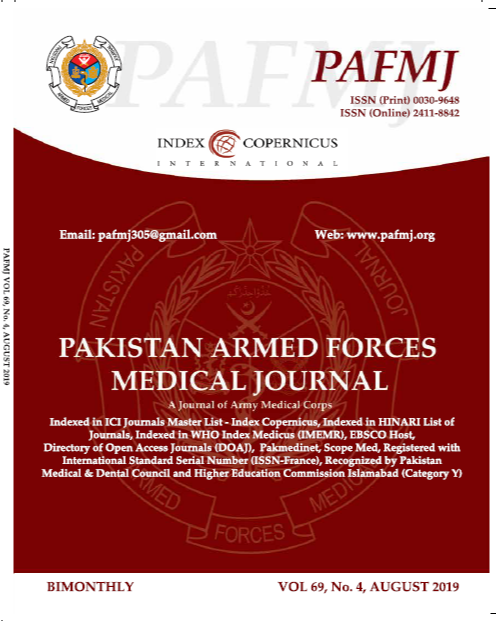 How to Cite
Subuktageen, R., Azam, N., Malik, M., & Asghar, R. (2019). OUTBREAK INVESTIGATION OF HEPATITIS-E AT A BOY'S TRAINING CENTER, KARACHI PAKISTAN FROM MARCH-APRIL 2017. Pakistan Armed Forces Medical Journal, 69(4), 789-94. Retrieved from https://pafmj.org/index.php/PAFMJ/article/view/3201
Section
Original Articles