A COMPARISION OF THE EFFECTIVENESS OF NEURODYNAMICS VERSUS NERVE AND TENDON GLIDING EXERCISES ALONE FOR CARPAL TUNNEL SYNDROME
Neurodynamics Versus Nerve And Tendon Gliding Exercised
Misbah Marryam

Riphah College of Rehabilitation Sciences Islamabad Pakistan

Rehana Yasmeen

Armed Forces Institute of Rehabilitation Medicine/National University of Medical Sciences (NUMS) Rawalpindi Pakistan

Tariq Mehmood Malik

Armed Forces Institute of Rehabilitation Medicine/National University of Medical Sciences (NUMS) Rawalpindi Pakistan

Arshad Nawaz Malik

National University of Medical Sciences (NUMS) Rawalpindi Pakistan

Imran Amjad

National University of Medical Sciences (NUMS) Rawalpindi Pakistan
Keywords:
Carpal tunnel syndrome, Nerve tendon gliding, Neurodynamics
Abstract
Objective: To evaluate the effectiveness of full neurodynamics versus nerve and tendon gliding exercises alone in patients of carpal tunnel syndrome by subjective and electrodiagnostic studies.
Study Design: Single blinded randomized controlled trial.
Place and Duration of Study: Armed Forces Institute of Rehabilitation Sciences, Rawalpindi, from Aug 2015 to Jan 2016.
Patients and Methods: Mild to moderate carpel tunnel syndrome (CTS) patients (n=27) diagnosed on (NCS) nerve conduction studies were selected by non-probability purposive sampling then randomly allocated in two groups i.e, control and experimental by sealed envelope method. Data was collected by using Boston carpal tunnel questionnaire; symptom severity scale, functional status scale and quick disabilities of arm, shoulder and
hand score. Control was given nerve tendon gliding exercises with electrotherapy (TENS, ultra-sound), while experimental group received additional neurodynamics on alternate days for 4 weeks.
Results: Mean age of population was found to be 45.36 ± 12.36 years. CTS was found to be more prevalent in females 20 (90.9%) than in males 2 (9.1%). No significant improvement was observed in functional status scale, quick DASH and nerve conduction studies (p-value>0.05) although experimental group showed more improvement than control. In contrast, symptom severity scale showed significant improvements between the groups
with p-value<0.01.
Conclusion: Nerve and tendon gliding exercises provided alone as well as with neurodynamics showed effectiveness in patients of carpal tunnel syndrome. Combined neurodynamics is not superior to nerve tendon gliding exercises alone for the conservative treatment of carpal tunnel syndrome.
Downloads
Download data is not yet available.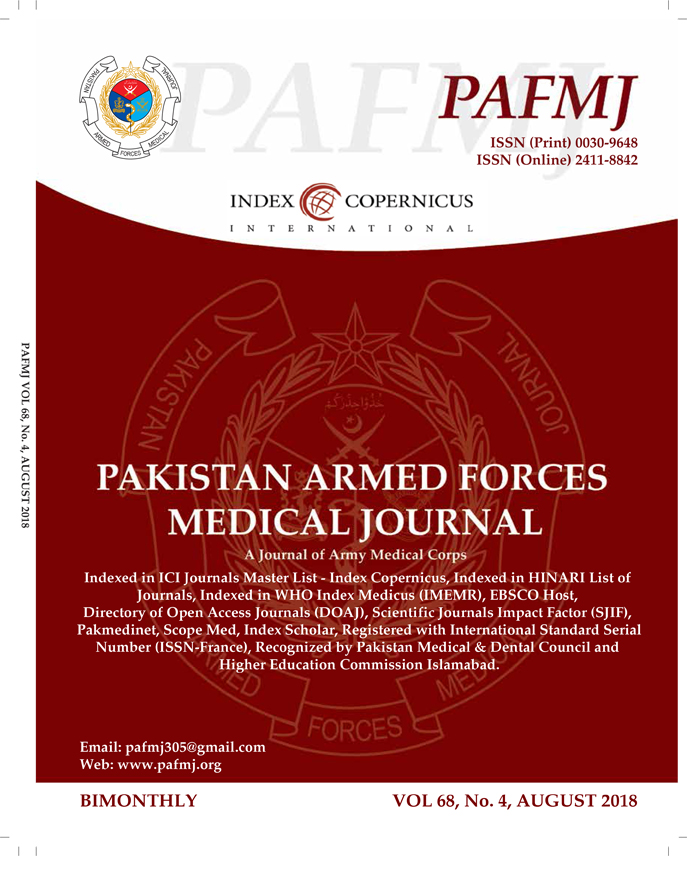 How to Cite
Marryam, M., Yasmeen, R., Malik, T., Malik, A., & Amjad, I. (2018). A COMPARISION OF THE EFFECTIVENESS OF NEURODYNAMICS VERSUS NERVE AND TENDON GLIDING EXERCISES ALONE FOR CARPAL TUNNEL SYNDROME. Pakistan Armed Forces Medical Journal, 68(4), 924-29. Retrieved from https://pafmj.org/index.php/PAFMJ/article/view/31
Section
Original Articles