RETROGRADE AIR INJECTION FOR IDENTIFYING PRECISELY POSTERIOR CALYX: A VERY USEFUL TOOL WHILE PERFORMING MINI-PERCUTANEOUS NEPHROLITHOTOMY
Ahmad Ali Khan

Armed Forces Institute of Urology/National University of Medical Sciences (NUMS) Rawalpindi Pakistan

Mudassar Sajjad

Armed Forces Institute of Urology/National University of Medical Sciences (NUMS) Rawalpindi Pakistan

Muhammad Yasrab

Armed Forces Institute of Urology/National University of Medical Sciences (NUMS) Rawalpindi Pakistan ABSTRACT

Muhammad Sarwar Alvi

Armed Forces Institute of Urology/National University of Medical Sciences (NUMS) Rawalpindi Pakistan
Keywords:
Kidney calice, Insufflation, Nephrolithiasis, Percutaneous Nephrolithotomy, Prone postion
Abstract
Objective: To evaluate the significance of retrograde air injection for identifying posterior calyx in patients undergoing mini-percutaneous nephrolithotomy.
Study Design: Prospective, quasi-experimental study.
Place and Duration of Study: Armed Forces Institute of Urology, Rawalpindi, from Dec 2016 to Dec 2017.
Methodology: We prospectively studied 281 patients, who were undergoing mini-percutaneous nephrolithotomy by single surgeon, fulfilling inclusion criteria. Morbidly obese, hepatitis B or C positive and pregnant women were excluded. After the insertion of ureteric stent in lithotomy position, puncture was carried out in prone position, 3-5 cc of air was injected, in 137 patients among total of 281, when the anatomy of calyces was not clear after retrograde contrast injection with continuous fluoroscopy. The collected data included demographics (age,
gender) and success/failure rate with and without air instillation (two groups).
Result: Among 281 individuals selected, there was a mean age of 39.48 years in both gender with maximum patients in their 4th decade. A total of 209 were males (74.4%) and 72 were females (25.6%). In non-randomized two groups, one group (n=141, 50.2%) was injected with air for identifying posterior calyx which resulted in successful puncture in 137 patients with failure in 4 patients, similarly in the group which received no air
instillation (n=140, 49.8%) failure to localize posterior calyx was seen in 17 patients, which was found to be statistically significant (p-value=0.003)
Conclusion: Air injection is an easy and a very useful tool for urologists in identifying posterior calyx with statistically significant success.
Downloads
Download data is not yet available.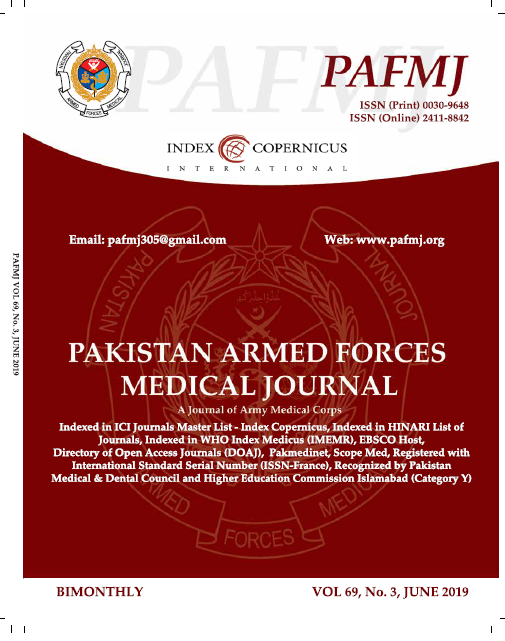 How to Cite
Khan, A., Sajjad, M., Yasrab, M., & Alvi, M. (2019). RETROGRADE AIR INJECTION FOR IDENTIFYING PRECISELY POSTERIOR CALYX: A VERY USEFUL TOOL WHILE PERFORMING MINI-PERCUTANEOUS NEPHROLITHOTOMY. Pakistan Armed Forces Medical Journal (PAFMJ), 69(3), 600-04. Retrieved from https://pafmj.org/index.php/PAFMJ/article/view/3038
Section
Original Articles