OUTCOME OF PERCUTANEOUS CORONARY INTERVENTION IN TOTALLY OCCLUDED CORONARY ARTERIES
Nisar Ahmed

Combined Military Hospital Rawalakot Pakistan

Abid Sharif

Combined Military Hospital/National University of Medical Sciences (NUMS) Multan Pakistan

Muhammad Fareed Khan

Combined Military Hospital Rawalakot Pakistan

Fatima Gul

Combined Military Hospital Rawalakot Pakistan
Keywords:
Chronic total occlusion of coronary arteries, Coronary artery disease, Percutaneous coronary intervention
Abstract
Objective: To review the outcome of percutaneous coronary intervention (PCI) in chronic total occlusion (CTO) of coronary arteries.
Study Design: Cross sectional descriptive study.
Place and Duration of Study: This study was carried out in the cardiology department of Pakistan Institute of Medical Sciences (PIMS) Islamabad, from Jan to Jul 2014.
Material and Methods: In this study a total of 50 patients with chronic totally occluded coronary arteries having percutaneous coronary intervention (PCI) were included. The main outcome variable was frequency of procedural success. PCI and stent implantation were performed in a standard manner by expert interventionists having more than fifteen years' experience of doing PCI. Thrombolysis in Myocardial Infarction (TIMI) flow was noted at the end of CTO PCI by observer.
Results: The mean age of the patients was 60.44 ± 9.214 years. There were 32 (64%) male patients with male to female ratio of 1.78:1. The CTO of left anterior descending (LAD) was seen in 23 (46%) patients, CTO of left circumflex (LCX) was seen in 14 (28%) patients and CTO of right coronary artery (RCA) was seen in 13 (26%) patients. In the study sample majority 40 (80%) of the patients had coronary artery disease (CAD) from 3-6
months and only 10 (20%) patients had a duration of CAD more than 6 months. The procedural success (TIMI flow ≥2) was achieved in 41 (82%) patients. Here was no significant association (p-value>0.05) of age and gender with procedural success. There was a highly significant (p-value<0.01) association between duration of CAD and procedural success.
Conclusion: PCI is recommended in patients with CTO of coronary arteries as the success rate was very encouraging i.e. 82%, whenever the facility is available.
Downloads
Download data is not yet available.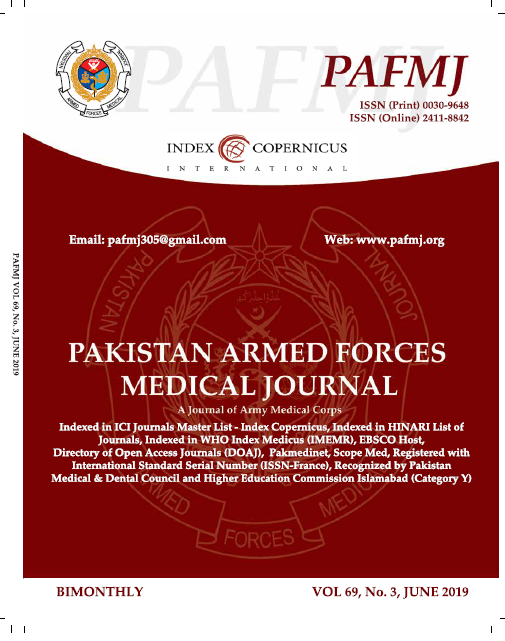 How to Cite
Ahmed, N., Sharif, A., Khan, M., & Gul, F. (2019). OUTCOME OF PERCUTANEOUS CORONARY INTERVENTION IN TOTALLY OCCLUDED CORONARY ARTERIES. Pakistan Armed Forces Medical Journal (PAFMJ), 69(3), 472-76. Retrieved from https://pafmj.org/index.php/PAFMJ/article/view/3011
Section
Original Articles