FREQUENCY OF PERIPHERAL ARTERIAL DISEASE IN HIGH RISK TYPE 2 DIABETES MELLITUS USING ANKLE-BRACHIAL INDEX AND ITS ASSOCIATION WITH THE RISK FACTORS AMONG PATIENTS PRESENTING IN JINNAH HOSPITAL, LAHORE
Peripheral Arterial Disease in High Risk Type-2 Diabetes Mellitus
Amina Umer

Asst Prof of Medicine, Allama Iqbal Medical College, Jinnah Hopital Lahore Pakistan

Khurshid Ahmad Khan

Allama Iqbal Medical College/Jinnah Hospital Lahore Pakistan

Sadaf Naz

Allama Iqbal Medical College/Jinnah Hospital Lahore Pakistan

Samsam Mushtaq

Allama Iqbal Medical College/Jinnah Hospital Lahore Pakistan

Saima Nouman Khan

Allama Iqbal Medical College/Jinnah Hospital Lahore Pakistan

Tabish Raza

Allama Iqbal Medical College/Jinnah Hospital Lahore Pakistan

Zohaib Ahmad Khan

Shaikh Khalifa Bin Zayed Al-Nahyan Medical and Dental College Lahore Pakistan
Keywords:
Ankle brachial index, Diabetes Mellitus, Peripheral arterial disease, Risk factors
Abstract
Objective: To determine frequency of peripheral arterial disease (PAD) using ankle brachial index and its various risk factors in Pakistani patients.
Study Design: Cross-sectional study.
Place and Duration of Study: Allama Iqbal Medical College, Jinnah Hospital, Lahore, from Jan 2017 to Apr 2017.
Material and Methods: High risk type 2 diabetic patients were recruited for the study. After detailed history and clinical examination, fasting and 2-hours postprandial sugar levels and blood pressure were measured. Ankle brachial index (ABI) was used to measure PAD using portable smart dop instrument. Patients with ABI <0.9 were labeled as having PAD.
Results: There were 100 subjects in the study with mean age 54.9 ± 9.1 years. The mean duration of diabetes was 9.15 ± 2.3 years. The mean systolic and diastolic blood pressure was 144 ± 14 mm Hg and 91 ± 6 mm Hg respectively. The mean fasting and 2-hours post prandial blood sugar level of the study population were 171.5 ± 9.12 and 202.6 ± 11.3 mg/dl respectively. Based on abnormal ABI <0.9, the prevalence of PAD was 41.0% in our study population. Higher mean age, duration of diabetes mellitus, mean systolic blood pressure and smoking were found to be statistically significant risk factors for PAD (p-value<0.01).
Conclusion: PAD was highly prevalent in our population and was significantly associated with higher mean age of patients, longer duration of diabetes, higher systolic blood pressure and smoking.
Downloads
Download data is not yet available.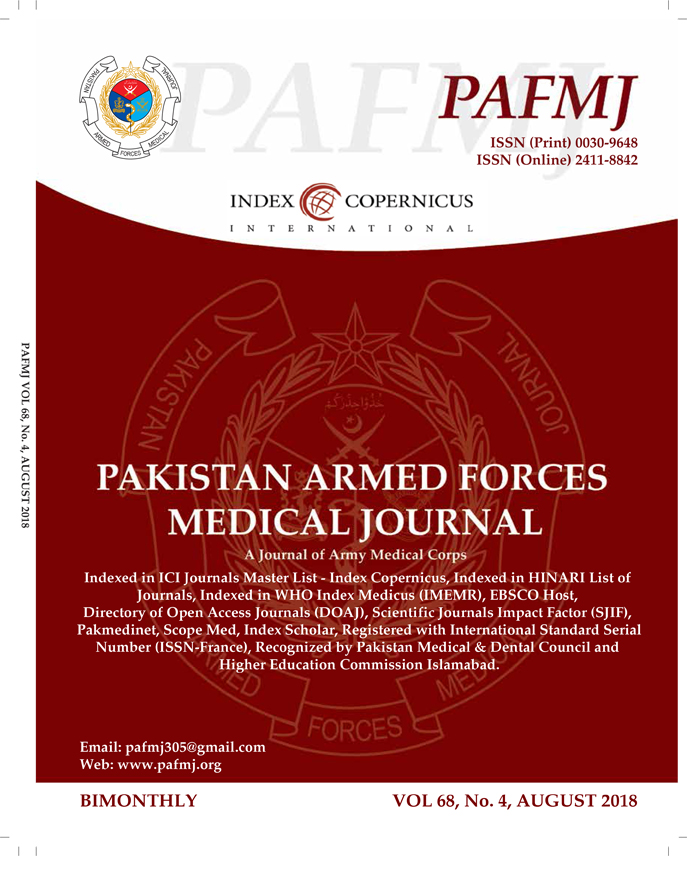 How to Cite
Umer, A., Khan, K., Naz, S., Mushtaq, S., Khan, S., Raza, T., & Khan, Z. (2018). FREQUENCY OF PERIPHERAL ARTERIAL DISEASE IN HIGH RISK TYPE 2 DIABETES MELLITUS USING ANKLE-BRACHIAL INDEX AND ITS ASSOCIATION WITH THE RISK FACTORS AMONG PATIENTS PRESENTING IN JINNAH HOSPITAL, LAHORE. Pakistan Armed Forces Medical Journal, 68(4), 761-66. Retrieved from https://pafmj.org/index.php/PAFMJ/article/view/28
Section
Original Articles