COMPARISON OF VARIOUS INTRA-ARTICULAR CORTICOSTEROIDS IN KNEE OSTEOARTHRITIS MANAGEMENT
Ammara Arif

Combined Military Hospital Peshawar /National University of Medical Sciences (NUMS) Pakistan

Khalil Ahmad

Combined Military Hospital Kharian/National University of Medical Sciences (NUMS) Pakistan

Abdul Jabbar Arif

Combined Military Hospital Peshawar /National University of Medical Sciences (NUMS) Pakistan
Keywords:
Triamcinolone, Osteoarthritis, Corticosteroids, Methylprednisolone, Knee Joint, Knees
Abstract
Objective: To compare the intra-articular injections of Methylprednisolone (MP) and Triamcinolone (TC) in relieving mean pain and mean functional improvement in osteoarthritis (OA) knees management.
Study Design: Randomized clinical trial.
Place and Duration of Study: Outpatient department of Rehabilitation Medicine of Combined Military Hospital Peshawar, from Jan 2016 to Jun 2016.
Material and Methods: Two hundred and forty cases with OA knees were selected and randomly divided into two groups of 120 each. Cases of group 'I' and 'II' were injected with MP and TC respectively. Mean visual analogue score VAS score for pain and mean Lequesne Functional Index Score (LFS) for functional status were evaluated at 6th post-injection week.
Results: Mean age of group I was 55.05 ± 2.053 where as that of group II was 54.84 ± 2.082. Group I had 47 (39%) males and 73 (61%) females. Group II had 48 (40%) males and 72 (60%) females. Group I had significantly less mean VAS as compared to group II (9.34 ± 1.858 vs 11.38 ± 1.954) (p<0.001) and less mean LFS (9.34 ± 1.858 vs 11.38 ± 1.954) (p<0.001) after six weeks of injection. MP had significantly better results in patients of 56-60 years of age and male patients because of comparatively less mean VAS and LFS scores (p<0.001).
Conclusion: MP is superior to TC in relieving pain and functional improvement in OA knees management.
Downloads
Download data is not yet available.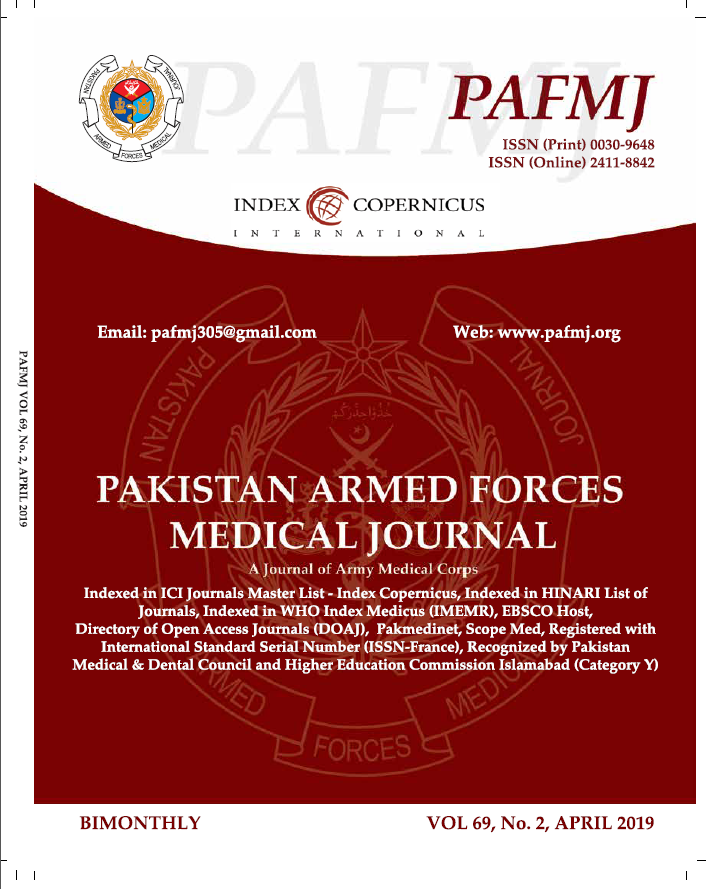 How to Cite
Arif, A., Ahmad, K., & Arif, A. (2019). COMPARISON OF VARIOUS INTRA-ARTICULAR CORTICOSTEROIDS IN KNEE OSTEOARTHRITIS MANAGEMENT. Pakistan Armed Forces Medical Journal (PAFMJ), 69(2), 286-90. Retrieved from https://pafmj.org/index.php/PAFMJ/article/view/2738
Section
Original Articles