COMPARISON OF OPEN (HASSON) AND CLOSED (VERESS NEEDLE) METHODS OF CREATING PNEUMOPERITONEUM IN LAPAROSCOPIC SURGERIES
Amir Iqbal Ali

Combined Military Hospital Chhor/National University of Medical Sciences (NUMS) Pakistan

Shehzad Abbasi

Combined Military Hospital Quetta/National University of Medical Sciences (NUMS) Pakistan

Syed Mukarram Hussain

Combined Military Hospital/National University of Medical Sciences (NUMS) Rawalpindi Pakistan
Keywords:
Pneumoperitoneum, Veress needle, Laparoscopy, Hasson cannula
Abstract
Objectives: To compare Open versus Closed method of creating pneumoperitoneum in terms of first access complications.
Study Design: Randomized clinical trial.
Place and Duration of Study: Surgical Department, CMH Rawalpindi, from October 2014 to April 2015.
Material and Methods: Total 550 Patients presenting in surgical OPD and undergoing elective laparoscopic procedures were included and randomly divided into two equal groups by lottery method. In group A, open technique (Hasson cannula) and in group B, closed technique (Veress needle) was used. All patients were monitored during surgery for any first access related complications and this was carried out at regular intervals.
Data for each patient was recorded on patient's proforma.
Results: We found better safety profile of open (Hassan) method over close (Veress Needle). Except for more gas leakage in open group (6.2%) as compared to closed (5.1%), all other complications occurred more frequent in closed group. The mean access time in the Open Group (3.2 ± 1.1 minutes) was less than for the Closed Arm (5.4 ± 0.7 minutes).
Conclusions: There was difference in frequency of complications in both groups with Open method being safer and rate of complication was less as compared to the close method.
Downloads
Download data is not yet available.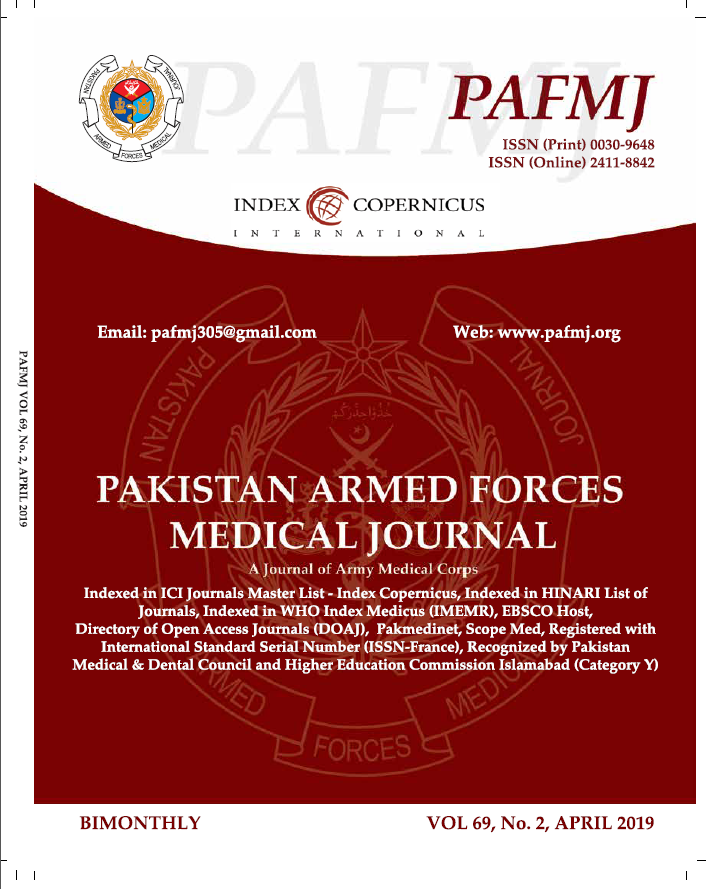 How to Cite
Ali, A., Abbasi, S., & Hussain, S. (2019). COMPARISON OF OPEN (HASSON) AND CLOSED (VERESS NEEDLE) METHODS OF CREATING PNEUMOPERITONEUM IN LAPAROSCOPIC SURGERIES. Pakistan Armed Forces Medical Journal (PAFMJ), 69(2), 255-61. Retrieved from https://pafmj.org/index.php/PAFMJ/article/view/2733
Section
Original Articles