OUTCOMES OF TRAUMA EXPOSURE AMONG ADOLESCENTS OF PAKISTAN: ROLE OF PTSD AND SOCIAL SUPPORT
Nargis Nawaz

International Islamic University, Islamabad Pakistan

Muhammad Tahir Khalily

International Islamic University, Islamabad Pakistan

Seema Gul

International Islamic University, Islamabad Pakistan
Keywords:
Delinquency, Future orientation, Social Support, PTSD, Trauma Exposure
Abstract
Objective:
To examine the outcomes such as delinquency, pro-sociality and future orientation as a consequence of trauma exposure in traumatized adolescents with and without posttraumatic stress disorder (PTSD) along with examining the mediating role of PTSD.
Study Design: Cross sectional study.
Place and Duration of Study: International Islamic University, Islamabad, from Jun to Sep 2018.
Material and Methods:
A total of 600 adolescents (boys=391; girls=209) of age ranged from 12-18 years including traumatized (n=300) and non-traumatized adolescents (n=300) were randomly selected from different regions of Pakistan. The data was collected by using self report delinquency scale, prosocial personality battery, children's future orientation scale, multidimensional scale of perceived social support and UCLA PTSD RI (DSM 5).
Results:
Analysis showed that traumatized adolescents were higher on PTSD and delinquency whereas were lower on social support, future orientation and prosociality than non-traumatized adolescents. Females scored higher on social support, prosociality and PTSD whereas males were found higher on future orientation and delinquency.
Conclusion:
The study revealed the mediating role of PTSD between the predictor traumatic exposure and outcomes future orientation, prosociality and delinquency in addition to the moderating role of social support. This study indicates the urge for the timely management of the outcomes as a consequence of exposure to traumatic events.
Downloads
Download data is not yet available.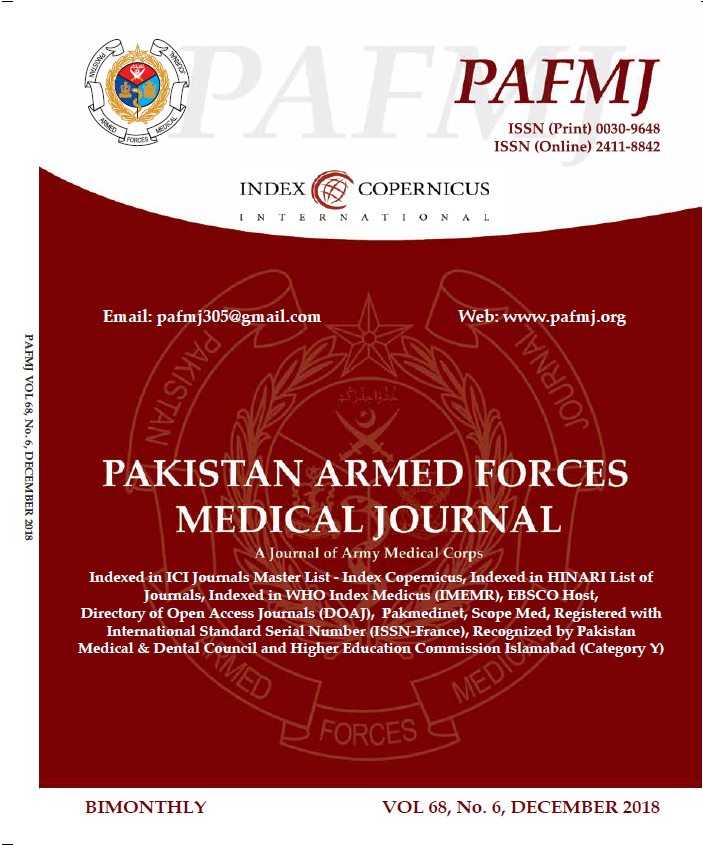 How to Cite
Nawaz, N., Khalily, M., & Gul, S. (2018). OUTCOMES OF TRAUMA EXPOSURE AMONG ADOLESCENTS OF PAKISTAN: ROLE OF PTSD AND SOCIAL SUPPORT. PAFMJ, 68(6), 1737-43. Retrieved from https://pafmj.org/index.php/PAFMJ/article/view/2605
Section
Original Articles