MMUUTTAATTIIOONNANALYSIS OF PAX9 GENE IN AFFECTED FAMILY OF HYPODONTIA ATTENDING TERTIARY CARE HOSPITAL OF QUETTA
Muhammad Nawaz

Bolan Medical College and Sandeman Provincial Hospital Quetta Pakistan

Nasrullah Khan

Bolan Medical College and Sandeman Provincial Hospital Quetta Pakistan

Agha Muhammad Raza

Bolan Medical College and Sandeman Provincial Hospital Quetta Pakistan

Nisar Ahmed

Bolan Medical College and Sandeman Provincial Hospital Quetta Pakistan

Jamil Ahmad

Bolan Medical College and Sandeman Provincial Hospital Quetta Pakistan
Keywords:
Congenital, Hypodontia, Missense mutation, PAX9 gene
Abstract
Objective:
To identify the phenotype and genotype of hypodontia for a Pakistani family with hypodontia and to map the genes locus responsible for this disease.
Study Design: Descriptive study.
Place and Duration of Study: This descriptive study was performing in human molecular genetics (HMG) laboratory of Baluchistan University of information technology, engineering and management sciences (BUITEMS). The study was of 4 months duration.
Material and Methods:
Blood samples (5ml) were collected from all 15 families' members (35participant). Genomic DNA was extracted by using inorganic method. All the three coding exons of PAX9 (NM_006194) were amplified and sequenced. Sequencing of the PAX9 coding exons and splice sites showed a homozygous misses substitution in exon 3 (c. 718G>C; p.Ala240Pro) in the affected individuals of the family.
Results:
Intra-oral and panoramic radiographs revealed that the proband (II-1) and her father (I-1) have hypodontia denoted by the complete absence of teeth in maxillary arch, while all other family members maintained normal dentitions. The missing teeth are both upper lateral incisors (12, 22 FDI numbering) and third molars (18, 28). Mandibular arch show; retained deciduous teeth and no teeth permanent teeth missing. Pedigree construction indicated that phenotypes in this family showed an autosomal recessive segregation pattern. The sequencing of coding exons and splice sites of PAX9 gene showed a homozygous missense mutation in exon number 3 (c. 718G>C; p.Ala240Pro) in the affected individuals of the family.
Conclusion:
We identified a missense mutation (p.Ala240Pro) in gene PAX9 coding exon 3 in Pakistani family with hypodontia.
Downloads
Download data is not yet available.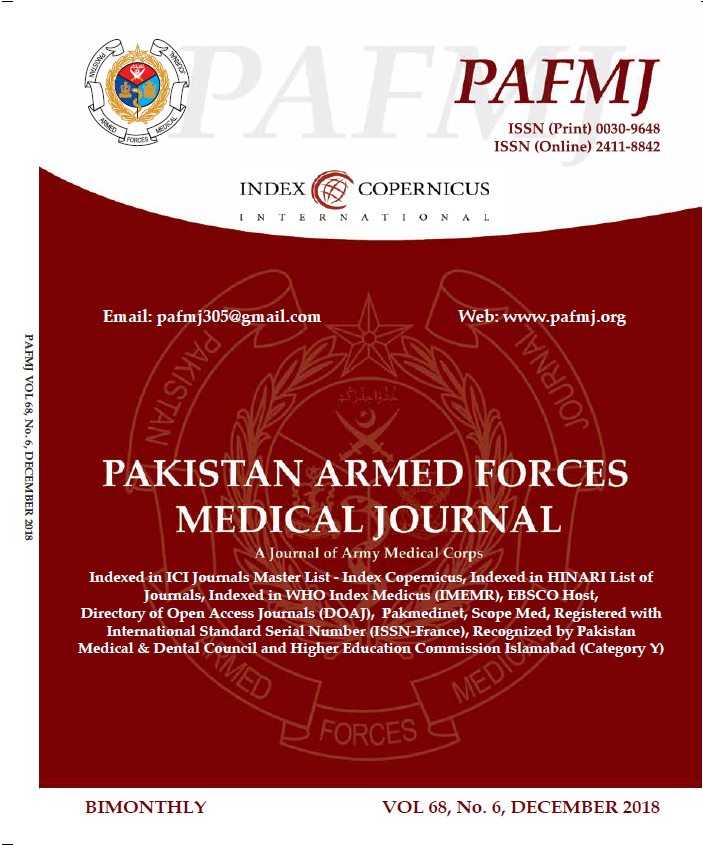 How to Cite
Nawaz, M., Khan, N., Raza, A., Ahmed, N., & Ahmad, J. (2018). MMUUTTAATTIIOONNANALYSIS OF PAX9 GENE IN AFFECTED FAMILY OF HYPODONTIA ATTENDING TERTIARY CARE HOSPITAL OF QUETTA. Pakistan Armed Forces Medical Journal (PAFMJ), 68(6), 1705-10. Retrieved from https://pafmj.org/index.php/PAFMJ/article/view/2587
Section
Original Articles