FUNCTIONAL OUTCOME IN PATIENTS WITH SUPRA TENTORIAL HYPERTENSIVE INTRACEREBAL HEMORRHAGE AFTER SURGICAL INTERVENTION
Tariq Mahmood Irshad

Combined Military Hospital/National University of Medical Sciences (NUMS) Rawalpindi Pakistan

Muhammad Junaid Mushtaq

Combined Military Hospital/National University of Medical Sciences (NUMS) Rawalpindi Pakistan

Abdul Ghaffar

Combined Military Hospital/National University of Medical Sciences (NUMS) Rawalpindi Pakistan

Saqib Ghaffar

Combined Military Hospital/National University of Medical Sciences (NUMS) Rawalpindi Pakistan

Asrar Ahmad

Combined Military Hospital Nowshera/National University of Medical Sciences (NUMS) Pakistan
Keywords:
Glasgow coma scale, Intracerebral hemorrhage, Stroke
Abstract
Objectives:
To determine the functional outcome in patients with supratentorial intracerebral hemorrhage after surgical intervention.
Study Design: Retrospective descriptive study.
Place and Duration of Study: This study was carried out at the department of Neurosurgery, Combined Military Hospital Rawalpindi (CMH), from Jan 2015 to Dec 2015.
Material and Methods:
Retrospectively the records of eighty two patients with a diagnosis of supratentorial hypertensive intracerebral bleed on computed tomography scan (CT) brain, who were surgically managed in our department over one year period, were collected and evaluated. All the patients had undergone clinical examination, baseline investigations including complete blood counts, urea, creatinine, electrolytes, prothrombin time (PT), partial thromboplastin time (PTTK), electrocardiography (ECG) and chest x-ray. In case of deranged coagulation profile platelets or fresh frozen plasma were transfused preoperatively. Outcome of patients was assessed by Glasgow outcome scale (GOS) at 3 months after surgery. A GOS score of 4 and 5 was considered favorable outcome and score of 1, 2 and 3 was considered unfavorable outcome, and these were noted in proforma. Descriptive statistics for age, gender, hospital stay and clinical outcome were calculated by using SPSS version 20.
Results:
Eighty two patients of supra tenteorial bleed were operated over the study period. The mean age of patients was 44.82 ± 9.25 years and the average hospital stay was 13.21 ± 4.41 days. Fifty six patients (68.3%) were male while 26 (31.7%) were female. Favorable outcome at three months was observed only in 24 patients (29.26%) while unfavorable outcome in 58 (70.73%)...........
Downloads
Download data is not yet available.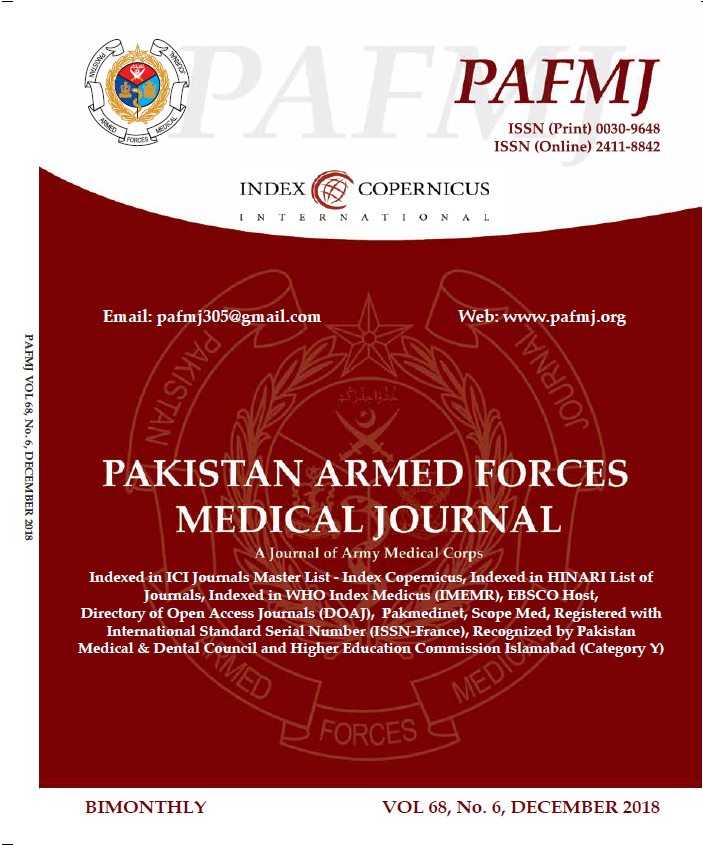 How to Cite
Irshad, T., Mushtaq, M., Ghaffar, A., Ghaffar, S., & Ahmad, A. (2018). FUNCTIONAL OUTCOME IN PATIENTS WITH SUPRA TENTORIAL HYPERTENSIVE INTRACEREBAL HEMORRHAGE AFTER SURGICAL INTERVENTION. PAFMJ, 68(6), 1583-87. Retrieved from https://pafmj.org/index.php/PAFMJ/article/view/2552
Section
Original Articles