ASSESSMENT OF MENTAL HEALTH IN A COMMUNITY SAMPLE FROM GILGIT-BALTISTAN PAKISTAN: A CROSS SECTIONAL STUDY
Sadiq Hussain

Karakoram International University Gilgit Pakistan

Sabih Ahmad

Combined Military Hospital Gilgit/National University of Medical Sciences (NUMS) Pakistan
Keywords:
Affect, Mental health, Pakistan
Abstract
Objective:
This study was conducted to explore and compare the level of mental health in all the districts of Gilgit Baltistan (GB).
Study Design: Cross-sectional study.
Place and Duration of Study: Based at CMH Gilgit, all districts of GB were visited between Mar and Dec 2016.
Material and Methods:
Data were collected from consenting adults in community setting by administering mental health inventory (MHI). Data were compared with the population mean and inter-district comparisons were performed.
Results:
A total of 370 (186 males) participants, age ranging from 17 to 80 years (M = 28.54 ± 11.27). Out of these, 240 (64.8%) were married and their education levels ranged from 5 to 16 years of schooling. Males (t=4.5, p<0.001) & married participants (t=2-07, p<0.05) reported better mental health. Participants' living district (F=1.8, p=09), education level (F=1.1, p=0.3), and their age (r=0.04, p=3) did not influence their reported level of mental health.
Conclusion:
Community members in GB had good level of mental health irrespective of their living area, education, and age. However, their gender and marital status influenced their mental health.
Downloads
Download data is not yet available.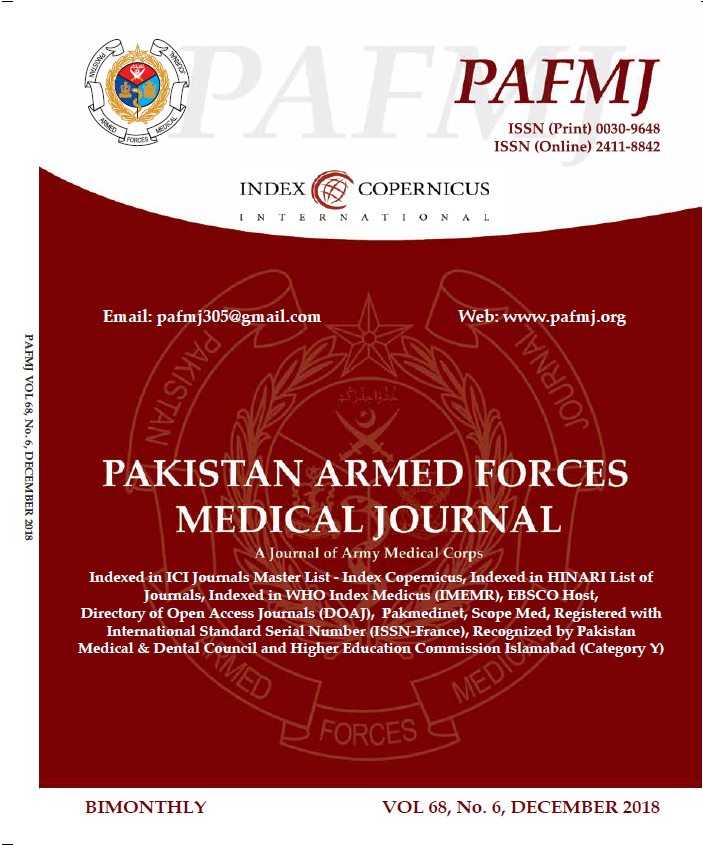 How to Cite
Hussain, S., & Ahmad, S. (2018). ASSESSMENT OF MENTAL HEALTH IN A COMMUNITY SAMPLE FROM GILGIT-BALTISTAN PAKISTAN: A CROSS SECTIONAL STUDY. PAFMJ, 68(6), 1561-65. Retrieved from https://pafmj.org/index.php/PAFMJ/article/view/2540
Section
Original Articles